Brussels Edition: Game of Thrones
(Bloomberg) -- Welcome to the Brussels Edition, Bloomberg's daily briefing on what matters most in the heart of the European Union.
The EU's Game of Thrones premieres today as the bloc's finance ministers start the process to replace European Central Bank chief economist Peter Praet, whose term expires in May. It's the first in a series of top EU jobs — including the most revered prizes of ECB and EU Commission presidents — which are up for grabs this year. Meanwhile, worrying signs of weakening growth, troubled banks and fractured politics are multiplying.
Fiscal Rules | Finance ministers will also discuss fiscal policy, the design of a euro-area budget and stalled plans for a joint insurance scheme for bank deposits in the currency bloc. Despite deep reforms over the past decade which allowed the euro to survive against the odds, last week's headlines from Italy and Germany show how the so-called doom loop between public coffers and banks has yet to be severed.
Alstom Appeal | French Finance Minister Bruno Le Maire will make a last-ditch push to save Alstom's rail merger with Siemens during a Paris visit today by EU's antitrust chief Margrethe Vestager, who is also due to meet with the French company's trade unions. But it may be too late. 
Copyright Rules | Google and Facebook are getting some breathing room as the EU pushes the platforms to compensate creators and publishers for showcasing their work. The controversial new copyright rules were set to be agreed as soon as Monday evening, but a final meeting of lawmakers has now been postponed due to disagreement on the package between member states. 
Greek Showdown | Thousands of Greeks marched through the streets of Athens Sunday to protest the compromise with Skopje over the Macedonian dispute, as Prime Minister Alexis Tsipras prepares for another showdown in parliament this week. Despite the noise, expect the deal to be approved by the Greek assembly, paving the way for North Macedonia's accession to NATO and — eventually — the EU.
Hungarian Protests | Hungarians staged nationwide protests again on Saturday and threatened the first general strike since the end of communism to pressure Prime Minister Viktor Orban into repealing a controversial new law on overtime. Even so, the chances for a political change are slim given that Orban's Fidesz has about as much support as a handful of opposition groups combined.
Swedish  Solution | Sweden has a government after the longest political standoff in the country's history. But the establishment's struggle with anti-immigration nationalists is far from over, Rafaela Lindeberg and Amanda Billner report.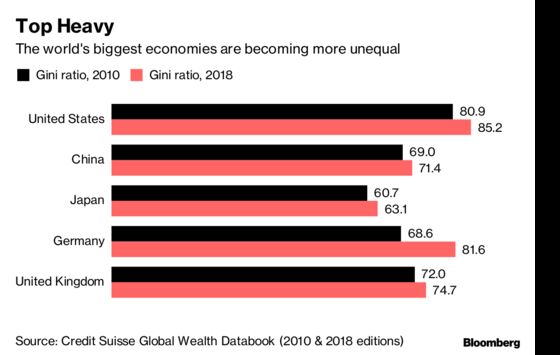 A decade after the financial crisis poured flat champagne on the World Economic Forum, gold-collar executives due to gather in Davos this week have bounced back. Inequality across the world is growing, and the gap between the have-nots and the have-a-lots — those in the top 0.1 percent — is widening. 
8:45 a.m. EU foreign affairs ministers meet in Brussels to discuss situation in Venezuela, Democratic Republic of Congo, and disinformation, and formally adopt the first listings under the new sanctions regime for chemical weapons. Ministers also meet counterparts from the 10 ASEAN member states and the African Union 

Cambodia's Deputy PM to have separate bilateral meeting with Belgium's Deputy Prime Minister Didier Reynders and EU trade chief Cecilia Malmstrom

11 a.m. Eurostat to release quarterly data on government deficit and debt
1:30 p.m. Microsoft holds an event in Brussels about how to regulate facial recognition technology, which will be attended by company president Brad Smith as well as EU Justice Commissioner Vera Jourova 
3 p.m. Euro-area finance ministers meet in Brussels to discuss common deposit insurance, a budget for the currency area and the international role of the euro 
3 p.m. European Parliament's ECON committee holds an exchange of views with Romania's finance minister as the country's EU council presidency begins
EU's antitrust chief Vestager is in Paris to meet representatives of Alstom's trade unions, give a speech at the Youth and Leaders' Summit at Sciences Po and provide introductory remarks at the European American Press Club
Russia, Ukraine and the EU Commission will hold gas talks in Brussels