Brussels Edition: Cash Freeze
(Bloomberg) -- Welcome to the Brussels Edition, Bloomberg's daily briefing on what matters most in the heart of the European Union.
A plan to allow the freezing of payments from the EU's next trillion-euro budget to member states that undermine the rule of law is set to advance today. The European Parliament in Strasbourg is slated to approve the measure being drawn up for the bloc's 2021-2027 spending program. The spotlight will then switch to EU governments, which must give their backing amidst growing alarm about democratic backsliding in Poland, Hungary and Romania, and a widening rift between East and West.
Altogether Now | The EU wants U.K. Prime Minister Theresa May to get cross-party support for a Brexit deal that she can get through Parliament rather than offer her more concessions. After winning a confidence vote yesterday, May said she'd do just that — but opposition leader Jeremy Corbyn has so far refused to take part.
Belgian Preparations | It's not just the U.K. that isn't ready for a chaotic Brexit. Belgium's federal government is tomorrow presenting a set of legal measures to ensure the nation can cope with a disorderly U.K. withdrawal. The finance ministry said that four out of five companies in Belgium are not prepared.
Cartel Compensations | More than four years after the EU opened the door for victims of price-fixing cartels to seek redress with a new antitrust damages law, the EU Court of Justice will today give a non-binding view on its scope. At issue is a dispute for damages by Montreal-based cable company Cogeco against a Portuguese Sports TV channel, with potential implications for many more antitrust cases since 2014.
Swedish Breakthrough | Sweden is about to a get government, finally ending a four-month stalemate caused by a surge in support for populists. Social Democratic leader Stefan Lofven is poised to win another four years in power, in charge, however, of a fragile coalition operating inside a political landscape in which nationalism has gained ground and establishment parties have suffered body blows.
Greek Confidence | Greek Prime Minister Alexis Tsipras saw off the latest challenge to his government, winning the fourth confidence vote of his term late Wednesday. The result paves the way for the Greek parliament to ratify a landmark accord with North Macedonia and for Tsipras to dodge elections he's likely to lose for another few months.
Winter Coming | On a more serious threat for our continent than Brexit, the weather pattern known as the Beast From The East could pummel Europe on a more regular basis in future, causing havoc for electricity and natural gas markets and testing infrastructure and transport networks. And it's all because of climate change.
Italian Win | The EU will this week impose tariffs on rice from Cambodia and Myanmar for three years in response to a request by Italy for local producers to gain protection from the imports. The bloc has threatened to withdraw trade benefits altogether for the two countries over gross human rights violations, prompting Cambodia's leader to warn that opposition officials could be targeted should the EU follow through on its threat.
Estonia's Trump | A populist on the EU's frontier with Russia says he needs $1 billion to bolster the military. And he wants Donald Trump to pay for it. Mart Helme's EKRE party is hot on the heels of Estonia's two biggest political groups before March elections, campaigning on an anti-immigration and tax-cutting platform.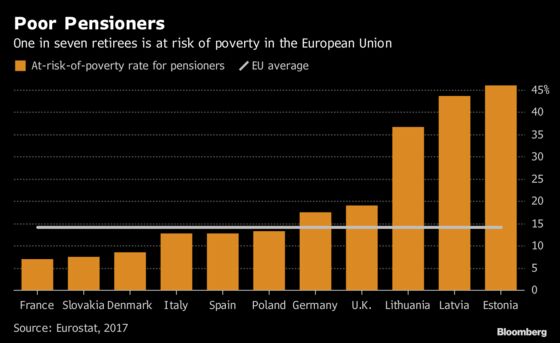 The proportion of EU pensioners at risk of poverty has increased every year since 2013 and stood at 14.2 percent in 2017, according to Eurostat data. While the rate was between 10 percent and 25 percent in most EU countries, more than a third of pensioners in the Baltics faced poverty risks.
8 a.m. Moody's holds credit trends conference in Brussels
8: 30 a.m. EU's chief Brexit negotiator, Michel Barnier, speaks to lawmakers in Lisbon. A press conference is scheduled for later in the day
9 a.m. EU Competition chief Margrethe Vestager delivers a speech and participates in the conference "Shaping competition policy in the era of digitisation" in Brussels
11 a.m. Eurostat to publish December inflation (HICP) reading
EU court adviser gives non-binding opinion in the first case on the EU's antitrust damages rules
5:15 p.m. EU Commission VP Valdis Dombrovskis delivers speech on capital markets union at Euronext event
MEPs in Strasbourg will vote on rules to reduce pre-financing or suspend EU budget payments to member states that interfere with courts or fail to tackle fraud and corruption