Brussels Edition: Final Stretch?
(Bloomberg) -- Welcome to the Brussels Edition, Bloomberg's daily briefing on what matters most in the heart of the European Union.
As a crucial week for Brexit kicks off, ministers from the European Union's 27 members gather in Brussels today to discuss the latest on negotiations with the U.K. The main fight now is about whether the guarantees the U.K. is offering to keep the Irish border open will end up binding it to European rules indefinitely. A deal must be struck this week for there to be a summit in November, but resistance to the British Prime minister at home has cast doubts over whether she can get her plans through Parliament.
Libya Talks | International officials descend on Sicily today for the latest effort to stitch together a divided Libya, but hopes for a breakthrough at the two-day gathering that could help Europe manage migration from Northern Africa are bleak as ever. Italian Deputy Premier Matteo Salvini said his government could halt EU budget decisions and other policies if the bloc's partners continue to show disrespect to his countrymen, in the nation's latest spat with neighbors over migration from North Africa.
Italy Wait | Italy's budgetary defiance will be tested again as the government has until tomorrow to submit revised spending plans to Brussels. Italian Finance Minister Giovanni Tria is making a  last-ditch attempt to placate the European Commission over his country's 2019 budget, according to media reports. But with few indications that Rome will make a more substantial reversal, a gradual escalation of the spat between Italy and Brussels may be unavoidable.
Macron's Message | French President Emmanuel Macron confronted fellow world leaders with an uncompromising validation of international cooperation, calling on them to work together to maintain peace and avoid the spiral of war that preceded the Armistice signed 100 years ago.
Franco-German Unity | On Saturday, Macron embraced German Chancellor Angela Merkel as they commemorated French-German reconciliation after two devastating world wars. The show of European unity contrasted with scenes earlier that day as Macron had to reassure Trump that what the U.S. president took as "very insulting" comments about the need for stronger European defense were in fact a misunderstanding.
Elsewhere in Paris | A topless protester ran toward U.S. President Donald Trump's motorcade as it drove down the Champs-Elysees to an Armistice Day event with world leaders. Femen, an anti-war group with origins in Ukraine known for topless protests at high-profile events, claimed credit for the incident.
Competition Plans | Merkel's desire to nurture more "global players" has turned Berlin's gaze toward Brussels and to reshaping EU rules that clamp down on mergers and technology giants. Merkel has criticized the EU for focusing too much on competition in narrow European national markets at the expense of the bigger picture worldwide and is already laying the groundwork that could see Germany push for changes in 2020 when it gets a six-month stint in charge of EU ministerial meetings.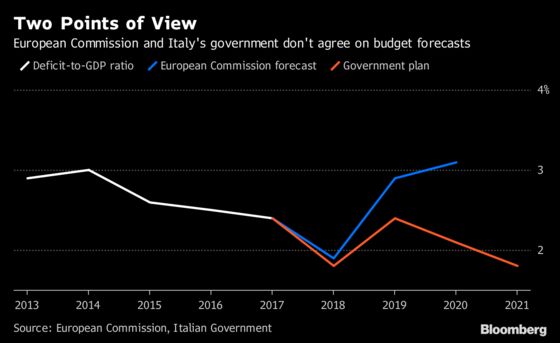 After weeks of accusing Italy of too-optimistic assumptions about the effect of its spending plans, the European Commission said last week that the country's economic growth will be weaker than the government expects and the budget deficit will move dangerously close to the EU limit of 3 percent of GDP next year.
9 a.m. EU European Affairs Ministers meet in Brussels to discuss Brexit and rule of law in Hungary and Poland
2:15 p.m. NATO Secretary General Jens Stoltenberg delivers keynote speech at "NATO Talk around the Brandenburger Tor" conference
Italy hosts Libya conference with North African, European leaders
EU Commission President Jean-Claude Juncker delivers keynote speech at Süddeutsche Zeitung Economic Summit, meets Merkel for working lunch in Berlin
Eurostat publishes data about EU wine production