Brussels Edition: Time to Throw Away the Rulebook
(Bloomberg) -- Welcome to the Brussels Edition, Bloomberg's daily briefing on what matters most in the heart of the European Union.
Emergency Measures | Spain's government will extend a nationwide state of emergency, Germany prohibited gatherings of more than two people, Greece became the latest European nation to impose a curfew, and Italy banned all movement within the country and halted non-essential industrial activity. As the death toll from the deadly coronavirus keeps rising, restrictions put in place to hinder its spread are becoming more and more severe.
Video Vantages | EU foreign ministers will substitute a planned meeting in Brussels that was to include a video conference with U.S. Secretary of State Michael Pompeo with a video link-up among themselves today. On the agenda: the repatriation of EU citizens stranded abroad as a result of the coronavirus pandemic plus possibly chaos in Libya and Syria.
Hospitals Crisis | Europe's famed public healthcare system is overwhelmed by the scale and — more importantly — the speed of admissions. At some Spanish hospitals, doctors and nurses resort to taping garbage sacks to their arms to shield themselves while they work to save an avalanche of patients fighting for breath. They've run out of disposable coats.
Polish Campaign | Polish President Andrzej Duda has rarely been busier than since he suspended his election campaign and called on rivals to follow suit amid the coronavirus outbreak. While Duda has repeatedly appealed to citizens to stay at home and touted the merits of social distancing, his visits to places affected by the virus appear to help his popularity, ahead of a May 10 ballot. 
Russia to the Rescue | A phone call with Italian Prime Minister Giuseppe Conte spurred Russian President Vladimir Putin to rush a consignment of medical equipment to Rome on Sunday night. With Italy still rankled by the response of EU leaders in the initial phase of the virus outbreak, the aid pouring in from Russia and China risks encouraging divided loyalties when the immediate crisis subsides.
Chinese Reach | After showering Europe with medical supplies, China's mass deployment of  aid to fight the virus has reached Africa. Amid global complaints about the absence of American leadership, this display of soft power may pay off  for Beijing when the crisis is over.
Supply Disruptions | At a time when it's tough to find some basic things, like eggs, in supermarkets in major European cities, companies that source food for restaurants and hotels suddenly have a lot of product they can't sell. We're talking about tons of unsold food.
Ventilator Support | The German government asked its auto giants to consider producing medical equipment such as masks or ventilators. The request forms part of wider efforts by authorities to tap engineering and production resources and tackle severe supply bottlenecks in critical medical equipment.
Brussels Effect | If you are looking for a break from the storm of virus news, take a moment to read Aoife White's handy explainer of the Brussels Effect — how the EU's regulatory machine sets the rules that the entire world follows.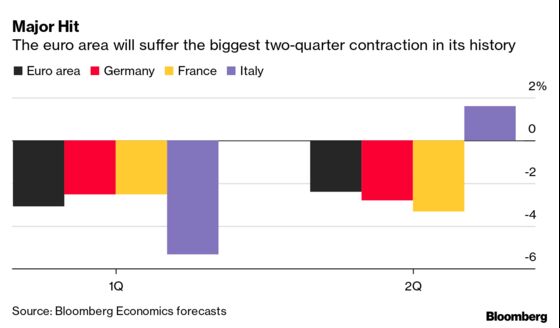 The euro-area economy is due to suffer the worst performance in its two decades of existence in the first half of this year, according to Bloomberg Economics. While no amount of state support can prevent a collapse in output, failure by governments to act to cushion the impact of the virus-induced recession could put the euro's survival at risk, according to Bloomberg Economics.
11 a.m. EU foreign ministers hold video conference, to discuss geopolitical implications of the coronavirus pandemic, repatriation of EU nationals, the situation in Libya and Syria and its impact on EU's external borders with Turkey
3 p.m. EU finance ministers hold conference call to discuss economic fallout of the COVID-19 crisis and the appropriate policy response, including questions related to state aid rules
U.K government to seek to rush its emergency legislation for tackling the coronavirus outbreak through the House of Commons