Brussels Edition: Europe's Trump Trade
(Bloomberg) -- Welcome to the Brussels Edition, Bloomberg's daily briefing on what matters most in the heart of the European Union.
European Union trade chief Cecilia Malmstrom is poised to seek the go-ahead from EU governments for negotiations with the U.S. to cut tariffs on industrial goods. Expect her draft mandate today to tiptoe around the politically sensitive — and economically important — question of cars. The EU would like autos to be covered by any trans-Atlantic deal, while the U.S. is opposed as it pursues a probe into whether foreign vehicles pose a national-security threat and should face higher duties 
Pelosi Grounded | EU foreign-policy chief Federica Mogherini was scheduled to meet U.S. House Speaker Nancy Pelosi in Brussels this afternoon, but President Donald Trump denied the speaker's request to use a military plane for her planned trip barely an hour before she was to depart on Thursday. 
Week Ahead | EU finance ministers convene on Monday and Tuesday, beginning their efforts to revive a plan for a joint guarantee of bank deposits in the bloc from its comatose state. Ministers will also debate the euro area's budget and how to help the common currency take on the dollar in international transactions, but don't expect any concrete decisions just yet. 
Gas Talks | On Monday, Russian Energy Minister Alexander Novak, Ukraine's Foreign Minister Pavlo Klimkin and EU Commission Vice President Maros Sefcovic will discuss the future of Russian gas transit via Ukraine before the contract between Gazprom and Naftogaz expires at the end of 2019. The EU is keen for Russia to continue using Ukraine's gas transit system to Europe even as the Kremlin is pushing for bypass routes, including the future $11 billion Nord Stream 2 pipeline across the Baltic Sea to Germany.
Davos Absentees | Is Davos still a thing? The annual conclave of the global elite in the Swiss Alps has lost significant star power. Trump, Theresa May and Emmanuel Macron all said they have more important things to do next week. That leaves Angela Merkel and Shinzo Abe as the most powerful leaders attending. 
Google Fine | The EU's competition chief isn't done with Google yet. The trio of hefty European fines on the internet search giant could be completed in a few weeks, as the Commission is set to announce a penalty targeting the AdSense advertising service, people familiar with the matter told us. 
Strings Attached | EU lawmakers in Strasbourg voted to link billions of euros in the bloc's future funding to rule-of-law standards in an attempt to stop the erosion of democracy in countries such Hungary, Poland and Romania. The new rules, which EU governments must agree to, would allow the suspension of payments from the EU budget for violations such as undermining judicial independence or failing to tackle corruption. 
EU Cash | Speaking of controversy over the use of European funds, here's the story of a 34-year-old Czech computer programmer, who developed an app enabling users to scan meat, milk, butter, flour and bread linked to Agrofert. The company founded by the country's billionaire premier Andrej Babis is now at the center of an investigation into alleged conflict of interest. 
Italian Extremists | Further south, the League party of Italy's Deputy Prime Minister Matteo Salvini is in talks over recruiting the far-right Brothers of Italy to join the ruling populist coalition. The move is a power play by Salvini that would cement his dominance over the coalition, and highlights how marginalized Five Star leader and Deputy Premier Luigi Di Maio has become. And in even more surprising news, a zombie of European politics may make a comeback in May.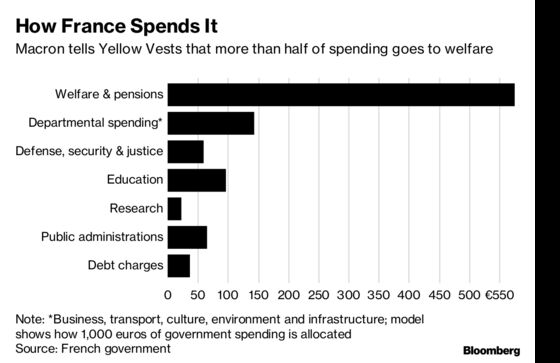 The French government is publishing pamphlets designed to enlighten protesters who've called for lower taxes and less spending on what they see as pampered state officials. The message is simple: France may be the most taxed developed economy, but it also has the highest level of public spending, and most of it goes to social security and low-income households.
10 a.m. EU Commission Vice President Valdis Dombrovskis participates in a Facebook live on the 20-year anniversary of the euro
12 p.m. EU trade chief Malmstrom unveils EU Commission's draft negotiating mandate for trade talks with the U.S.
2 p.m. Luxembourg's Prime Minister Xavier Bettel and Foreign Minister Jean Asselborn give press conference to present the country's measures to mitigate the impact of hard Brexit