Brussels Edition: Euro Ambitions
(Bloomberg) -- Welcome to the Brussels Edition, Bloomberg's daily briefing on what matters most in the heart of the European Union.
After a year of negotiations, grand ambitions and painful trade-offs, it's finally here. EU leaders will today sign off on the long-anticipated deal to reform the euro area. Finance ministers agreed on the key issues at marathon talks earlier this month, meaning their bosses' discussions will probably be less contentious. Still, wording on working toward a euro-zone budget and a decision on whether to mention risk reduction and risk sharing across the bloc's banks could be points of friction.
Brexit Drama | Theresa May was again knocked back in her attempt to get political clarification that will help her sell the Brexit deal to an unruly parliament. European diplomats had been preparing to offer to work on legal language, but after hearing May's address at the Summit, leaders decided that she wasn't clear enough in what she needed. What they offered was reiterating that they don't want to use the backstop, but this assurance is unlikely to be sufficient to sway opposition at the House of Commons.
Italian Math | Italy's decision to lower its 2019 budget-deficit target this week had markets celebrating. But with no changes to its spending plans, the country's next challenge will be to convince investors and officials that its math actually works. Italian and EU officials are holding talks aimed at finding a compromise by next week that would prevent the triggering of a disciplinary process against Rome that could lead to sanctions.
Week Ahead | Next week should bring some clarity on EU market access for financial firms in London and Zurich. The Commission may decide on Monday whether to allow EU traders to use Swiss stock exchanges beyond the end of the year. On Wednesday, it may formally adopt a Brexit contingency measure that would allow EU banks to use derivatives clearinghouses in the U.K. for a year if there is no exit deal. Both are tied up in tense political negotiations.
End of Era | The European Central Bank took the watershed decision to halt its 2.6 trillion-euro ($3 trillion) bond-buying program, capping massive monetary support even though the euro-zone economy looks vulnerable again. Speaking after the decision, Mario Draghi said risks to the euro-area economy are "moving to the downside" because of a range of concerns over geopolitics, trade protectionism and market volatility.
Euro Anniversary | The euro's imminent 20th birthday is no reason for triumphalism but rather for "candid and close introspection" about the single currency's shortcomings, Draghi said. The ECB president's final press conference of 2018 was largely focused on the end of asset purchases. But he admitted that while the euro has been a "success" not everyone benefited equally.
French Budget | France's government is weighing a delay in a planned tax cut for large companies in 2019 as part of an effort to keep the country's deficit under the EU's three-percent limit after President Emmanuel Macron unveiled measures to appease Yellow Vests protesters. The Bank of France, meanwhile, trimmed its growth forecast for this year to 1.5 percent, from 1.6 percent, because of the protests.
Czech Probe | European lawmakers increased pressure on Czech billionaire Andrej Babis in a probe into whether he's in conflict of interest for not severing ties with his business empire while holding the post of prime minister. Lawmakers approved a resolution on Thursday asking the EU to stop subsidies for all companies linked to Babis and conduct a "thorough investigation" of his possible conflict.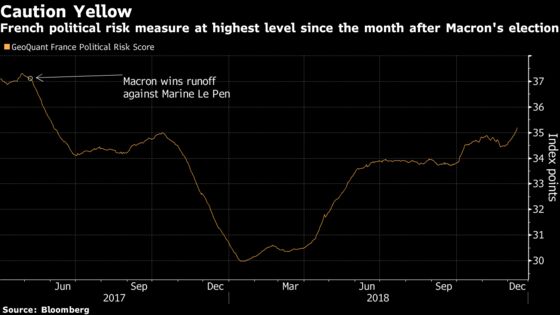 French political risk is at its most acute since the month after Emmanuel Macron defeated Marine Le Pen in a runoff election, according to GeoQuant, an analytics firm that converts 250 variables and inputs such as social media into 30 risk indicators. Macron's government set out a raft of measures to try to placate the so-called Yellow Vests protesters on Thursday.
11 a.m. Eurostat publishes euro-area 3Q job vacancy and labor cost index data
European Council in Brussels. Heads of state or government discuss deepening of euro area
EU trade chief Malmström participates in a trade seminar at the House of Europe in Stockholm