Brussels Edition: Enter the 27
(Bloomberg) -- Welcome to the Brussels Edition, Bloomberg's daily briefing on what matters most in the heart of the European Union.
Just when it seemed that things couldn't get any more difficult for U.K. Prime Minister Theresa May, enter the 27 remaining EU member states to make their own demands about what they want to see in the political declaration on future ties with Britain. Things could boil over at the meeting of EU affairs ministers in Brussels this morning. There's less than a week until the Brexit summit, but still plenty of opportunities for things to go wrong on both sides of the English Channel.
Debt Restructuring | With less than a month to go before a euro-area summit, finance ministers will today hold one of their last debates on how to strengthen the currency union. They'll  tackle issues ranging from overhauling the bailout fund, to Franco-German plans for a  separate euro-area budget, to securing liquidity for banks in resolution. The most contentious debate may be the one on debt sustainability, with countries at odds over how and whether to facilitate a debt restructuring for states about to receive bailout loans.
Italy Lurking | While Italy's budget standoff with Brussels is not on the ministers' agenda, it will likely dominate discussions between ministers and top finance officials on the sidelines. The European Commission later this week will give its opinions on countries' spending plans and is set to publish a report on Italy's debt that shows it isn't compliant with EU rules — the first step in a long process.
EU Defense | The really big troubles of the world — from an updated blacklist over Russia's meddling in Eastern Ukraine to the situation in Bosnia and Yemen — will be discussed by EU foreign ministers, who also convene with their defense counterparts in Brussels this morning. Contrary to initial plans, ministers will not adopt new rules for the participation of non-EU countries in the bloc's joint defense projects — an initiative which has irked the U.S. We're told that they will wait for Brexit to be over first.
Chinese Investment | Negotiators representing EU governments and the European Parliament may agree on draft legislation to screen foreign direct investment as soon as tomorrow. The first bloc-wide rules to prevent such investment from threatening national security are being hammered out amid mounting concerns across the western world about national-security risks,  particularly with regard to China.
Czech Peril | Czech Prime Minister Andrej Babis may face an ouster motion this week over a fraud investigation. The billionaire premier's son was taped claiming his father tried to hide him from a probe into an alleged misuse of EU aid. Babis has rejected the allegations, saying his son is mentally ill and reporters who taped him on a hidden camera behaved unethically, while vowing to "never resign."
Polish Banks | Another Eastern front to watch this week is the situation with Polish banks. A widening corruption scandal involving a Polish lender with more than $10 billion of deposits has left the country's authorities trying to bolster confidence in the financial industry.  The extent of the turmoil is such that the central bank governor  moved to assure Poles their money was safe on Friday, as bank stocks tumbled the most in almost three years.
Danske Laundromat | Speaking of banks behaving badly, we're about to get a much closer look at some of the key protagonists attached to the Danske Bank A/S money laundering scandal today, when key witnesses, including the whistle-blower, testify before lawmakers in Copenhagen. Here's a round-up of the latest developments, as the money laundering case looks to have grown in scope.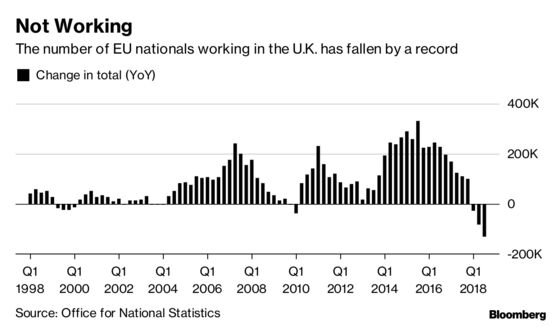 The number of EU citizens working in the U.K. fell by the most on record in the third quarter, and they're not being replaced. That's not good news for British curry houses, which had actively campaigned for Brexit. They are now closing down at a pace of one a day as a shortage of specialist kitchen staff makes the business impossible to run.
8:30 a.m. EU27 European affairs ministers meet in Brussels to discuss draft Brexit withdrawal treaty, draft of political declaration on the future relationship between the EU and the U.K.
8:30 a.m. EU's foreign affairs and defense ministers meet in Brussels, to discuss situation in Yemen, EU-NATO cooperation, Ukraine
8:30 a.m. EU's agriculture and fisheries ministers gather in Brussels to discuss  fishing opportunities for deep-sea fish stocks, post-2020 Common Agricultural Policy
11 a.m. Euro-area finance ministers meet in Brussels to discuss ways to strengthen the currency union before a December summit on the issue. They'll focus on the future of the European Stability Mechanism, liquidity for banks in resolution and the prospects for a euro-area budget
11:30 a.m. French President Emmanuel Macron arrives in Belgium meet with Prime Minister Charles Michel
EU's competition chief Margrethe Vestager in Berlin, meets German Economy Minister Peter Altmaier and gives a keynote speech at the German Institute for Economic Research