Brussels Edition: Echoes of Greece
(Bloomberg) -- Welcome to the Brussels Edition, Bloomberg's daily briefing on what matters most in the heart of the European Union.
Italy may be hurtling down a collision course with the EU. Italian Finance Minister Giovanni Tria is back in Rome today to iron out budget details after failing to convince his euro-area counterparts that the country's on a sustainable path. While the specifics may offer much-needed clarity to Brussels and the markets, Italy's plans are unacceptable to the bloc. As Italian 10-year bond yields hit a four-year high, European Commission President Jean-Claude Juncker sounded the alarm, saying "we have to do everything to avoid a new Greece — this time an Italy — crisis."
Laundering Talks | The commission's plan to beef up the European Banking Authority to tackle financial crime will be discussed with finance ministers in Luxembourg today. France's Bruno Le Maire promised his country's "full support" for the proposals, but many other nations remain wary of shifting more powers to the EU. Meanwhile, Justice Commissioner Vera Jourova will discuss recent failings with Toomas Toniste, Estonia's finance chief.
Taming Netflix? | European lawmakers are set to adopt rules requiring online platforms like Netflix Inc., Amazon.com Inc. and other video-on-demand services to ensure that 30 percent of their catalogs are European. The platforms will likely also have to help finance European-made films and TV shows. Member states have roughly two years to incorporate the rules into national law — that is, once EU member states rubber stamp them following a European Parliament vote.
Rebuking Trump | Some 51 European and Asian heads of state or government will gather in Brussels this month and — judging from an early draft of the summit's conclusions we've obtained — they'll issue a gentle rebuke to U.S. President Donald Trump. They will "underline" their commitment to "open, free, and non-discriminatory trade as a prerequisite for long-term growth and prosperity." They'll also identify climate change as a major risk to global growth.
Warning Putin | Before the Asia-Europe Summit, EU leaders will meet in Brussels, and, according to an internal memo summarizing discussions, will likely reiterate platitudes on migration policy. A big chunk of the conclusions will be dedicated to the EU's willingness to "combat disinformation," and "build resilience" against cyber and hybrid threats, including against biological and chemical agents, in what appears to be a thinly veiled response to alleged Russian actions on the continent.
Irish Compromise | U.K. Prime Minister Theresa May is preparing to make a significant new Brexit offer. Divorce talks have been stuck on the question of how to avoid the need for police and customs checks on the border between the U.K. and Ireland. The U.K. is offering a solution — but wants something in return.
Beautiful Battery | For decades, hydroelectric plants were a little-seen corner of the electricity grid. Now they're getting fresh attention across Europe and the U.S. as governments struggle to accommodate surging supplies from wind and solar peaks that can overwhelm networks on clear and windy days. Here's a look at the world's most beautiful battery, high in the Austrian Alps.
No Extra Time | Euro-area banks want two extra years to get ready for the European Central Bank's new Ester interbank lending rate by the 2020 deadline. More than 22 trillion euros of cash and derivative products are tied to the current Eonia benchmark, which Ester will replace. The European Commission says there's no legislative proposal on the table to extend the use of Eonia.
Brussels Standstill | Brussels is bracing for a national strike today that will bring the EU capital to a halt. That's as the bubble is already living with the threat of an electricity blackout due to the almost total shutdown of Belgium's nuclear plants.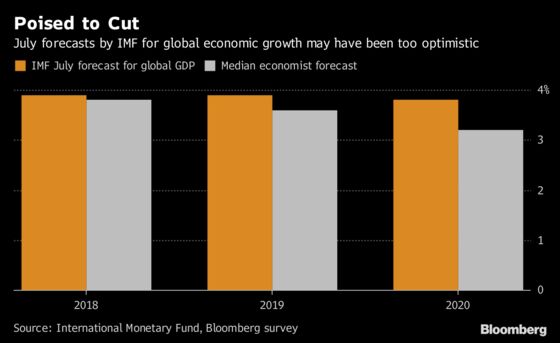 The International Monetary Fund may be about to cut its forecast for global growth as Managing Director Christine Lagarde warns that trade wars and tighter credit are darkening the outlook. Three months since predicting the world economy would grow 3.9 percent this year and next, Lagarde signaled in Washington that she is no longer quite so optimistic. The fund will update its World Economic Outlook on Oct. 9 ahead of opening its annual meeting in Bali, Indonesia.
8 a.m. EU finance ministers meet in Luxembourg to discuss money-laundering. Justice Commissioner Jourova meets Estonian Finance Minister Tõniste in the wake of the Danske scandal
9 a.m. EU Commission President Juncker addresses the plenary of the European Parliament on the Commission's preparations ahead of the October European Council, where the bloc's leaders are going to discuss migration, trade and Brexit
11 a.m. NATO Secretary General Jens Stoltenberg gives press conference ahead of meeting of Alliance's defense ministers
11:30 a.m. Milo Đukanović, president of Montenegro, to address European Parliament in Strasbourg
11:45 a.m. U.S. Ambassador to NATO Kay Bailley Hutchison will hold a press conference 
EU top court rules in a case seeking guidance on the threshold of the seriousness of a crime so that mobile phone operators can be required to provide communications data to police during a criminal investigation
College of EU Commissioners convenes; readout expected at around 3:30 p.m.
MEPs in Strasbourg will vote on updated rules on audiovisual media services, including a 30% quota of European works in online platforms. The new rules will apply to broadcasters, but also to platforms such as Netflix, YouTube or Facebook, as well as to live streaming on video-sharing platforms
The European Parliament will vote to cancel 70 million euros in pre-accession funds earmarked for Turkey, "as no improvements in the fields of rule of law, democracy, human rights and press freedom have been made"
EU's chief Brexit negotiator Michel Barnier visits Bucharest and will hold meetings with the Romanian president, Romanian prime minister and parliament speaker
Like the Brussels Edition?