Brussels Edition: Draghi's Dilemma
(Bloomberg) -- Welcome to the Brussels Edition, Bloomberg's daily briefing on what matters most in the heart of the European Union.

ECB President Mario Draghi can expect to be bombarded with questions about the risks to the economy following the central bank's meeting today. While policy makers will probably stick to plans to end monetary stimulus, the list of things to worry about in the euro area is getting longer. The bloc's growth in October was the weakest in more than two years, purchasing managers indexes showed. 
Contentious Talks | The escalating standoff between Rome and Brussels over Italy's spending will give senior euro-area finance ministry officials another issue to grapple with as they prepare today for their bosses' Eurogroup meeting on Nov. 5. The agenda is already far from dull with Greece's first post-bailout budget, and contention over joint deposit insurance and injecting cash into struggling banks.
War Games | Not since the Cold War has NATO put on a military exercise as big as the one planned today in Norway with 50,000 soldiers, 250 aircraft and even a Thor lookalike. Beyond the display of unity for the 29-nation alliance, Secretary General Jens Stoltenberg keeps being asked to explain why Donald Trump's policies are often opposed to what NATO's European allies support.
Sick Chickens | The EU may move closer today to curbing the use of antibiotics on farms so resistant bacteria are kept out of food and key medicines used to treat humans remain effective. The European Parliament is due to vote on a draft law that would limit the use of antimicrobials as a preventive measure.
Privacy Matters | It's rare for Europe's most powerful privacy regulators to get together for a public conference, but many are doing just that today amid ongoing probes of recent data scandals involving tech giants Facebook and Google. They carry a lot more clout since May, when they were armed with unprecedented powers to slap companies with fines of as much as 4 percent of annual sales for serious data violations.
May Backing | U.K. Prime Minister Theresa May survived a Conservative Party meeting yesterday evening, as lawmakers largely decided to express public loyalty instead of venting private frustrations. But her problems remain formidable. The clock is ticking down on Brexit negotiations, and it remains hard to see what sort of deal would win the approval of both the EU and her own party. 
Critical Cook | Apple CEO Tim Cook lashed into competitors for stockpiling user data, equating such practices to "surveillance," as he touted the importance of privacy at an EU conference in Brussels yesterday. Apple is trying to mend its difficult relationship with the bloc following a clash over a 13 billion-euro tax dispute. 
Muffled Whistleblower | The EU wants Danske Bank to drop a confidentiality agreement that would limit what the whistleblower behind money-laundering allegations can say during testimony next month at the European Parliament. 
Judging Poland | Stung by the blow of a smaller-than-expected victory in regional elections, Poland's ruling party said it will wait until after runoff votes next month to respond to the EU's top tribunal, which is demanding Poland stop a purge of justices from its supreme court.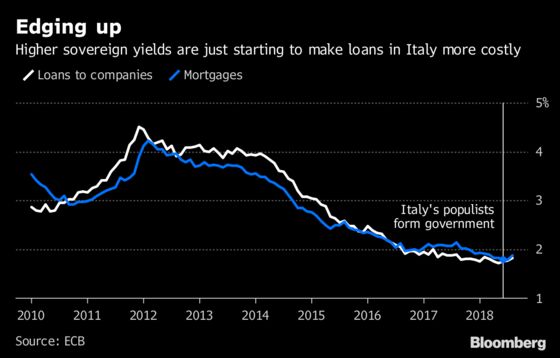 Italy's rising sovereign-debt yields are starting to nudge up borrowing costs for households and companies. Banks reported a slight tightening of terms on mortgages and new loans to companies in the third quarter, according to a ECB survey. Interest rates on loans have also edged up. These early signals suggest that, if market pressure continues in response to the government's fiscal plans, the economy could eventually be hit.
11:45 a.m. EU Competition Chief Margrethe Vestager speaks at privacy conference at European Parliament

2:30 p.m. Mario Draghi press conference following the Governing Council meeting of the ECB in Frankfurt

5 p.m.  EU Commission President Jean-Claude Juncker holds a joint press conference  in Tunis with Beji Caid Essebsi, president of Tunisia

MEPs in Strasbourg will vote on a law limiting the use of antibiotics on farms

MEPs in Strasbourg urge Facebook to allow EU bodies to carry out a full audit assessing data protection and security of users' personal data 

Euro-area finance ministry officials meet in Brussels to prepare the next Eurogroup meeting

German Chancellor Angela Merkel holds campaign rally in Fulda ahead of Hesse state election on Oct. 28

EU Commission VP Frans Timmermans receives Apple CEO Tim Cook