Brussels Edition: Derailing a Mega-Merger
(Bloomberg) -- Welcome to the Brussels Edition, Bloomberg's daily briefing on what matters most in the heart of the European Union.
A European rail dream is set to get squelched by Margrethe Vestager today when she overrides French and German protests and blocks a merger plan by Siemens and Alstom. The EU's antitrust chief yesterday sought to counter criticism that the merger should be viewed in global terms given the threat from China, saying that it's time Europe got "more hard-nosed" about allowing open access to countries that don't do the same. Vestager, said to be in line for a top EU job, is also due to veto a German copper deal, bringing to five the number of mergers she's halted since 2014, compared with around 1,500 the bloc has approved. 
Irish Guests |  Irish Prime Minister Leo Varadkar is in  Brussels today to talk Brexit with European Commission President Jean-Claude Juncker and European Council President Donald Tusk. Discussions will likely focus on preparations in case the U.K. crashes out of the EU without a deal. His visit comes a day before U.K. Prime Minister Theresa May heads to the Belgian capital in an attempt to reopen the Brexit deal.
Deutsche Reception | Deutsche Bank CEO Christian Sewing will speak in Brussels this evening, two days after the lender's anti-financial crime chief  frustrated European Parliament lawmakers with his defense of the bank's role in one of the continent's biggest money-laundering scandals. A speech at a New Year's reception is rarely an occasion for hard news, but then this is not a normal year for Germany's biggest bank.
Macedonia Moves | The newly renamed state of North Macedonia will  sign an accession protocol today with NATO, weeks after the former Yugoslav republic and Greece settled a decades-long dispute. Its participation in NATO will be another blow to Russia, which has struggled to cling to its former sphere of influence in the Balkans. 
Italian Property | Italy is preparing to sell as much as 1.8 billion euros of state-owned real estate as it seeks to rein in soaring debt. The finance ministry is identifying properties owned by the state and by regional and local administrations that could be sold. The divestments are part of measures included in Italy's budget plans designed to fuel a recovery in the second half of 2019.
Rare Deal | Financial regulators scored a rare accord aimed at preventing chaos in markets should Britain leave the EU without a deal, ensuring trillions of euros in transactions can continue unimpeded. The Bank of England reached an agreement with the EU's securities watchdog to enable derivatives to be handled at clearinghouses based in London. It's one of a handful of examples of cooperation to resolve issues that may arise after the U.K. is set to depart the bloc.
German Industry | German Economy Minister Peter Altmaier laid out a broad industrial strategy that seeks a more hands-on approach in backing the country's export champions against Chinese and U.S. competition. At stake is how much to use the power of the state to support Germany's economy through promoting mergers and actively investing in new technology. The new strategy comes as Berlin waits for the Commission's expected veto of the Siemens-Alstom merger. 
Greed Tax | Romania's central bank rejected a proposal to end its spat over the government's so-called greed tax on lenders, indicating that a resolution is still some way off. The levy, part of ad hoc revenue-generating measures to keep the budget deficit within EU limits, triggered the country's worst stock crash since the global financial crisis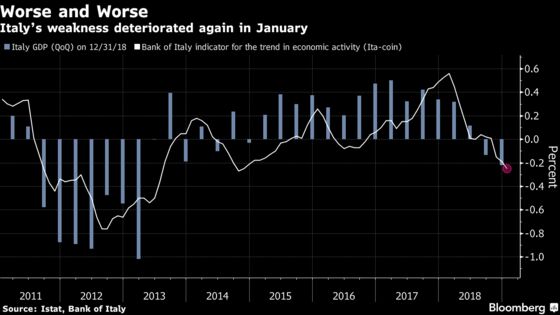 Italy is back in recession and signs are increasing that economic weakness continued into January. The central bank's monthly indicator of real-time estimates of the trend in economic activity fell to the weakest level since 2014. Meanwhile, a manufacturing and export-led slump in Italy's economy spilled into services at the start of the year, aggravating an already fragile economic situation in the euro area.
9:05 a.m. Vestager gives keynote speech at EU Industry Days 2019 in Brussels
11 a.m. NATO's 29 members sign the accession protocol with North Macedonia
12 p.m. The Siemens-Alstom rail deal is set to be vetoed by Vestager as Paris and Berlin complain that competition law shouldn't prevent the creation of big firms to counter China
2:30 p.m. Andrea Thompson, the U.S. State Department's undersecretary for arms control, briefs media about the status of the Intermediate-Range Nuclear Forces (INF) Treaty
3 p.m. Juncker meets Varadkar. The Irish Taoiseach also meets Tusk at 12:30
Informal meeting of EU justice and home affairs ministers in Romania
Deutsche Bank CEO Sewing speaks at the bank's annual Brussels reception