Brussels Edition: Clash of Visions
(Bloomberg) -- Welcome to the Brussels Edition, Bloomberg's daily briefing on what matters most in the heart of the European Union.
Angela Merkel and Margrethe Vestager don't see eye to eye on mega mergers these days and will have a chance to discuss their differences when the German chancellor meets with the bloc's competition chief today in Berlin. Since the EU's decision to block a Siemens bid to create a rail champion with French rival Alstom, Merkel has been pushing for changes to merger rules. She and French President Emmanuel Macron have stepped up their campaign to overhaul EU antitrust rules as the region's leaders seek to help companies take on large U.S. and China rivals. Vestager maintains she can't allow deals that increase prices for European consumers.
Budget Talks | Senior euro-area officials will today discuss the bloc's new budgetary instrument to boost competitiveness and convergence. With a deadline in June, euro-area countries have to bridge differences on how money is raised and spent. The officials will also discuss a report evaluating Greek reforms that will help determine if Athens will get more cash for debt relief next month. 
Blacklist Deadline | An internal deadline ends tonight for member states to give their opinion on the Commission's list of foreign countries posing higher money-laundering and terrorist-financing risks. While there were grumblings about the procedure, the bar for blocking the list is high — at least 21 of the 28 EU countries would have to agree.
Drop the Ball | Michel Barnier, the EU's chief Brexit negotiator, is meeting Austrian Chancellor Sebastian Kurz in Vienna today, but he'll have to skip the most exciting part of his visit: the Opera Ball — the highlight of Vienna's social scene. Given the latest impasse in Brexit talks, having the EU negotiator participate in a flamboyant event in tailcoats was probably deemed too risky.
Prosecutor Clash | Laura Codruta Kovesi, a Romanian anti-graft crusader, won support from a key European Parliament committee to become the EU's first chief prosecutor. The recommendation clashes with the EU governments' decision to endorse another candidate for the job, which will involve investigating and prosecuting crimes such as fraud involving the bloc's 140 billion-euro annual budget.
Excessive Imbalances | Brussels issued another sharp warning on Italy, saying the country's massive public debt and long-lasting productivity weakness are risks for other countries in the region. The Commission report slammed the government for a budget that reverses reforms. It said Italy — along with Greece and Cyprus — are experiencing "excessive imbalances." 
Financial Police | EU lawmakers called for immediate work on forming a "financial police force" and a common watchdog after a wave of money-laundering scandals exposed a lack of adequate controls. A special European Parliament committee adopted a list of recommendations after a 12-month examination, which included hearing from executives from Deutsche Bank and Danske Bank, which is at the heart of one of Europe's biggest financial scandals.
More Weidmann | Merkel's cabinet agreed to extend Jens Weidmann's term as head of the Bundesbank by another eight years as he waits to see if he is picked later this year for the top job at the European Central Bank. Weidmann said that withdrawing crisis-era stimulus remains the ECB's baseline plan despite recent weakness across the euro area and added that he sees no urgency to adjust the central bank's communication on interest rates.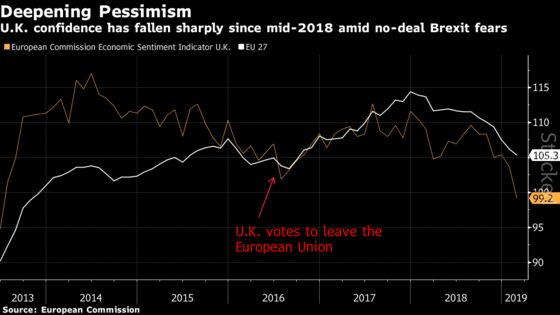 Economic confidence in the U.K. is weakening faster than in any other EU country as Brexit fears pushed sentiment to its lowest level since the sovereign-debt crisis. While sentiment across the region has been damped by a barrage of downbeat economic data in recent months, Britons are bracing for the possibility of a no-deal divorce from the EU that officials have warned will hit growth significantly.
Swiss finance conference with Finma CEO Mark Branson, Credit Suisse Chairman Urs Rohner and UBS Chairman Axel Weber 
Working group of senior euro-area finance ministry officials meet to discuss currency bloc's budget and enhanced surveillance report for Greece
EU competition chief Vestager in Berlin to meet German Chancellor Merkel, Economy Minister Peter Altmaier and Finance Minister Olaf Scholz
Economic Affairs Commissioner Pierre Moscovici meets Greek Prime Minster Alexis Tsipras in Athens