Brussels Edition: Changing Gear
(Bloomberg) -- Welcome to the Brussels Edition, Bloomberg's daily briefing on what matters most in the heart of the European Union.
The European Parliament gears up for a vote today on tougher carbon-dioxide caps for vehicles. The assembly may set a 45 percent reduction target from 2020 to 2030, significantly deeper than the 30 percent limit proposed by EU regulators, in order to boost electric vehicles. The auto industry has another reason to be jittery: EU governments, which also must approve any new CO2 caps on vehicles, are weighing going beyond the regulators' proposal at a meeting next week. The European car industry, breadwinner for millions of households across the continent, will have to adapt.
Italy's Numbers | The populist government is expected to present the details of its spending plan to parliament in the first sign of whether the country's leaders can actually meet the budget-deficit target of 2.4 percent of GDP that they've promised for next year. Investors weren't optimistic: Yields on the nation's 10-year bonds touched the highest level in more than four years yesterday after the head of the lower house's budget committee said the euro was "not sufficient" to solve Italy's fiscal issues. The common currency rose this morning after Italian press reports that the government plans at least to lower the deficit to 2.2 percent in 2020 and 2 percent in 2021.
NATO Talks | NATO's defense ministers begin a two-day meeting to discuss cyber and hybrid threats as well as deterrence and defense. Members of the alliance may get a reprieve from U.S. admonitions on inadequate spending: Kay Bailey Hutchison, the U.S. ambassador to NATO, told reporters that nations "are going in the right direction" toward the U.S. goal of spending 2 percent of GDP on defense. 
Russian Missiles | NATO defense ministers will also discuss their concerns that Russia is building a medium-range ballistic missile in violation of the Intermediate-Range Nuclear Forces Treaty, U.S. Ambassador Kay Bailey Hutchison told reporters before the meeting. The U.S. warned that it could resort to strikes against the new class of Russian missile unless Moscow complies with its international commitments to arms reduction, a statement that Moscow called "irresponsible."
Merkel's Successors | Read this to see who to watch in the months ahead as German Chancellor Angela Merkel becomes increasingly isolated. One year into her fourth term, with support falling for the mainstream parties, she's beleaguered from all sides.
Commission Race | Former Finnish Prime Minister Alexander Stubb entered the contest to succeed Luxembourg's Jean-Claude Juncker as president of the European Commission as of November 2019, seeking to steer the bloc after Brexit and become the first Nordic native in the post. Stubb, who also has served as Finland's finance and foreign minister, is challenging Germany's Manfred Weber for the nomination of the EU Christian Democratic party at a Nov. 7-8 meeting in Helsinki. 
Anger Management | British Foreign Secretary Jeremy Hunt stepped up his attack on the EU over Brexit, saying the U.K. is "very angry" with the bloc's attitude to the negotiations. With less than six months to go before Brexit, talks are stalled after the EU dismissed Prime Minister Theresa May's blueprint for a new free-trade area that would keep the U.K. close to EU rules. In an interview with Bloomberg Television, Hunt said this blunt rejection wasn't good enough, remarks likely to escalate tensions between the bloc and the foreign affairs chief following his comments comparing the EU to the Soviet Union. 
Laundering Moves | EU finance ministers agree on the need to build up the bloc's defenses against money laundering in the wake of scandals in Denmark and the Netherlands, but they don't on what to do or who should do it. The high-profile cases at Danske Bank A/S and ING Groep NV, and a reprimand issued to Deutsche Bank AG, have led to calls for an EU money-laundering cop. Some of the ministers meeting in Luxembourg backed this idea. Others opposed even a modest proposal for the European Banking Authority to coordinate the efforts of national agencies charged with tracking illicit money moves. 
European TV | Netflix Inc., Amazon.com Inc. and other video-on-demand services will have to ensure that at least 30 percent of their offering is Europe-made content under EU rules agreed to yesterday. European lawmakers voted to modernize audiovisual media legislation in an age where people are watching more TV shows, movies and media clips online, on-demand and from their mobile devices.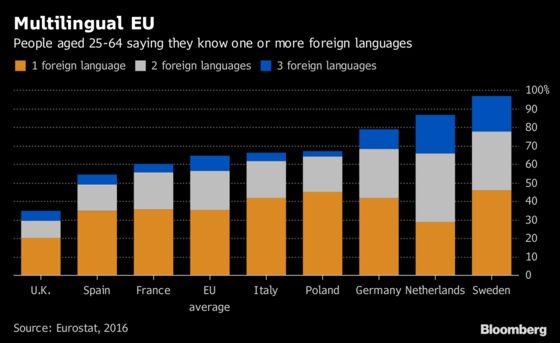 Sixty-five percent of working-age adults in the EU speak at least one foreign language, according to Eurostat data. While Sweden takes the top spot – 97 percent of the population can converse in a language other than Swedish – the U.K. has the poorest showing. Just 35 percent speak another language in addition to English.
9 a.m. Debate on the rule of law in Romania at the European Parliament in Strasbourg in the presence of Prime Minister Viorica Dancila
10 a.m. Debate with the Prime Minister of Estonia, Juri Ratas, on the Future of Europe at the European Parliament in Strasbourg
10:45 a.m. European Competition Commissioner Margrethe Vestager holds press conference in Paris, then in afternoon gives a keynote speech at the Terra Nova think tank event in the French National Assembly
11 a.m. Eurostat to release August retail trade for the euro area, quarterly balance of payments data 
NATO Defense ministers meet in Brussels 
European Commission VP Maros Sefcovic delivers a keynote speech at the publication launch of the "Energy Investment Risk Assessment 2018" organized by the International Energy Charter, in Brussels