Brussels Edition: Can Brexit Be Revoked?
(Bloomberg) -- Welcome to the Brussels Edition, Bloomberg's daily briefing on what matters most in the heart of the European Union.
A "profoundly important" case at the EU's top tribunal today could provide answers about a third option for Brexit. The European Court of Justice will hear arguments in Luxembourg on whether the U.K. can unilaterally reverse its decision to leave, and if so, under what conditions. But will the ruling come in time to sway any minds?
Public Contracts | The U.K. will today ask members of a $1.7 trillion public procurement agreement to approve its final offer to rejoin the pact during a meeting in Geneva. The U.S. and other members of the 46-nation accord each hold a veto and have criticized Britain's offer, saying its outdated and incomplete. Britain exits the deal when it leaves the EU in March and failure to rejoin could prevent U.K. companies from bidding on government contracts in member nations.
Merkel's Successors | The top candidates to succeed Angela Merkel as the leader of the Christian Democratic Union will make their pitches to delegates from the powerful southwestern region of Baden-Wuerttemberg today as they enter the final phase of canvassing. The region appeared to back the chancellor's old rival, BlackRock's Friedrich Merz, although polls show his momentum may be waning in favor of her handpicked successor, CDU General Secretary Annegret Kramp-Karrenbauer, who's likely to carry on Merkel's centrist legacy.
Berlusconi Ruling | The European Court of Human Rights will deliver a decision today in the case of media mogul and former Prime Minister Silvio Berlusconi, who complained his individual rights were violated when the Italian Senate invalidated his election as senator because of a previous conviction for tax fraud. If the decision goes his way, it could trigger a fresh move by the veteran politician, now aged 82, to run for public office.
Draghi's View | ECB President Mario Draghi said at least some of the slowdown in the euro area may be "temporary," confirming that the central bank remains on track to end bond purchases in December. Speaking to European lawmakers, he noted that risks from protectionism, emerging markets and financial volatility remain "prominent." With policy makers meeting Dec. 13, analysts are asking if some support measures, like new long-term loans for banks, are warranted. 
Italian Moves | Italian officials are studying scenarios for a lower 2019 budget deficit target after weeks of pressure from the EU and amid an escalating standoff with Brussels that could eventually lead to fines. An incremental reduction of the deficit target of 2.4 percent of GDP is unlikely to sway the Commission's assessment. What will be crucial to Brussels is whether any tweaks affect the structural balance.
Swiss Wait | Switzerland faces a week of reckoning with the EU, even after voters said a resounding "No" to isolationism in Sunday's plebiscite, rejecting a plan that would probably have made relations with Brussels testier. A question mark still hangs over the Swiss stock market. Its recognition under EU regulation expires at the end of this year, and the government in Bern has set itself a Dec. 1 deadline for deciding whether to enact an emergency plan to protect it. 
Crimea Troubles | The latest spike in tensions between Russia and Ukraine over Crimea offers Vladimir Putin a fresh chance to test the West's commitment to defending Kiev at a time when the U.S. and Europe are divided and distracted by internal squabbling. But the weekend skirmish that saw Russian naval forces fire on and seize three Ukrainian ships could also set back his chances for rapprochement with the U.S., starting at the G20 summit this week in Argentina.
Web Attack | At a Brussels event yesterday, IBM CEO Ginni Rometty joined a chorus of tech executives lambasting web platforms like Google and Facebook over their collection of user data and urged governments to regulate them. She pointed to their "irresponsible handling of personal data" as creating a "trust crisis" between users and tech companies.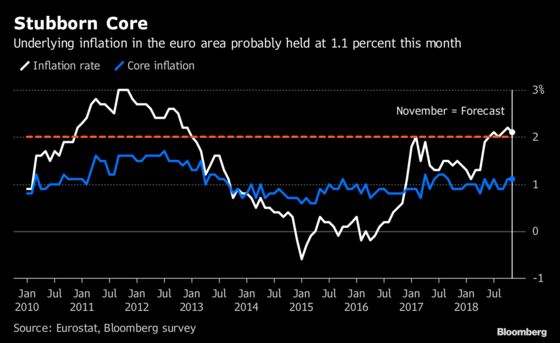 The European Central Bank says underlying inflation in the euro area should still pick up despite "fragilities" in the economy, but there may be reason for concern. Data on Friday is forecast to show core inflation stuck at 1.1 percent, and Goldman Sachs says it may barely move over the next year. 
9 a.m. EU Court of Justice hears arguments in case referred by Scottish court on whether the U.K.'s Article 50 notice, which triggered the Brexit process in March last year, can be unilaterally reversed and if so, under what conditions 
9 a.m. EU trade chief Cecilia Malmstrom speaks in Brussels at a European Commission conference on commercial policy 
11 a.m. European Court of Human Rights in Strasbourg, France, is due to issue a judgement on an appeal by Italian ex-premier Silvio Berlusconi against a ban on holding public office
6 p.m. Three top candidates to succeed German Chancellor Angela Merkel as head of her Christian Democratic party hold a panel debate near Stuttgart
EU foreign policy chief Federica Mogherini receives Ali Akbar Salehi, Iran's vice president and head of the country's Atomic Energy Organisation