Brussels Edition: Call to Order
(Bloomberg) -- Welcome to the Brussels Edition, Bloomberg's daily briefing on what matters most in the heart of the European Union.
Is the EU still a "union" when its members don't feel bound by the rules? We're about to find out soon. Poland contemplates how to respond to an EU Court injunction ordering it to "immediately" halt what critics call a purge of the bloc's rule of law standards. Italy will likely get an unprecedented request by the European Commission this week to re-submit its budget, after ignoring explicit warnings that its current plans deviate from what has been jointly agreed upon. 
Roman Relief | Don't be surprised if you see a relief rally in Italian markets today, even though Moody's just downgraded the country's debt. Rome avoided the worst, as the ratings agency kept the outlook at "stable," thus removing the immediate threat of demotion to junk. In other fiscal friendly news, a top League party official said the targeted budget deficit of 2.4 percent for next year is a "ceiling" and may not need to be used completely. An inflammatory response today by the Italian government to the Commission's budget comments could of course raise tensions again.
Erdogan Explains | The next catalyst for the global reaction to Saudi journalist Jamal Khashoggi's death looks set to come Tuesday, when Turkish President Recep Tayyip Erdogan has pledged to "go into details" about the case. The U.S. and some European allies have struggled to mount a response to Saudi Arabia's revised account — that of an interrogation gone wrong.
Warsaw Rules | Poland's Foreign Ministry says the European Court of Justice's order to "immediately suspend" a controversial Supreme Court overhaul was "provisional," leaving it unclear how the government will respond. In regional elections, the ruling Law & Justice party won a smaller-than-expected victory.
Unicredit's View | Last week's clear signs of contagion from Italy to other euro-area markets could "increase the probability of a policy response by the ECB and other European policymakers," Unicredit chief economist Erik F. Nielsen reckons. What this response could be is unclear, as reform discussions have been moving at a snail's pace.
Trans-Atlantic Rift | Even though President Donald Trump notified Congress last week that the U.S. intends to begin official trade talks with the EU, quarreling between the two sides signals an arduous process ahead, so don't expect a complete overhaul of their more than $1 trillion commercial relationship anytime soon, Richard Bravo, Jenny Leonard and Shawn Donnan report. 
Balkan Blues | The Republic of [North?] Macedonia made a key step towards removing a decades-old roadblock to its NATO and EU-membership bids, after the country's parliament approved the government's name-change deal with Greece. Elsewhere in the Balkans, things don't look so bright. 
Drink to That | You may have enjoyed going out in short sleeves in Brussels last week, but it wasn't such good news for our planet, which had another record-warm month. On the flip side, wine-makers in France are rejoicing at the unusually warm growing season and exceptionally dry summer. You'll be pleased to know we are heading for a "great, classic" vintage of Bordeaux. Germany's Riesling is looking good too. 
Correction: In Friday's Brussels Edition, we misidentified the ECB's Single Supervisory Mechanism.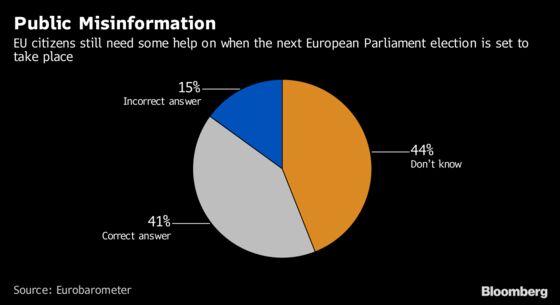 All four candidates from the two biggest European political parties vying to get nominated for the presidency of the European Commission are Brussels insiders. The Socialists announced on Friday that Maros Sefcovic and Frans Timmermans (both currently EU Commission Vice Presidents) are the two lead-candidate nominees. This may not bode down well for the "Spitzenkandidaten" process which was supposed to reconnect the bubble with the people outside it. In the meantime, most Europeans don't even know when then next EU elections are due.
11 a.m. Eurostat to release final data on 2017 general government deficit and debt 
12 p.m. Deadline for Italy to respond to EU Commission's initial comments on its draft budgetary plans
2 p.m. Facebook briefing on their ideas for future competition policy 
European Parliament plenary begins in Strasbourg
8 p.m. European Parliament lawmakers discuss provisioning rules for nonperforming loans in Strasbourg 
German Chancellor Angela Merkel begins final campaign stretch in Hesse state, where polls suggest her Christian Democratic Union is headed for a setback
EU Commission expected to say if Sony/EMI offered phase 1 concessions in merger review