Brussels Edition: Budget Crunch
(Bloomberg) -- Welcome to the Brussels Edition, Bloomberg's daily briefing on what matters most in the heart of the European Union.
It's almost time for euro-area countries to submit their budget plans to Brussels for approval — an annual review that this year promises to be the most contentious since the debt crisis. And it won't just be about Italy: Spanish Prime Minister Pedro Sanchez pushed back final approval of his country's draft spending plans until deadline day on Monday as he struggles to muster the votes he needs. For Brussels, the exercise will be trickier than usual, too. With just over six months to go until European elections, the bloc will be extremely wary of appearing too strict and playing into the hands of populists.
Border Watch | EU home-affairs ministers will discuss a plan to beef up the European Border and Coast Guard when they meet today in Luxembourg. Austria has offered a fresh reminder of the pressure to make the EU's external frontier less porous by announcing yet another prolongation of internal border controls that threaten the bloc's passport-free travel zone.
Week Ahead | Brace yourselves for a relentless week ahead. It starts with the deadline for euro-area countries (ahem, Italy) to submit their budgets for review and a meeting of EU foreign ministers in Luxembourg and culminates in a summit of EU leaders to discuss security, the euro and, of course, Brexit. But the fun won't stop there. The leaders will be joined by heads of state from Asian countries to discuss trade and the environment.
Brexit Beware | Next week's summit in Brussels is heralded as Brexit's defining moment. The U.K. wants a deal. The European Union expects a deal. In private, both sides warn it could be a disaster. That's why last month's infamous Salzburg summit should be a cautionary tale: Here's an account of how things went wrong.
Luxembourg Votes | Luxembourgers will head to the polls on Sunday to elect their new parliament for the next five years. Flashback to 2013, when then-Prime Minister (and current Commission President) Jean-Claude Juncker's conservatives won the elections but were deprived of yet another term in office. Xavier Bettel's Liberals, the Socialists and Greens formed a government. Another coalition this year is certain, but the big question is: Who will be allowed to join it?
Cyber Sanctions | The U.K., the Netherlands and other EU governments are pushing the bloc to expand its sanctions regime to include cyber attacks, following alleged attempts by Russian and Chinese operatives to infiltrate the computer systems of European and U.S. agencies. The group wants a similar system to the one against those violating nuclear and chemical weapons treaties, according to a memo obtained by Bloomberg.
ECB Caution | European Central Bank policy makers held back from raising the alarm about risks to the euro-area outlook even after a debate that noted mounting global threats. The discussion during the Sept. 12-13 meeting highlights the conundrum for the ECB as it starts to wind down stimulus, while also monitoring global trade disputes, emerging market turmoil and Italy's budget-related bond ructions.
Plan B | The EU has a plan up its sleeve to avert market chaos in case of a no-deal Brexit, according to a senior financial-services official. "We have the measures in place, whether it's a soft or a hard Brexit," said Patrick Pearson, who runs the financial-markets infrastructure unit at the European Commission. His comments echo those of Daniele Nouy, the ECB's head of supervision.
Fresh Snow | Fed up with less-than puffy snow on Europe's slopes? Fret not. Faced with rising temperatures, European ski resorts are preserving last year's snow by storing it under tarps — a process called "snow farming." It's a low-tech way to start the next season with an inherited base and colder ground ­temperatures — that's key if they want skiers on the mountain before Christmas.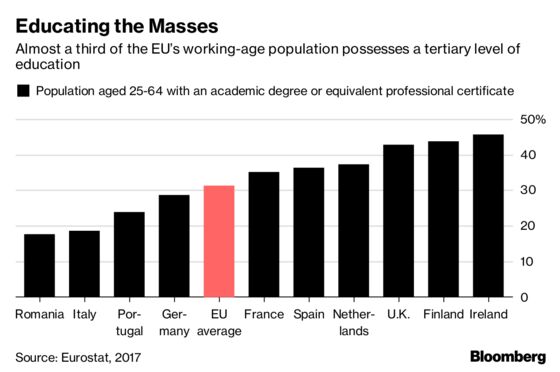 Thirty-one percent of the working-age population in the European Union possessed a tertiary level of educational attainment — an academic degree or equivalent professional certificate — in 2017. That's up 8 percentage points from a decade earlier. Ireland, Finland and the U.K. top the list, while Romania and Italy take the bottom spots.
8 a.m. EU home affairs ministers will discuss the proposal on the European Border and Coast Guard agency in Luxembourg
EU27 ambassadors meeting in Luxembourg to discuss Brexit
EU financial services chief Valdis Dombrovskis in Bali for the International Monetary Fund's meetings, meets U.S. Federal Reserve Chair Jerome Powell and Treasury Secretary Steven Mnuchin
EU Budget Commissioner Günther Oettinger speaks at the annual European Commission conference on the EU budget