Brussels Edition: Goodbye and Not Auf Wiedersehen
(Bloomberg) -- Welcome to the Brussels Edition, Bloomberg's daily briefing on what matters most in the heart of the European Union.
So this is it. Britain departs at midnight. Yes, there's a transition period, and yes, negotiations over the future mean the U.K. will be a constant visitor, but tonight marks the historic rupture. Flags will fall, tears will flow. The country that shaped the single market, that impressed with its diplomacy and whose language you speak when not using your own, is going its own way. For some, it's a moment of deep joy, for others regret. Some dream of returning one day, but it's a long way back. Tonight, you won't hear au revoir or auf Wiedersehen, but goodbye.
New Rules | The EU's fiscal rules are convoluted, lack political ownership and are difficult to enforce, the Commission will say in a review of the bloc's economic governance next week, according to a draft of the report. Yet as governments continue to disagree on what should be done, little is likely to change. 
Border Spat | The ruling by the EU's top court today could prove key in resolving a dispute between Slovenia and Croatia over the border at Piran Bay. The question is: Does the European Court of Justice have jurisdiction over a quarrel that goes back to the time when the two nations gained independence in 1991 and has put Croatia's goal to join Schengen at risk.
Euro Clues | Gross domestic product data for France, Italy and Spain today could offer fresh clues on the state of the bloc's economy. But patience is required for the number that matters most: German GDP. That won't come for two weeks. In the meantime, investors can take comfort in the fact that recent data indicate that Germany is regaining ground. 
Budget Alliance | The "Friends of Cohesion" group that brings together Europe's poorer southern and eastern countries meets tomorrow in Beja, Portugal, ahead of a Feb. 20 summit showdown over the EU's trillion-euro budget. Brexit ends the U.K.'s contributions, and the bloc's poorer members will fight plans to plug that hole with cuts in development funds.
ECB Vibes | While Jens Weidmann's ECB colleagues are airing views on the policy review that will preoccupy them this year, the Bundesbank chief has been biting his tongue. Should he object and risk a rift with Christine Lagarde? His relative silence so far is a likely sign that, for now, he's willing to engage in dialog with an open mind.
Food Talks | U.S. Agriculture chief Sonny Perdue signaled that a renewed transatlantic trade truce will require more ambitious EU efforts on easing imports of American foods. That challenges Europe's food-safety stance, which has led to bans on hormone-treated beef and "chlorinated" chicken, and highlights the obstacles to reviving a commercial truce.
Catalan Talks | Spanish Prime Minister Pedro Sanchez committed to go ahead with a negotiation process in Catalonia as planned after coming under pressure from the separatist party that helped smooth his path to form a government. The government reversed course after stating it wanted to postpone talks until after upcoming regional elections.
Climate Warriors | The world's largest central banks are getting louder about climate-change risks, and some of them are even starting to do something about it. The new focus has raised questions over whether they are muddying their mission, and whether their tools will even work in this field. Here's why they're acting this way. 
Merger Help | European bankers looking to raise depressed profitability by merging with regional competitors may get some help from their top regulator. Andrea Enria, who leads the ECB's supervisory arm, outlined some ideas to help the continent's lenders, which have been reeling from intense competition and the fallout from negative interest rates. 
No Final Cut | The Bank of England kept interest rates on hold in Mark Carney's final meeting, waiting for more evidence of an economic rebound before supporting it with a cut. Yet officials also signaled easing may be needed soon, cutting their GDP forecasts to the lowest level since the global financial crisis.
Despicable Studio | The EU fined NBCUniversal 14.3 million euros for restricting where traders could sell merchandise for the Minions from "Despicable Me." The decision is part of a push to bolster citizen's rights to shop online and follows similar fines on Nike, Guess? and Hello Kitty owner Sanrio Co.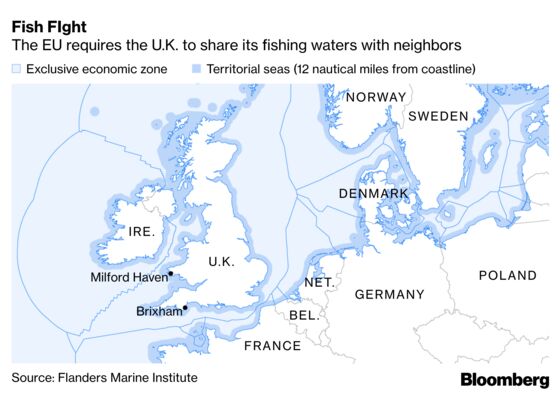 As the EU and U.K. gear up to negotiate a landmark trade deal, fish and financial services may become bargaining chips. Britain wants to take back control of waters that France, the Netherlands and other EU nations are keen to continue fishing. Brussels may gain leverage here as a result of the U.K.'s desire for access to the European banking market. 
9 a.m. The EU's top court will give its binding ruling in a fight between Slovenia and Croatia over the Piran Bay
10 a.m. OECD news briefing on outcomes of discussions on global digital tax 
10:50 a.m. Statements on the Future of Europe by presidents of the European Parliament, EU Council and the Commission
11:00 a.m. ESM Chief Economist Rolf Strauch gives a guest lecture at Erasmus University in Rotterdam
11 a.m. Eurostat to release flash estimate on euro-area inflation in January and preliminary estimate on 4Q GDP growth
EU financial services chief Valdis Dombrovskis meets Italian Finance Minister Roberto Gualtieri in Rome and participates in a conference on "Creating Growth Opportunities for Italian Companies and Savers"
EU trade chief Phil Hogan receives Boeing Europe President Martin Donnelly