Brussels Edition: Brexit Tunnel
(Bloomberg) -- Welcome to the Brussels Edition, Bloomberg's daily briefing on what matters most in the heart of the European Union.
The European Commission "went down a tunnel" with British negotiators over the past week, and today the EU's 27 national governments will try to see if there's light at the end of it. That's how an EU diplomat summed up expectations for the meeting of European affairs ministers in Luxembourg. Without a Brexit withdrawal agreement, the spat over the future relationship between the two sides persists and a cliffhanger exit is "closer than ever before." The ministers will likely pass the question of what happens next to EU leaders. The buck stops there — in Brussels on Wednesday evening.
Rule of Law  | Ministers meeting in Luxembourg will also discuss the rule of law (or lack thereof) in Poland and Hungary. Don't expect concrete results. This is a slow process, and no one really knows how to take it forward in the absence of a super-majority of member states required to trigger sanctions under Article 7 of the EU Treaty. The Austrian presidency will therefore brief ministers on procedural and legal aspects of the Hungarian case.
Ross  in Town | U.S. Commerce Secretary Wilbur Ross is in Brussels today to meet EU Trade Commissioner Cecilia Malmstrom on "issues of common interest," but not necessarily the most pressing one: a limited trans-Atlantic accord to keep at bay the threat of American car tariffs. That is U.S. Trade Representative Robert Lighthizer's deal. Ross continues his meetings with EU commissioners in Brussels on Thursday.
Cyber Talks | Defense officials and cyber security experts gathering for a three-day NATO conference in Mons, Belgium today will have Russia on their minds. It's no secret that EU officials are bracing for possible meddling by Russia-backed operatives ahead of the bloc's elections in the spring, where far-right parties are set to make gains. They want to pursue additional sanction measures for those behind cyber attacks to combat fake news.
No-Deal Warning | European banks are warning about the chaos that would ensue in case of  a no-deal Brexit. In a letter to EU commission vice president Valdis Dombrovskis, lobby group AFME sought "clarification and reassurance" that regulators will take steps if the U.K. crashes out without an accord. It is worried about market infrastructure access, the servicing of existing contracts, cross-border data flows and bonds issued under English law.
Debt Window | Some banks may have missed a "window of opportunity" to sell the kind of debt they need in case of a crisis, according to EBA Chairman Andrea Enria. At a Brussels conference on Monday, he said that with rising market volatility and a greater number of risk factors, firms may find it harder to comply with EU requirements for so-called loss-absorbing debt. Only the EU's biggest banks are close to being fully compliant with the rules.
Czech Bonanza | As Italy clashes with the EU over its deficit, the Czechs are enjoying a windfall that may tip this year's budget into surplus. The richest former Soviet satellite is relaxing spending controls that have underpinned one of Europe's sturdiest budgets. But plans to raise public wages and pensions may limit room for future stimulus, warned the National Fiscal Council, an independent watchdog.
Spanish Deficit |  The Czechs aren't the only ones loosening the belt. Spain's Socialist government stuck to its pledge to ease deficit targets for 2019, vowing to increase pensions and other benefits. The minority administration will target a budget gap in 2019 of 1.8 percent of GDP, compared with 1.3 percent reported  by the former government. Let's see how that goes down in Brussels.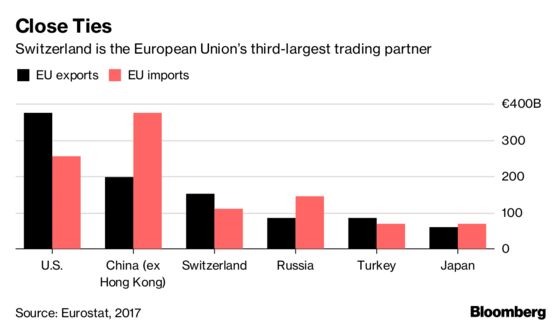 EU and Swiss negotiators meet today in Brussels after they failed to make headway in negotiations to streamline their relationship whose success is key to ensuring the smooth functioning of Zurich's SIX exchange. While the talks — which started in 2014 and at one point were expected to conclude this year — are in progress, the Swiss have only been granted temporary equivalence under the EU's MiFID II regime. That means their stock market risks being ruled off limits to EU traders from next year.
9 a.m. European affairs ministers meet in Luxembourg to discuss Brexit, rule of law in Poland, triggering of the Article 7 procedure for Hungary, EU's next multiannual budget
11 a.m. Eurostat to release international trade in goods reading for August
11 a.m. Eurostat to release poverty and social exclusion in 2017 data
NATO's largest cyber conference, NIAS, held in Mons, Belgium
1 p.m. Press conference by Commissioner Mariya Gabriel on the Code of Practice on disinformation
3:45 p.m. Press conference following  Tripartite Social Summit. EU Council President Donald Tusk may address Brexit
Estonian government's anti-money laundering committee to discuss new measures in the wake of the Danske Bank crisis
EU trade chief Cecilia Malmstrom receives U.S. Secretary of Commerce Wilbur Ross; also delivers a speech on "Why Asia Matters" at the EU-Asia Center in Brussels
Italian PM Giuseppe Conte addresses lower house of parliament in Rome