Brussels Edition: Brexit's Irish Quandary
The EU's 27 leaders — minus Theresa May — get the chance at their summit in Salzburg today to thrash out a plan for Brexit's endgame. Over schnitzel in the Austrian city last night, the U.K. prime minister warned that the EU's emerging solution for the Irish border "isn't credible." With expectations now dimmed, it'll be seen as a modest success if leaders depart today speaking any less negatively about the state of the negotiations than they did upon arrival.
French Push | France is pushing its proposal in Brussels to make life harder for U.K. banks after Britain leaves the bloc. Financial-services experts will discuss tightening rules that let non-EU banks access the single market, as long as their country's regulations are "equivalent" to the EU's. One proposed requirement: having a branch in the EU.
Future Bailouts | What role should the European Stability Mechanism — the euro area bailout fund established at the peak of the financial crisis — play in any future financial rescues? That question, including the tools needed, like precautionary credit lines, will be discussed by senior euro-area finance ministry officials as they prepare for broader talks at a December summit on shoring up the currency bloc.
Trade Talks | The EU's trade with the Americas will be discussed in Vienna today and tomorrow — both a two-month-old tariff truce with the U.S. and a two-decade-long negotiation on a free-trade deal with Latin America's Mercosur group. Also on the agenda: efforts to bolster the World Trade Organization after U.S. President Donald Trump called its relevance into question.
No Victory | European publishers won a battle against Google and Facebook on copyright with the latest European Parliament vote, but the war is far from over. The publishers say they remain at the mercy of Google and Facebook for both traffic to their websites as well as ad revenue. Google, for example, takes a 30 percent cut when publishers use its service to place ads on their sites.
Amazon Focus | EU Competition Commissioner Margrethe Vestager has another big U.S. technology giant in her sights: Amazon. She told reporters yesterday that her antitrust officials are checking how the online retailer gathers information on sales by competitors on Amazon Marketplace and whether that data gives it an edge. It all started with a hipster enthusiast of antitrust regulation.
Happy Deal | McDonald's won a rare reprieve from EU competition regulators cracking down on unfair tax deals for multinational firms. After officials concluded that a pact with Luxembourg didn't break the law, the Big Mac maker escaped the fate of other giant U.S. companies that were ordered to pay back taxes to EU nations.
Rocky Start | Former Austrian Chancellor Christian Kern's bid to become the European socialists' Spitzenkandidat for the European Parliament got off to a rocky start. While the move was in the making for a while, Kern failed to inform key players in his party yesterday about his imminent announcement, allowing rumors to swirl for hours in Vienna. While Brussels may be the more natural place for the former railway manager, the way he announced his plans showed he's not exactly a political master.
British Standstill | The U.K.'s decision to withdraw from the EU is already having one unintended consequence: an administrative standstill. With the ruling circles in London frenetic over the details of the divorce proceedings, the rest of the U.K. is stuck in political and bureaucratic torpor.
Italian Worries | Bondholders seem confident that Italian Finance Minister Giovanni Tria will get his prudent budget, despite the lavish pledges made by his government colleagues. Such market relief is understandable, but probably premature. Here are three more reasons to worry about Italy, courtesy of Bloomberg's Ferdinando Giugliano.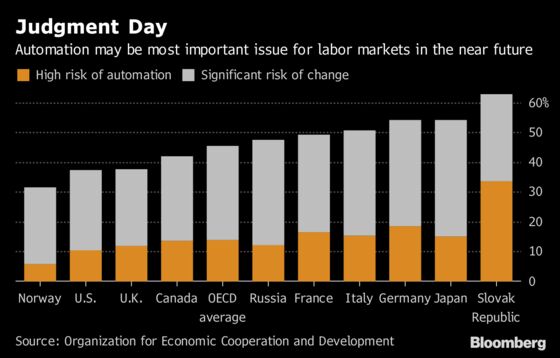 Will robots take your job? The answer depends on where you live. The threat varies "strikingly" between countries and regions, with almost 34 percent of jobs at "high risk" in Slovakia and fewer than 6 percent in Norway, the OECD said. According to its research, 14 percent of jobs are considered at high risk across 36 member countries.
Informal European Council meeting in Salzburg to discuss migration, border security and Brexit
EU top court rules in a case referred to it by a Budapest court concerning the compatibility of certain clauses in foreign currency loans in Hungary
Senior euro-area finance ministry officials meet to prepare the next Eurogroup meeting in October
Senior trade officials from EU member states hold a two-day, informal meeting in Vienna