Brussels Edition: Big Decisions
(Bloomberg) -- Welcome to the Brussels Edition, Bloomberg's daily briefing on what matters most in the heart of the European Union.
A nail-biting week for both supporters and opponents of the U.K.'s withdrawal from the European Union starts in Luxembourg: The bloc's top court will announce a landmark decision on whether Britain could unilaterally revoke Article 50 — the clause that started the Brexit process. The ruling comes just a day before the U.K. Parliament is scheduled to vote on Prime Minister Theresa May's Brexit deal, with opposition stacking up and talk of a delay so that she can come back to Brussels and ask for tweaks at this week's summit.
Hot Spots | Russia's clash with Ukraine in the Sea of Azov and an alleged Iranian murder plot in Denmark will feature at a meeting today in Brussels of EU foreign ministers, who'll stop well short of expanding penalties against either the Kremlin or Tehran. Instead, the ministers will discuss ways to assist the affected Ukrainian regions and keep financial channels to Iran open in the wake of renewed U.S. sanctions against the country.
Back to Rome | The EU's top economic officials will discuss euro-area countries' budget plans with European lawmakers in Strasbourg, as a potentially crucial week in Italy's budget standoff with Brussels kicks off. Rome's populist government will meet today to discuss the highly-awaited analysis of its 2019 budget pledges, La Stampa reported, as EU officials wait to see whether the government will send in revised spending plans in order to avoid a disciplinary procedure.
Macron Responds | French President Emmanuel Macron is due to address the nation this evening to give his much-awaited response to a fourth weekend of violence from the Yellow Vest protesters. Meantime, French Foreign Minister Jean-Yves Le Drian dismissed Donald Trump's comments on the protests, saying the U.S. president shouldn't meddle in France's affairs.
Belgian Breakup | Belgian Prime Minister Charles Michel, in Morocco today, is in for a tough time when he returns. The Flemish nationalist N-VA party left the governing coalition over the weekend after disagreeing with the premier's decision to sign the UN migration pact. The end of the coalition could result in either an early federal election or Michel continuing as head of a minority government, largely in a caretaker role, until scheduled elections in May 2019.
Swiss Delay | In its game of brinkmanship with the EU, Switzerland is playing for time. Bern didn't say yes or no to a hotly contested agreement with Brussels last week, taking the gamble that its equity market won't get cut off from EU investors and opting for a national debate on the matter. Switzerland and the EU are battling over a "framework" agreement to supplant the amalgamation of 120 treaties that now govern relations. The EU has made clinching an accord a prerequisite for further recognition of the Swiss bourse under MiFiD II.
Election Guide | European Parliament elections have traditionally been dull affairs, but this time is different. The continent-wide vote in May is shaping up to be something of a referendum on the whole 60-year European experiment as it will be the first EU ballot since a member country decided to leave the bloc and will feature clashes over fundamental values and policies. Here's your guide on why this poll matters.
Danske's Future | Danske Bank shareholders, who've lost more than 40 percent on their investment this year, are looking to a brighter future after the lender took another step to purge its leadership. Denmark's largest bank last week replaced its chairman, following October's ouster of its chief executive officer, as it seeks to atone for its role in one of Europe's biggest money laundering scandals.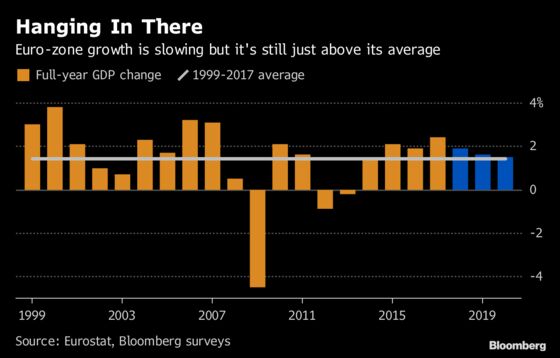 The euro-zone economy is down but not out after a year battered by freezing weather, trade wars, budget disputes and car trouble. The exuberance of 2017 — when the bloc enjoyed a brief "euroboom" — has given way to slowing momentum and an onslaught of bad news. Germany's supposed powerhouse economy contracted over the summer, and Italy is not only shrinking but also reviving memories of the regional debt crisis. European automakers are wondering if they're next to be targeted by U.S. tariffs.
8:30 a.m. EU foreign ministers meet in Brussels; to discuss Iran, Venezuela, Ukraine, Western Balkans
9 a.m. EU top court rules on whether Article 50, which started the Brexit process, can be revoked unilaterally
5:30 p.m. Former Eurogroup President Dijsselbloem presents his book, "The Euro Crisis — The Inside Story" at the ESM in Luxembourg
7:30 p.m. EU Justice Commissioner Jourova speaks on tax matters at the ECON committee of the European Parliament in Strasbourg
7:30 p.m. EU lawmakers exchange views on the Commission's Autumn package, including its opinions on the draft budgetary plans of euro-area member states, with Vice President Dombrovskis and Economic and Financial Affairs Commissioner Moscovici
9 p.m. EU Parliament's ECON committee votes on a bill that could help extend the lifespan of critical financial benchmarks like Euribor or Eonia
EU Climate Commissioner Arias Cañete in Katowice, Poland, participates in the 24th Conference of the Parties to the United Nations Framework Convention on Climate Change (COP 24)
Belgian Prime Minister Michel attends Intergovernmental Conference to Adopt Global Compact for Safe, Orderly and Regular Migration in Morocco