Brussels Edition: Banks Under Stress
(Bloomberg) -- Welcome to the Brussels Edition, Bloomberg's daily briefing on what matters most in the heart of the European Union.
Results will be published today of the EU's latest stress test to show how resilient the bloc's large banks would be in a severe economic downturn. While Deutsche Bank and other German lenders face intense competition at home, and their Italian counterparts are caught up in a standoff between the country's populist government and EU authorities, we hear all banks are poised to get a more or less clean bill of health and be seen to have requisite capital even in the most adverse scenario.
Week-Ahead | After a long weekend, a busy week awaits Brussels, and it's all about economic policy: EU finance ministers gather on Monday to discuss euro-area reforms and Italy's budget. On Tuesday, they turn to a proposed tech tax. The European Commission releases its quarterly economic forecasts on Thursday, while the bloc's trade ministers are set to debate the EU's trading relationship with the U.S. on Friday.
Italian Sanctions? | The Commission is waiting for Rome to submit revised spending plans for next year to address concerns that it risks breaking EU fiscal rules. But with no sign of any meaningful concessions from Italy, both sides are preparing for a further escalation, which may even see the triggering of a process that could lead to financial sanctions before the end of the year.
Tech Spat | If the minutes of a "High Level Working Party" meeting of EU tax officials are anything to go by, don't expect much progress on the proposed levy on tech giants. Several countries expressed reservations about aspects of the proposal, such as its legal basis, and asked for more technical work, according to the confidential minutes we've seen. It doesn't help that the Commission's lawyers can't agree with their colleagues working for the Council across the street.
Lead Candidates | The EU's Christian Democrat and Liberal parties hold their summits next week in Helsinki and Madrid respectively, seeking to pick their lead candidates to succeed Jean-Claude Juncker as Commission president. Manfred Weber looks almost certain to win the primaries of the center-right EPP, the bloc's biggest political party, in a process that was supposed to reconnect the bubble with grassroots politics but was dominated by Brussels insiders.
Brexit Rally | British stocks and the pound rallied yesterday on reports that a Brexit agreement is imminent and that a deal has been reached in the crucial field of financial services. The EU was — once again — quick to shoot down the rampant optimism. Next opportunity to hear where things stand is on Monday, when the bloc's chief Brexit negotiator, Michel Barnier, delivers a speech at the Palais des Beaux-Arts in Brussels.
Danske's Woes | Denmark's biggest bank assured investors it has the financial strength to absorb "large" fines as it awaits the outcome of multiple criminal investigations into one of Europe's worst money laundering scandals. Danske unveiled a long list of measures designed to fight financial crime in an effort to stop clients abandoning the bank, even saying it will reconsider bonuses.
WTO Reform | The EU is revamping its plan to reform the World Trade Organization to win support from the U.S., after President Donald Trump threatened to pull out and upend global commerce rules. The Commission is looking to address U.S. concerns about the WTO's dispute settlement system when it introduces a revised reform paper prior to the organization's Dec. 12 general council meeting.
Bulgarian Teslas | Sin Cars International Eood, a Bulgarian maker of racing cars, plans to go public to fund its expansion into the electric car market. Elon Musk needn't be alarmed just yet. Sin's goal is to sell a multi-functional small city car for courier deliveries and taxi services, nothing like the mean racing monster you see here.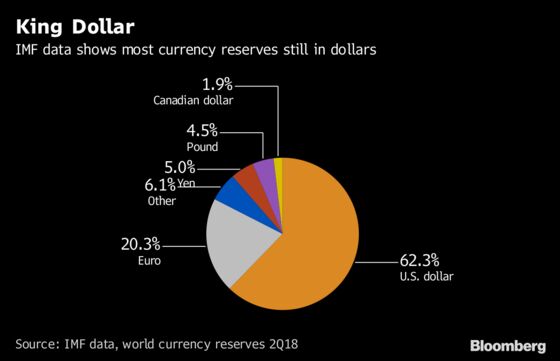 Europe's dream of turning the euro into a global reserve currency that can rival the dollar is proving more elusive than ever. The flare-up of political risk across a landscape that shares the euro as its common currency shows EU Commission President Jean-Claude Juncker has his work cut out before realizing his vision of upending the global dominance of the dollar.
6 p.m. Release of the results of EU-wide stress test for banks
German Chancellor Angela Merkel and Polish Prime Minister Mateusz Morawiecki headline a joint cabinet meeting in Warsaw. Poland's defiance of EU rule of law and relations with Russia expected to be topics