Brussels Edition: Avoiding Catastrophe
(Bloomberg) -- Welcome to the Brussels Edition, Bloomberg's daily briefing on what matters most in the heart of the European Union.
Selling Bad Loans | Banks from Greece to Italy that are struggling to get rid of a mountain of bad loans may soon get some help from EU lawmakers. A bill that's nearing the finish line in Brussels would soften the capital hit banks usually face when they sell non-performing loans at a loss. Finance ministers still need to sign off next week.
Taxing Talks | Proponents of taxing tech giants like Facebook and Google on their European revenue will try one more time at an ambassadors meeting in Brussels today to convince detractors like Denmark, Sweden and Ireland to change their stance. But even after concessions to try to get a region-wide deal, a deadlock is all but certain. Countries that want the tax may have to go it alone, a scenario some say risks fragmenting the single market.
Cyber Warriors | NATO's biggest exercise dedicated to defending cyber networks against hostile attacks kicks off in Estonia this week, just as tensions flare between Russia and Ukraine. It's an annual exercise where experts from the 28 NATO member states test their collaboration and ability to fight the threat of hybrid warfare, encompassing non-conventional methods like computer hacking and fake news.
New Frontiers | Governments in parts of eastern Europe, where growth is outpacing the euro area, are loosening their grip on state-held assets, and banks are ready to pounce. As consumer spending grows, loan books are mushrooming, making banks in former communist countries attractive takeover targets.
China's Friends | Speaking of pursuing deals on Europe's periphery, investments and takeovers in Spain, Italy, Portugal and Greece by Chinese companies have outpaced those in the U.S. and the rest of Europe this year. Take a look at some of the more than 20 deals they've done, even as the EU gets tougher on screening foreign investments and the U.S. pushes back on Chinese money.
Google Trouble | Seven European consumer groups threatened to file complaints with their national regulators against Google for collecting data that can reveal more than just the location of its users, but also their political leanings or sexual orientation. The risk for Google is that it gets slapped with hefty fines from the EU's beefed-up data-protection watchdogs.
Brexit Pushback | U.K. Prime Minister Theresa May has backed down in a key Brexit battle with Parliament, ditching moves to stop lawmakers trying to re-write her plans, according to an official. That means lawmakers will be free to vote on a series of potential changes, which could include calls for another referendum or for a different deal with the EU. It's a decision with potentially huge implications for the future direction of Brexit. Meanwhile, here's the latest twist from the EU court where judges are being asked if the U.K. can unilaterally reverse the process.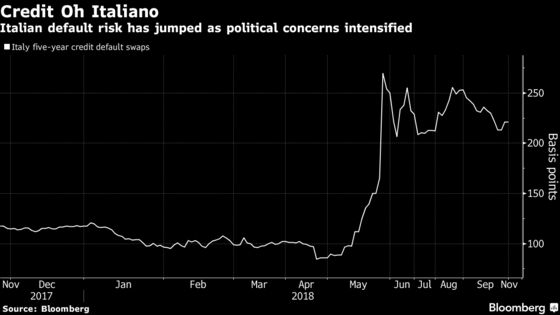 Italy's populist coalition is considering a slight reduction to its deficit target next year to appease the EU without backtracking on its campaign-trail promises. While concessions will probably be too minor to win over the EU Commission, investors reacted positively. It will take a lot more to reverse months of losses on Italy's bond market though.
10:45 a.m. EU Chief Brexit Negotiator Michel Barnier meets Italian Prime Minister Giuseppe Conte in Rome
12 p.m. European Commission Vice President Valdis Dombrovskis presents College of EU Commission decisions on the capital markets union and risk-reduction within the bloc's banking union
3:30 p.m. Denmark's Prime Minister Lars Lokke Rasmussen will debate the future of Europe with MEPs in Brussels and EU Commission President Juncker 
6 p.m. ESM Managing Director Klaus Regling to speak at EIB/ECB Conference in Luxembourg
EU unveils long-term climate road map 
EU top court gives non-binding opinion in the challenge by the ECB against the security measures Latvia enforced against central bank governor and ECB governing council member, Ilmars Rimsevics
EU Parliament will hold a debate with Miguel Arias Canete, the commissioner for climate action, on the new EU strategy to reduce long-term greenhouse gas emissions
NATO's cyber coalition exercises kick off
Eurostat to release data on taxation in 2017