Brussels Edition: Another Election?
(Bloomberg) -- Welcome to the Brussels Edition, Bloomberg's daily briefing on what matters most in the heart of the European Union.
Another band-aided European government looks set to unravel after Spain's parliament blocked Prime Minister Pedro Sanchez's budget for 2019, raising the prospect of snap elections being called as soon as Friday. The failure to pass Sanchez's key piece of economic legislation exposed the weakness of his minority administration and threw a wrench into the premier's plans to see out the legislature that was due to end in 2020. Markets didn't budge: Spain's economy has flourished through a series of weak governments since 2015. 
Investment Screening | The first EU-wide rules to prevent foreign investments from threatening national security are due to clear the last political hurdle today when the European Parliament gives its verdict. Amid heightened worries in Europe about Chinese acquisitions, the vote in Strasbourg will be followed by EU governments' formal endorsement — slated for March 5 — of the draft law to screen foreign direct investments.
German Slump | It's crunch time for the German recession question. Data today is forecast to show 0.1 percent growth in the fourth quarter, but it's not out of the question that there's a second quarterly contraction. A technical recession isn't catastrophic for the euro area, but it's another negative signal at a time of serious doubts about the health of the region's economy. A second estimate of euro-zone GDP is also due, with a 0.2 percent quarterly growth rate penciled in.
Sweetheart Deals | The EU's lower court will issue its first rulings in a series of precedent-setting state aid decisions issued by the European Commission since it embarked on a quest to weed out unlawful tax pacts for international companies in 2013. First to get court decisions will be Belgium and one of 35 companies that were slapped with a total tax bill of some 800 million euros in 2016. The court ruling will be decisive in clarifying whether the EU misused its powers on state aid, as the companies have argued.
Order! Order! | The U.K. Parliament holds its latest set of votes on Theresa May's Brexit strategy today. What was originally billed as a potential Valentine's Day mauling for the prime minister will now be less significant because she has already called another vote in two weeks. Lawmakers won't be voting on the deal itself, but it's still an opportunity to judge whether the wind is now blowing any more favorably in May's direction.
Mideast Talks | Poland is hosting a U.S.-led summit on peace and security in the Middle East, bringing together Israeli Prime Minister Benjamin Netanyahu with 10 mostly ministerial-level delegations from across the Arab world. Conspicuous by their absence will be ministers from EU bigwigs such as Germany and France, the bloc's foreign policy chief Federica Mogherini, Russia — which is holding its own concurrent summit — as well as representatives of Iran.
Copyright Changes | If you like watching videos on YouTube or reading news posted on Facebook — and you happen to live in Europe — your online experience could be in for big changes starting this year. The EU is overhauling its copyright rules for the internet age to ensure fair compensation for artists and publishers. While content creators welcome the effort, the law could unleash a host of unintended consequences. Here is all you need to know about the upcoming changes. 
Bank Scrutiny | Global banks moving operations from the U.K. to the EU because of Brexit are poised to face fresh regulatory scrutiny on the value of their assets and capital, as the bloc's top watchdog seeks to curtail risks. The European Central Bank and national authorities will conduct an in-depth review of the largest firms' balance sheets, including their most illiquid assets.
Nordic Twist | It's just possible that the voters of Finland might get a say in naming Mario Draghi's successor. In a potential impasse between Germany and France on the ECB presidency, Finland is positioned as a handy alternative from Northern Europe, whose turn it is to get the job. Two of the five leading candidates considered by economists for the ECB are Finns, each hailing from a different political party — adding extra weight to Finland's elections in April.
Launder Blacklist | Saudi Arabia, Panama and the U.S. Virgin Islands were among the jurisdictions included on an EU blacklist of 23 countries with insufficient safeguards against money-laundering and terrorist financing. The Commission's blacklist drew rebuke from the U.S. Treasury for the methodology used and must now be formally endorsed by the EU governments and the European Parliament before taking effect, so do expect quite a lot of lobbying against it. 
Fish Fight | The EU will impose a blanket ban on electrocuting fish as of July 2021. It's a defeat for the Netherlands and a victory for environmental groups. Here's why.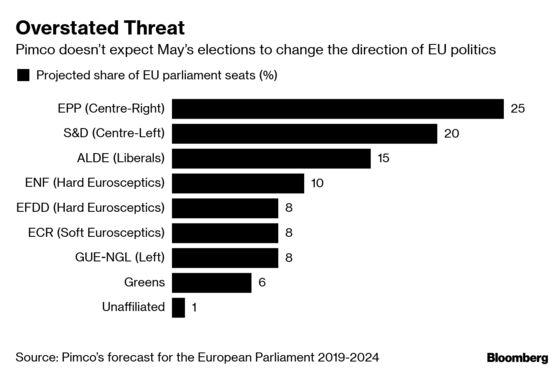 Fears of a populist takeover in May's European Parliament elections have been greatly overstated, according to Pacific Investment Management Co. whose message to financial markets is simple: don't worry. In a note to investors, Pimco analysts say the EU's complex governing structure and policy differences across populist parties will limit any impact. They also expects support for euroskeptic parties to remain well below 50 percent.
11 a.m. Eurostat to release flash estimate reading on GDP and employment in the euro area and the EU 
EU foreign policy chief Federica Mogherini meets Mike Pompeo, U.S. Secretary of State, to discuss U.S.-EU cooperation, including on Venezuela, Iran and Russia 
EU Parliament will vote on setting up the first EU-level tool to screen foreign direct investment on grounds of security to protect strategic sectors such as water, transport, or communications, and technologies, including semiconductors, artificial intelligence, and robotics 
EU lower court rules in challenges by Belgium and companies against the European Commission's 2016 order that Belgium had to recover about 700 million euros in unpaid tax from 35 international companies, including Anheuser-Busch InBev 
EU top court hears arguments in appeal by European Commission against ICAP's court success in annulling a 15 million-euro antitrust fine
NATO Defense Ministers meet in Brussels 
U.S. and Poland host a conference on Iran in Warsaw 
Germany's GDP result for the fourth quarter