Brussels Edition: Locking Horns
(Bloomberg) -- Welcome to the Brussels Edition, Bloomberg's daily briefing on what matters most in the heart of the European Union.
The EU's 27 leaders have another coronavirus conference call this afternoon and they have a lot to think about. At stake is nothing less than how to balance financing the bloc's massive post-pandemic recovery needs without being accused of pouring resources into a black hole. The European Commission is floating a 2 trillion-euro ($2.2 trillion) plan as it seeks a way past the divisions of recent weeks but there's no guarantee the proposal, which would partially use the bloc's existing seven-year budget while also establishing a new financing mechanism, will fly. Don't expect any firm decisions today but do expect more clashes, officials warn. This saga has still got some way to run.
Virus Latest | Italy registered its highest number of new coronavirus cases in four days as Prime Minister Giuseppe Conte prepares a stimulus package for the nation's paralyzed economy. Spanish lawmakers approved prolonging a state of emergency until May 9, and the number of deaths in France was largely stable over the past three days. Here's the latest.
Buried Hatchet | Germany's ruling coalition agreed overnight on a 10 billion-euro ($10.8 billion) package of further measures to dampen the economic impact of the crisis, after party leaders overcame their differences during almost eight hours of heated debate in Berlin. Chancellor Angela Merkel and her allies said they will temporarily reduce sales tax for restaurants and increase the amount of money paid as state wage support as part of a seven-point plan to fine-tune the government's response.
Watching You | European authorities want to leverage location data from phone calls and text messages to monitor the spread of the pandemic, especially as they look to ease lockdown measures. Privacy experts are urging caution, but here's why the Belgian government has already used it to shelve plans for tighter confinement rules.
Listen Up! | Did you know we now have a broadcast version of the Brussels Edition? In this week's episode, former European Central Bank Vice President Vitor Constancio discusses why transfers rather than loans should lead the post-coronavirus recovery fund, while Enrico Letta, a former Italian prime minister, looks at the options facing current premier Giuseppe Conte.
Another Way | Even governments that oppose sharing the costs of the crisis might end up paying anyway — through the European Central Bank. The idea that the ECB could absorb the massive debt built up in the recession is gaining traction among some economists. Read why, if done carefully and over a long period, it could get around the legal ban on monetary financing.
Drought and Distress | We have some captivating yet terrifying satellite images of how Europe looked in 2019 as it struggled in the heat of its warmest year on record. Over the past few years, changing climate conditions have impacted Alpine ski resort operators facing less snow, river-barge captains forced to navigate shallower waters and farmers confronted with lost yields due to drought.
Abusive Reality | For most of Europe, the easing of coronavirus lockdowns in the coming weeks will bring relief and a sense that the worst is over. For the social workers tracking domestic abuse, it's likely to uncover more terrible news. Hugo Miller and Anne Pollak dig into the facts of one of the worrying side-effects of the pandemic.
Bleak Reading | Spending to offset the impact of the virus is likely push Germany's public-sector budget deficit to more than 7% of gross domestic product this year, according to the government's latest fiscal report for the EU. Public debt will also increase after years of declines, rising to around 75% of total output.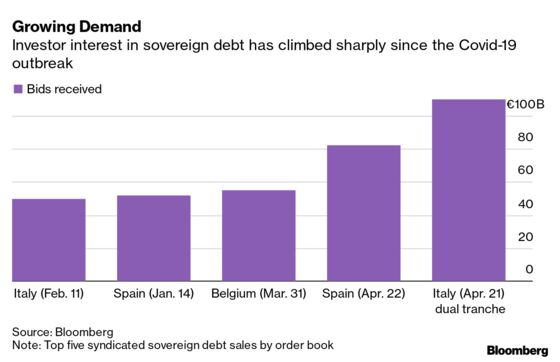 Spain joined Italy in setting a new demand record for a syndicated debt sale as global issuance picks up pace. Spain pulled in 82 billion euros ($89 billion) of bids for a new 10-year note just one day after Italy received a record number of orders for a 16 billion-euro sale. For Spain, though, there's a price to pay: It's offering investors a yield premium of around 12 basis points more than it pays on existing debt of similar maturity.
9 a.m. German Chancellor Merkel addresses parliament in Berlin on virus response, EU summit
10.30 a.m.

 

EU-U.K negotiations on their future relationship continue via video conference

10:30 a.m. The Civil Liberties Committee of the European Parliament will discuss the rule of law in Poland with Polish Justice Minister Ziobro, and EU Justice Commissioner Reynders. Later on, Reynders will discuss rule of law in Hungary with MEPs
3 p.m. EU leaders hold summit by video conference

EU top court rules in dispute over transparency of flight prices