Brussels Edition: A Fine Balance
(Bloomberg) -- Welcome to the Brussels Edition, Bloomberg's daily briefing on what matters most in the heart of the European Union.
EU Brexit negotiators are faced with a quandary: how to add conditions to the U.K.'s future ties with the bloc without busting apart the fragile agreement that's got them to within six days of the concluding summit. France leads nations demanding clauses to prevent post-Brexit U.K. from undercutting European businesses. A 20-page text is due to be finalized today but with so many member states weighing in, diplomats warn not to hold your breath.
Supervisor Pick | The European Parliament's Economic Affairs committee will likely vote for veteran regulator Andrea Enria to be the new head of the Single Supervisory Mechanism. The 57-year-old Italian will be front and center as the ECB grapples with money-laundering scandals, a mountain of bad loans at banks and anemic profits at many firms.
Macron's Visit | As French protesters blocked highways and fuel depots over the past three days, President Emmanuel Macron hit the road. First to Berlin and now in Brussels, extolling his vision of a more unified and sovereign Europe. Alongside Belgian Prime Minister Charles Michel today, he'll hold one of his "citizens' debates" with students in Louvain, east of Brussels, where he's sure to renew his call for more common European spending and defense.
Pharma Deal | It's deadline time for Takeda Pharmaceutical Co. today as it waits for EU approval for its takeover of Shire Plc, the last regulatory hurdle for the $62 billion deal that sailed past U.S., Chinese and Japanese authorities. The companies made concessions to the EU last month and Takeda said it discussed a sale of an experimental drug for inflammatory bowel disease.
Polish Slight | A European Parliament committee is set to discuss the rule of law in Poland with Justice Minister Zbigniew Ziobro and Commission First Vice-President Frans Timmermans. Trouble is, neither Ziobro nor anyone else from his ministry may show up, in another indication of testy ties between Brussels and the EU's biggest eastern nation.
Budget Troubles | A Franco-German proposal to create a common budget for the euro area ran into trouble at a meeting of finance ministers in Brussels, even as advocates said a breakthrough was still possible before the end of the year. Some European ministers tasked with assessing the plan yesterday said they still didn't have enough information.
Debt Restructuring | Plans to simplify euro-area sovereign debt restructurings gained broad support among members of the common currency at a meeting yesterday. The plans envisage strengthening collective-action clauses, making it more difficult for small groups of creditors to block restructurings and a stronger role for the euro-area bailout fund.
European Move | Banks with EU headquarters in London are ensuring they can operate in the bloc after Britain leaves. Twenty-five lenders concluded, or are close to finishing, applications for EU units, said Daniele Nouy, chief bank supervisor at the ECB. The number rises to 37 when investment firms not under the ECB's purview are included.
Pointing Fingers | Deutsche Bank is being drawn deeper into the money-laundering scandal engulfing Danske Bank. Whistle-blower Howard Wilkinson said that $150 billion of suspect funds went through the U.S. unit of a large European lender that served as Danske's main correspondent bank for dollar transactions until 2015. That description fits Deutsche Bank, though he stopped short of naming the lender in his testimony before Denmark's Parliament yesterday.
Man in Rome | Behind Italy's spotlight-seeking deputy premier, Matteo Salvini, a key party strategist is plotting for peace with the EU and foreign investors. Meet the quiet authority who has become a go-to figure for policymakers seeking guidance on where the populist coalition in Rome is heading.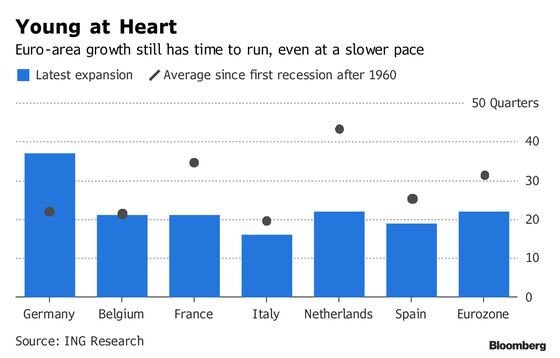 The euro-zone economy is testing the mettle of European Central Bank policy makers, who need to judge whether a multitude of uncertainties are crystallizing into serious risks to growth. Officials are putting faith in domestic resilience and say factors that dragged on the third quarter should fade. The broad message: after a period of youthful exuberance, it's more a case of the expansion hitting middle age than moving into terminal decline.
9 a.m. French President Emmanuel Macron continues two-day trip to Belgium
9:15 a.m. EU's competition chief Margrethe Vestager speaks at Chillin' Competition conference in Brussels
10 a.m. Eurogroup chief Mario Centeno hearing at the ECON Committee of the European Parliament
11:45 a.m. ECON committee of the European Parliament discusses provisioning rules for nonperforming loans
2 p.m. EU trade chief Cecilia Malmstrom, WTO head Roberto Azevedo, Lithuanian President Dalia Grybauskaite speak at trade event in Vilnius
2 p.m.ESM Chief Economist Rolf Strauch to discuss sovereign debt markets in the Eurozone at the EconPol second annual conference in Brussels
2:30 p.m. European Parliament's ECON committee holds a hearing with Daniele Nouy, the outgoing head of the ECB's bank supervisory arm, and exchanges views with Andrea Enria before voting on his nomination to succeed Nouy
5:30 p.m. Nouy in a conversation with Bruegel Director Guntram Wolff on "European Banking Supervision: The past five years and prospects for the future"
EU foreign and defense ministers continue their meeting in Brussels
EU agriculture and fisheries ministers meet in Brussels
EU top court rules in challenge by the European Commission against EU Council decisions on case concerning the Conservation of Antarctic Marine Living Resources
EU Commission VP Jyrki Katainen delivers speech at the Globe EU High-Level Conference on Sustainable Finance in Brussels
The Legal Affairs Committee of the European Parliament will vote on a draft law to set up a protection system for whistle-blowers