Bruce Springsteen Drunken Driving Charge Dropped
(Bloomberg) -- The Boss met the Man in Newark on Wednesday.
The Garden State's favorite son, Bruce Springsteen, appeared before a federal judge on drunk driving charges, after police stopped him in mid-November on his motorcycle at the Jersey Shore. Two charges -- driving while intoxicated and reckless driving -- were dropped, and he pleaded guilty to possession of alcohol in a closed area.
The judge fined Springsteen $500 and asked the affluent rock star how long he needed to pay.
"I can pay that immediately, your honor," Springsteen replied.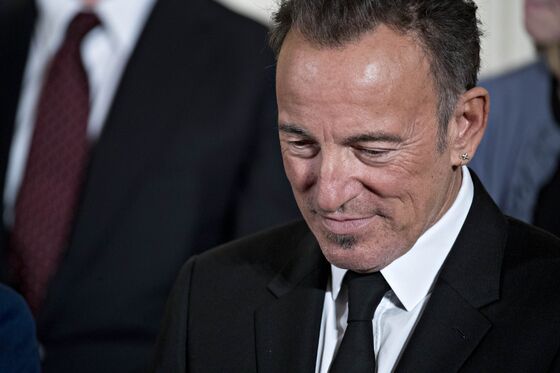 Springsteen was arrested on Nov. 14 at Sandy Hook, a six-mile (10-kilometer) peninsula that forms the northern end of New Jersey's Atlantic coast and is a popular destination for beachgoers and a recreational haven.
Each of the three charges is a class B misdemeanor that carries up to a $5,000 fine and six months in jail. The government asked the court to dismiss the other two charges because Springsteen was presumed not to be impaired under New Jersey law, based on his blood alcohol level of .02%. The legal limit in New Jersey is .08%.
U.S. Magistrate Judge Anthony Mautone said prosecutors probably couldn't have proved the other charges, and noted that until last summer it was legal to drink at Sandy Hook. He accepted the plea.
Springsteen appeared at the remote hearing in a sports jacket in a video box beside his lawyer, Mitchell J. Ansell. Ansell said his client had no prior criminal history and had accepted responsibility for his actions. He asked the court to impose a fine rather than a jail term, a request prosecutors didn't oppose and that the judge said was appropriate, setting the $500 sum.
"I believe that you can," the judge said of Springsteen's offer to pay right away. "But I'm not going to compel you to do so." He gave Springsteen a week.
"Mr. Springsteen is pleased with the outcome of today's court appearance," Ansell said in a statement. "The prosecutor was unable to provide the necessary evidence and facts as it related to the charge of driving under the influence (DUI) and reckless driving and therefore dismissed both of those charges."
The arrest came to light just days after the 71-year-old musician appeared in a Jeep commercial during this month's Super Bowl in which he promised there is "hope on the road up ahead" to end the political divisions in the country. Jeep later said it was pausing the ad but said "its message of community and unity is as relevant as ever," as is "the message that drinking and driving can never be condoned."
According to a police report, an officer was on foot patrol around 4 p.m. when he saw Springsteen drink a shot of tequila, get on his red-and-silver Triumph and start the engine. The officer told him alcohol is prohibited at the site and asked him if he was leaving. Sandy Hook, about a half-hour drive from Springsteen's house in Colts Neck, is part of the federal Gateway National Recreation Area.
Springsteen said he was about to drive out of the park and had consumed two shots of tequila in the prior 20 minutes, according to the report. The officer said the musician "smelt strongly of alcohol" and had glassy eyes. During a sobriety test, Springsteen was "visibly swaying back and forth," and he refused a breath test, the officer said, though he later took a test at a ranger's station.
The New York Post reported that Springsteen had stopped to take a shot of tequila with fans.
Springsteen has three driving violations, one for use of a handheld cellular device -- a record the judge noted was unusually clean in his experience.
The case is U.S. v. Springsteen, 21-mj-16045, U.S. District Court, District of New Jersey (Newark).