Artist KAWS Sparks Frenzy in Miami
(Bloomberg) -- Demand for the works of the contemporary artist known as KAWS was so hot Wednesday that a gallery at Art Basel Miami Beach had to conduct a lottery -- a rarity for the largest modern and contemporary art fair.
Just minutes after the 11 a.m. opening for VIP collectors, a long line formed outside Pace Prints' booth where a triptych by the Brooklyn-based artist -- "Last Time, Alone Again & Far Far Dawn" -- was offered at $65,000. The edition of 100 was available for sale. The gallery cut off the line at 11:15 a.m. and each of the prospective buyers wrote their names on a legal pad, filling more than four sheets.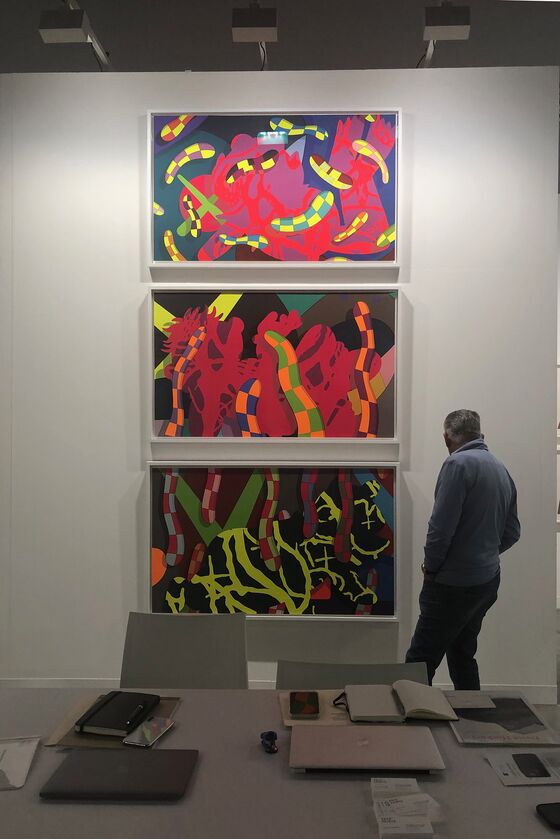 "They always sell out and as soon as they sell out the price goes up," said Anna Becker, 44, of Los Angeles, who arrived too late at 11:20 a.m. "Anything you buy by KAWS at this point is an investment. It's like scalping tickets."
The artist, a 44-year-old New Jersey native whose real name is Brian Donnelly, joined the hundreds of collectors on line and shrugged off the frenzy. In November, one of his paintings sold at Phillips for a personal record $3.5 million.
"I still showed up at my studio at 9 a.m. the following day," he said.
Donnelly said he's focusing on making new work, including a 20-foot-tall sculpture being installed at Modern Art Museum of Fort Worth museum in Texas.
Helen Schorsch, 26, managed to add her name to the list Wednesday, recalling that a portfolio of 10 prints by KAWS, at $40,000 apiece, sold out at last year's fair.
"If I am lucky to get it, I will find people to fund me," she said. "I love his work."
The 17th edition of Art Basel Miami Beach features 268 exhibitors from 34 countries and more than $3 billion of art up for sale, according to Axa Art.