British Firms Fall Into Distress at Fastest Pace Since 2017
(Bloomberg) -- British firms fell into distress at the fastest pace in three years between July and September with measures to contain the coronavirus pandemic impacting the hospitality and retail sectors the hardest.
About 30,000 more businesses are now struggling to meet their debt obligations, taking the total to 557,000, according to a survey of U.K. companies by insolvency specialist Begbies Traynor. That's a 6% increase since June, and a 9% rise since the end of the first quarter.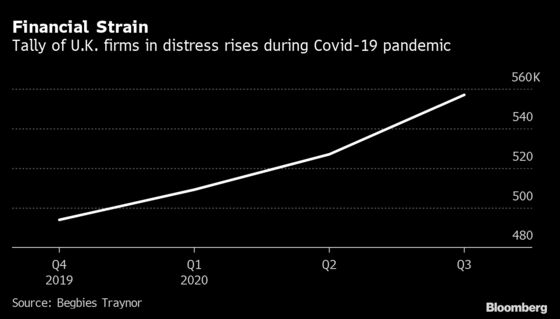 More than 1,700 bars and restaurants and almost 3,000 retailers had a minor debt ruling against them or saw a deterioration in key financial indicators since March, according to the report. The number could rise even more rapidly as courts start to operate normally and the government gradually withdraws support measures.
About 1.8 million people worked for small and medium-sized enterprises which were in distress at the end of September, according to Begbies Traynor.
"The recently launched, reduced version of the furlough scheme and the end to government guaranteed loans will serve to give many businesses a brutal reality check," said Ric Traynor, executive chairman at Begbies Traynor. "Lack of profitability and accumulated debt will catch up with them once the subsidies end and they face the harsh realities of the challenging economic environment."
A separate report published by the U.K.'s Office for National Statistics on Thursday found that 4% of companies surveyed have no cash reserves and another 39% have cash buffers only for the next six months. Nearly half of the companies reported a drop in revenues compared with normal trading levels at this time of the year, the survey shows.