Britain's Virus-Hit Businesses Find an Unlikely Help in Brexit
(Bloomberg) -- For the last month, David Merrick has been in a race to keep his manufacturing business alive during the worst economic crash in memory: He furloughed 24 of his 40 employees as revenue plunged by 50% and even joined fellow managers on the shop floor to crank out parts for customers.
As he endures the fourth week of the U.K.'s lockdown, he is finding a little help in something that has been his bane for the last three years: Brexit.
Britain's protracted divorce from the European Union put Merrick's company, U.K. Insulations Ltd., through the wringer. The firm, which produces components for the power generation and auto-making industries, generates almost half its sales from the bloc, and the introduction of tariffs threatens to make its products more expensive in the EU.
The company held off on investing in new equipment, hindering its ability to expand. And Merrick spent precious capital building an oversupply of products as the U.K. hurtled toward the cliff edge of a no-deal Brexit in March 2019. Now, he finds himself strangely relieved this all happened.
"We are drawing lessons from a process that has actually been a real pain for us," said Merrick, the managing director of the Blackburn, England-based company. "Every time there was a deadline, we'd have to pull together and build up inventory and find ways to overcome problems. And not investing in machinery has provided liquidity that would have been tied up in an asset. The crisis management we went through has helped."
Merrick isn't alone. David Lenehan, managing director of Northern Industrial Electronics Ltd., also based in Blackburn, said that his firm invested in remote workplace software and training just in case the U.K. crashed out of the EU without a transitional free trade deal. He wanted to make sure his staff could parachute into EU counties such as Italy, his biggest foreign market, and continue serving clients there. Now his sales team is using the tools to work from home in the U.K.
"We're lucky we did that, although we didn't think we would ever need 30 people to be doing it all at once," said Lenehan, whose firm repairs industrial machinery.
Brexit may be only a small comfort for Merrick and Lenehan, and both are small firms that may be outliers. They and owners of larger U.K. businesses could still be left reeling by the coronavirus. On Tuesday, the government's Office for Budget Responsibility said that a three-month lockdown could shrink the economy by more than a third.
A survey released last week by MarketFinance Ltd., a London-based online lender, found that two-thirds of small to mid-sized manufacturers have seen their order-books shrink by half in the last 30 days. About two-thirds of the firms polled expect to run out of cash by the end of the month.
Britain looks particularly susceptible to an external shock thanks to three years of underinvestment in its industries and uncertainty about its political future. In the fourth quarter of 2019, the number of U.K. companies experiencing "significant financial distress" hit 494,000, an 81% jump since the beginning of 2016, the year the country voted to leave the EU, according to Begbies Traynor Group Plc, a London-based restructuring adviser.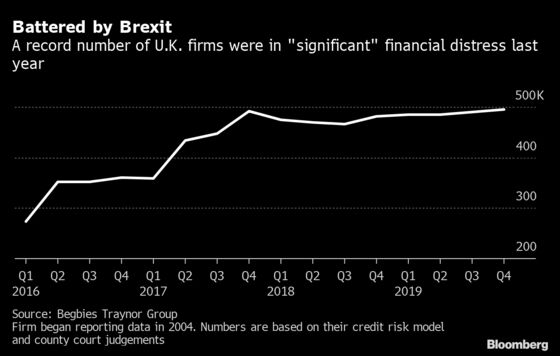 "For some companies, there's a double whammy of Covid-19 and Brexit," said Chris Higson, an associate professor of accounting at London Business School. "They are victims twice over."
BrewDog Plc, a Scottish maker of craft beer, has certainly felt the pinch. Over the last decade, the company has expanded across the globe with its zesty "punk" ales and bars. By 2019, more than a third of its products by volume were being sold in mainland Europe.
Contemplating the damage that the inevitable tariffs and duties of a no-deal Brexit would wreak, co-founder and CEO James Watt called that scenario his "doomsday." But in March, he watched the company's revenue plunge by 70% in the space of a week as the U.K. and other countries shut down pubs and restaurants. Watt says his company is well capitalized to weather the pandemic.
Others may not be so lucky. A wave of business failures is coming, and those firms with "pre-existing financial conditions" will be the ones to fall first, according to Mark Phillips, a bankruptcy lawyer at South Square Chambers in London who worked on the collapse of Lehman Brothers during the financial crisis.
"Brexit may have made companies more cautious in their approach and it may have dented profitability in certain areas, but it didn't cause material stress and distress," said Blair Nimmo, the head of the U.K. restructuring practice at accounting firm KPMG. "Brexit was a little taster for the real thing."
Merrick says he is still worried about Brexit. Boris Johnson has succeeded in pulling the U.K. out of the EU on Jan. 31, but he is yet to sign a permanent trade agreement with Brussels. Despite the pandemic putting those negotiations on hold, the prime minister has so far refused to delay Britain's final parting with the bloc at the end of the year -- threatening business with another wave of disruption.
Even so, Merrick says he hopes Johnson sticks to the deadline.
"Do we really want to be trying to get the economy going again next year and Brexit still isn't done?" Merrick said. "Why not get everything out of the way at once? That would be the best thing for business."