U.K. Shell Companies Forced Into Danske Laundromat Limelight
(Bloomberg) -- A setup long acknowledged as dubious but tolerated in many countries just got thrown into the limelight.
Shell companies -- constructions often used to hide the identity of investors keen to dodge authorities -- played a key role in Europe's dirty money machine as billions of dollars flowed from Russia into the west. Danske Bank A/S was allegedly at the center of the laundromat, but it was far from alone.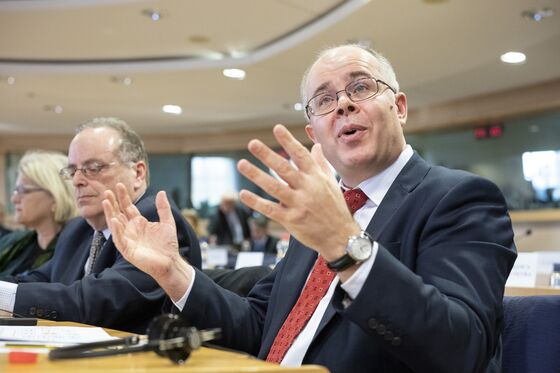 That's according to Howard Wilkinson, a 47-year-old Briton who ran Danske's Baltic trading desk until 2014 before becoming a whistle-blower. He says the Danske scandal is considerably broader in scale than previously thought, and that it involves numerous global banks.
Wilkinson singled out one country in particular for allowing shell companies, or limited liability partnerships, to flourish.
"One has to be slightly polite when it comes to an institution like this," Wilkinson said as he addressed lawmakers in the European Parliament on Wednesday. "But one doesn't have to be polite about one's own country. The role of the United Kingdom is an absolute disgrace. Limited liability partnerships and Scottish Liability Partnerships have been abused for years."
Part of the risk with shell companies is that they can be used to conceal the identities of criminals sanctioned by the U.S. and other governments. Danske reiterated this month that an internal probe didn't uncover any sanctioned individuals, though given the lack of transparency the bank can't say for sure.
Global Anti-Money Laundering Watchdog Upgrades Denmark's Score
For Danske to say "that their screening hasn't detected anything," and at the same time acknowledge that "they may not have collected all of the ultimate beneficial ownership information is a little bit of a contradiction in terms," said Carol Beaumier, a financial crime expert at the consulting firm Protiviti who advises companies on designing anti-money laundering programs.
Danske has already admitted that much of about $230 billion that flowed through an Estonian unit between 2007 and 2015 was probably illicit. In a September report examining what went wrong, the bank identified about 6,200 suspicious accounts. Many of them were Russians who flocked to Danske to get their money converted into dollars and euros, and placed in western accounts.
U.K. shell companies were routinely used by clients that Danske has since identified as the main sources of suspicious transactions. A majority of the 177 customers alleged to have tried to launder money through what became known as the Russian Laundromat were limited partnerships, many from the U.K., according to the Danske report. Two-thirds of the 75 clients tied to a similar scheme that funneled Azeri funds were U.K. limited partnerships or limited liability partnerships.
In September, the National Crime Authority of the U.K. said it would look into the role of British companies. "The threat posed by the use of U.K. company structures as a route for money-laundering is widely recognized and the NCA is working with partners across government to restrict the ability of criminals to use them in this way," it said at the time.
A spokesperson for the U.K. government's Department for Business, Energy and Industrial Strategy said on Thursday that the "vast majority of the U.K.'s four million companies and partnerships are law-abiding."
Companies House, which incorporates and dissolves limited companies, "works closely with law enforcement agencies to identify suspicious behavior and report such actions to the relevant enforcement body," the spokesperson said. Companies House is an executive agency sponsored by BEIS.
Bill Browder, the Hermitage Capital co-founder who has made a career of chasing money launderers tied to the death of his lawyer, Sergei Magnitsky, has also pointed to shell companies registered in the U.K. as a vehicle routinely used to launder money. Browder has previously said that his efforts to report the suspicious flows to the U.K. authorities led nowhere.
Wilkinson says the dirty money that flowed through the Danske laundromat ultimately made its way into the rest of the European Union and the U.S. He pointed to three correspondent banks -- since identified by Bloomberg and other media as Deutsche Bank AG, JPMorgan Chase & Co. and Bank of America Corp. -- that he says funneled as much as 90 percent of the suspicious flows into the global financial system.
"In my view the countries where there are shell companies involved in the scheme are just as culpable," he said. "Clearly, the worst of all is the U.K."
In an interview on Thursday, Browder said, "Money launderers need willing banks, willing company formation agencies, sleepy regulators in a number of different countries, and one of the keys to the whole thing is to have special purpose companies with one purpose, which is to launder money. And the U.K. is the global center of producing those companies."