Britain's Energy Bills Are Actually Falling
(Bloomberg) -- Energy bills for U.K. households are declining, largely driven by a drop in the amount of gas and electricity used in homes.
Adjusted for weather, the average dual-fuel bill fell 6 pounds ($7.87) in 2017 from a year earlier, according to a report by the Energy and Climate Intelligence Unit, a London-based environmental lobby group. The unadjusted drop was 36 pounds.
Spending on electricity and gas in British homes has fallen by almost 4 billion pounds since 2008, despite tariff increases by utilities that prompted Prime Minister Theresa May to take action to reduce "rip off" charges. About two-thirds of British lawmakers thought bills were rising, according to a survey commissioned by the ECIU for the report.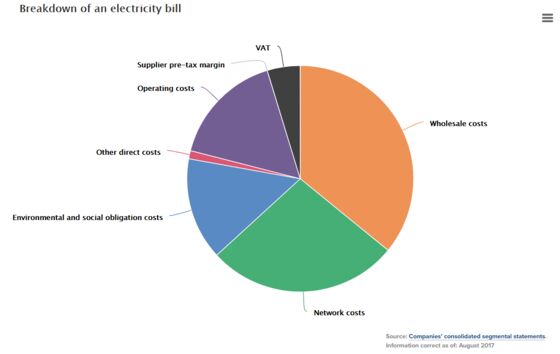 "Measures to cut energy waste work -- reducing energy demand, cutting carbon emissions and driving energy bills downwards," said Richard Black, director of the ECIU.
Energy efficiency is often touted by policy makers as the easiest way to reduce costs, cut greenhouse gas emissions and help supply security. Europe is expected to use 10 percent less energy in 2040 than now, according to the International Energy Agency. Data shows that energy use has peaked in many countries, the IEA said.
By the end of the year, the government will cap domestic power and gas prices for those on Standard Variable Tariffs, the default rate consumers revert to once fixed-term contracts expire. The cap is a temporary measure, effective initially until end-2020, with extensions possible until end-2023.
Since the introduction of the Climate Change Act in 2008, the average annual energy bill had fallen by more than 100 pounds: ECIU
All six of the U.K.'s biggest utilities raised bills this year
Nine percent of the dual-fuel bill is due to the cost of shifting to low-carbon electricity supply and supporting energy efficiency improvements in U.K. homes. That compares with 38% for wholesale costs and 26% for network costs