Britain Is Great for Expats Despite Brexit Changes, HSBC Says
(Bloomberg) -- Britain jumped up the list of the best places for expats to work even as the government moves to tighten restrictions on foreigners coming to the country.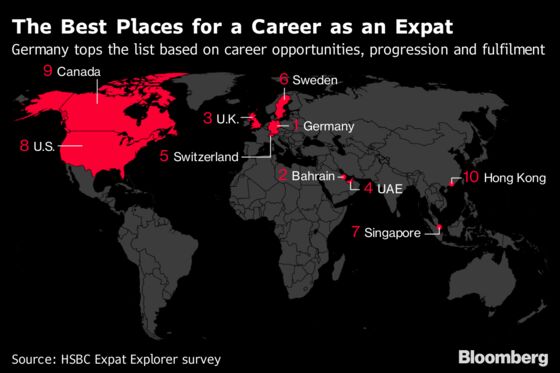 "Global talent has long powered the international melting pot that is London and that does not appear to be slowing down," HSBC said in a report published Tuesday. The U.K. came third, behind Germany and Bahrain, in the rankings of the best place in the world to work, up six places from a previous survey.
The U.K. was top for learning new skills and fourth-best for making career advancements, HSBC said.
Britain is planning to end the freedom of movement with the European Union once it leaves the bloc and aims to bring down net migration. Prime Minister Theresa May's government says it will prioritize skilled immigrants in high-paying jobs.
The perception that immigration is getting out of control was a key motivation for many who voted to leave the EU in the 2016 referendum. Economists warn that reducing the influx of labor could amplify skills shortages and harm competitiveness and productivity.
HSBC surveyed more than 20,000 expats online between March and April last year.