Bristol Myers Launching Nine New Drugs After Bulking Up Pipeline
(Bloomberg) -- Bristol Myers Squibb's top executive said the company is in the process of launching nine new drugs, after roughly doubling its pipeline over the past two years.
Chief Executive Officer Giovanni Caforio said in an interview on Bloomberg Television Tuesday that the company is also looking at small and mid-size bolt-on deals to add to its stable of potential new products. The company held an investor day in New York on Tuesday where it highlighted its latest drug candidates.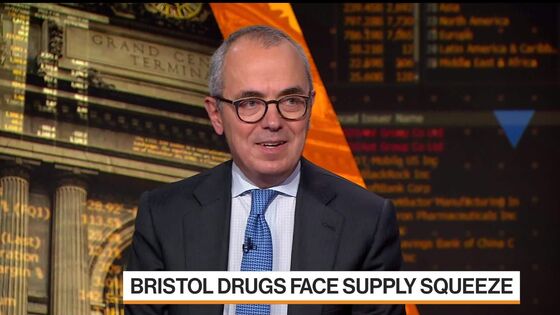 Bristol Myers shares have been under pressure due to investor uneasiness about the drugmaker's pipeline and looming competition for the blockbuster blood-cancer therapy Revlimid. The treatment, inherited in the 2019 takeover of Celgene Corp., is its top-selling product, generating $3.3 billion in sales in the third quarter.
Since hitting a 52-week high on Aug. 3, Bristol shares have fallen 15%. The shares declined 0.9% to $59.10 at 4 p.m. in New York.
On Monday, Warren Buffett's Berkshire Hathaway Inc. said it had reduced its Bristol Myers holdings by 16% in the third quarter. Berkshire also said it had pared its stake in drugmaker AbbVie Inc. by 30%.