Brexiteer Rees-Mogg to Vote With May in Another Sign of Hope for Her Deal
(Bloomberg) -- Brexit purist Jacob Rees-Mogg will back Theresa May in a vote on Wednesday, in another sign that euroskeptic opposition to the prime minister's divorce deal may be starting to melt away.
Rees-Mogg, who leads a group of about 60 pro-Brexit Conservatives, said he would back the prime minister in the largely symbolic vote on Wednesday. Earlier, he toned down his criticism of May's Brexit deal in an interview with the Financial Times.
The hardline Conservative Brexit backers, whose support May needs to get her deal ratified in Parliament, appear to be softening after May's tactical gamble to take a no-deal Brexit off the table and replace it with the option of postponing the exit day. The prospect of a delay or, worse, the divorce that euroskeptics have spent their careers fighting for being reversed, may be focusing minds.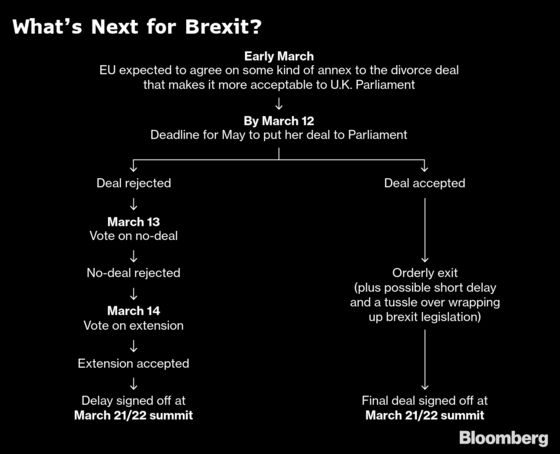 Still, this vote isn't binding and the real test will be once May brings back whatever concessions she can extract from the European Union to make her deal more palatable. Her deal was rejected by Parliament by a historic margin in January.
One member of the ERG said the prime minister had persuaded him that she'd bring back something significant. Another said he'd vote with the government on Wednesday but it was too early to say how he'd vote on the revised deal.
What's changed since January is that Rees-Mogg's European Research Group used to insist the so-called Irish backstop must be scrapped from the treaty. Now at least some of their number are open to the idea of a separate document negotiated with Brussels that would make clear the insurance policy for the border wouldn't trap the U.K. in the EU's orbit forever. That's what May, and Attorney General Geoffrey Cox, are trying to achieve.
Bernard Jenkin, another senior Tory in the ERG said he is "cautiously optimistic" a solution can be found. Jenkin said in an interview that he's open to the idea of an additional annex to the main exit deal, if this can deliver a legal fix for the backstop.
"If that can be legally achieved by adding an annex to the agreement then that might be the way forward," he said.
Those voting against May's deal last time included 118 Tories – more than a third of her party. But relatively few of these are hardline euroskeptics. Around 50 of the Conservative rebels are instinctive loyalists who would be keen for an excuse to vote with the government. Amid signs some Labour members of Parliament will back the deal, May doesn't need all the euroskeptics to fall in line.
And she's far from convincing all of them.
"I am not hearing that there is going to be anything much at all coming from Brussels," pro-Brexit Tory MP Marcus Fysh said in an interview. "Everyone wants to be loyal to the prime minister; it's the default position of Tory MPs; but at the moment the Withdrawal Agreement is not acceptable."
His colleague Anne-Marie Morris denied the ERG had changed its position. "It's clear that the Europeans won't re-open the Withdrawal Agreement and I can't see how anything else is acceptable," she said.