Brexit U.K. Suffers Car-Sales Drop as Europe Flourishes
(Bloomberg) -- U.K. car sales fell during the first half of the year, running counter to rising demand on the continent, indicating the planned withdrawal from the European Union is hurting consumer confidence.'
Deliveries of new vehicles dropped 6.3 percent in the region's second-biggest market, extending last year's slide. Business optimism dropped to the lowest level this year during June, as Britons became markedly more gloomy and unwilling to make purchases, according to separate indexes on economic mood from Lloyds and Gfk.
Overall new-car registrations across Europe rose 2.8 percent in the six months through June, led by gains in France and Spain, according to figures released Tuesday by the Brussels-based European Automobile Manufacturers' Association, or ACEA. Germany, the largest market, also eked out a gain of 2.9 percent.
"The ongoing uncertainty over the U.K. Brexit arrangements has led to a noticeable pullback among fleet customers especially," said Peter Fuss, a partner as consultancy EY. "We expect sales in the U.K. to be weak at least until the fall, when hopefully we'll see tangible results from the negotiations with the European Union."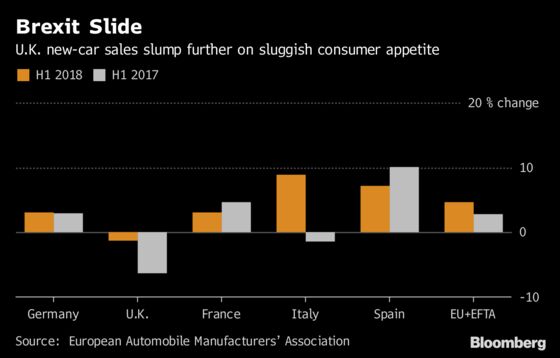 With Brexit less than a year away, and internal government ructions taking a turn for the worse, U.K. consumers are downbeat about the economy. Concern Britain may leave the EU without a formal deal in place is denting confidence and prompting more people to save rather than spend. Mortgage approvals have declined and retail demand has slipped.
Separately, luxury-car brands in Europe have continued to struggle even as buyers made a return during June. The uptick in sales -- as much as 9.9 percent for the month for BMW AG models -- wasn't enough to offset a decline during the half the year as a whole when shoppers held back awaiting refreshed models like the BMW X3 sport utility vehicle.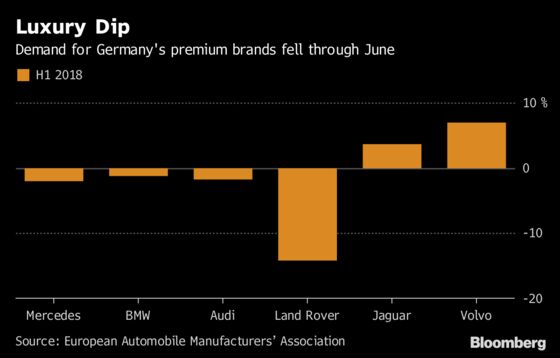 The ACEA compiles car-sales figures from E.U., except for Malta, as well as Switzerland, Norway and Iceland.