Brexit Turmoil Leaves EU Struggling to Calibrate U.K. Outlook
(Bloomberg) -- With 50 days to go until Britain leaves the EU and still no clarity on future trading arrangements with the bloc, European Commission forecasters have joined the ranks of economists left unable to make sensible projections even for this year.
Unveiling new forecasts for each member state Thursday, the commission retained a warning that those for the U.K. are based on "a purely technical assumption of status quo in terms of trading relations between the EU27 and the U.K." They come hours before the Bank of England releases its latest projections.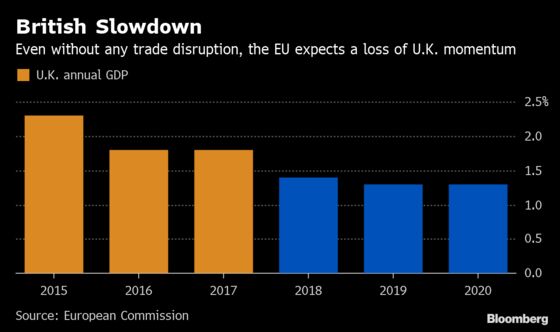 Even without any trade disruption, the commission forecasts show economic growth slowing to 1.3 percent this year and next, below the average for the rest of the European Union. They see inflation easing to 1.8 percent this year as the impact of the post-Brexit referendum currency depreciation unwinds fully, before rising to 2 percent in 2020.