Brexit Transition Period Is Most Crucial for BOE, Broadbent Says
(Bloomberg) -- A post-Brexit transition period is the most important part of negotiations for the Bank of England's outlook, according to Deputy Governor Ben Broadbent.
Speaking in a CNBC interview Monday, Broadbent said that he still sees an orderly Brexit as the most likely outcome and that whatever happens, it could mean that interest rates go up or down. That echos comments from Governor Mark Carney earlier this month.
"The most crucial assumption, certainly for our monetary policy horizon for two-to-three years, is will there be a transition period agreed as part of that withdrawal agreement," he said. "In each and every case, we're assuming that there will be a smooth transition to that eventual outcome. So what matters for the forecast crucially is negotiation of that transition period."
The BOE's current forecasts show that a series of limited and gradual interest-rate increases will be needed to keep inflation in check over the next few years.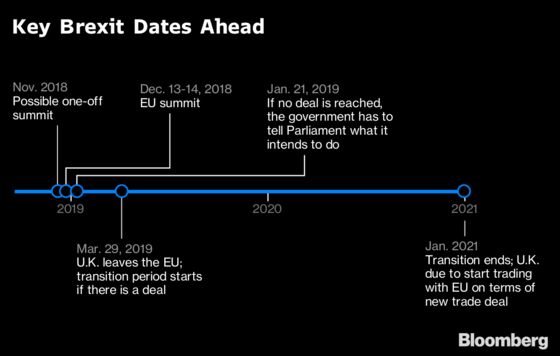 While Britain and the European Union have been edging toward an agreement after 16 months of talks, momentum seems to be fading for getting a deal done quickly as domestic opposition builds. A transition period will only come into effect after the March exit date if both sides can agree a divorce deal.
Productivity and investment have already been hurt by the U.K.'s exit, although some investment could return once a deal is agreed, Broadbent said.