Brexit Talks Over Security and Defense Leave Brits Frustrated
(Bloomberg) -- It was supposed to be the easy bit of Brexit talks -- how to continue working together to keep citizens safe. But the two sides are finding it harder than they expected to reach a deal on security and defense.
The U.K. is growing increasingly frustrated by the European Union's refusal to agree to key elements of what both sides insist should be a deep and close security partnership, according to two people familiar with the British position who declined to be named as the negotiations aren't public.
The U.K. initially tried to use security as a bargaining chip -- boasting of its intelligence and defense assets -- but then embarked on a more collaborative approach. The Brits now think the EU is holding back for tactical advantage.
The U.K. is still trying to convince the EU to let it remain in the European Arrest Warrant and Europol, the bloc's law-enforcement agency, after Brexit. U.K. Home Secretary Sajid Javid hoped to make headway with a diplomatic tour of European capitals, but the matter remains unresolved.
The European Commission declined to comment.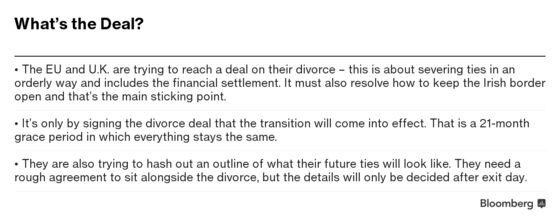 Negotiators are working out the divorce and at the same time sketching out the outline of what their future partnership should look like as the U.K. leaves the EU on March 2019. Talks have hit various roadblocks in the past months but there is optimism the two sides are closing in on a deal.
Talks on security are part of the wider negotiation, and because it's part of the future relationship relationship rather than the divorce, the full details don't have to be pinned down before exit day. Instead, a broad statement of intentions will be signed as an accompanying document to the divorce deal. The transition period, which is due to come into effect on exit day, will maintain security ties unchanged for almost two years.
Prime Minister Theresa May is meeting French President Emmanuel Macron on Nov. 9 and the issue is likely to come up. Britain argues that because it's a net contributor to European intelligence, it deserves a closer relationship than the one on offer.