Brexit Summit Is Back on After Fight Over Gibraltar Defused
(Bloomberg) -- Theresa May is on course to get her Brexit deal signed off by European leaders on Sunday after she made a last-minute gesture to meet demands from Spain over the disputed territory of Gibraltar.
Spanish Prime Minister Pedro Sanchez had threatened to boycott the summit, a milestone gathering to get the deal signed off after 17 months of negotiations. Sanchez wanted guarantees about how Gibraltar, a British territory off Spain's southern coast, would be treated after Brexit.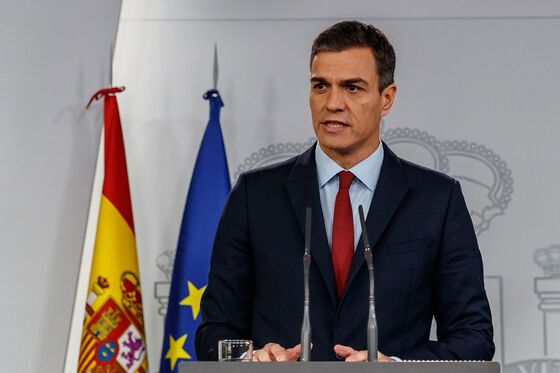 With just hours to go before the summit was due to start, May's government issued a legal statement that met Spain's demands, while she insisted the U.K. hadn't changed position and would always stand by the territory.
The risk for May is that giving in to the last minute Spanish demand is seen as another concession in an already unpopular deal by politicians and pro-Brexit campaigners back in the U.K.
Once leaders sign off on the deal on Sunday, May faces the most difficult part of her two-year battle to deliver Brexit -- getting it through Parliament, where she faces opposition on all sides.
For Sanchez -- who is struggling domestically and faces a regional election next month -- it was a win. He wanted a renewed guarantee that Gibraltar wouldn't be included in any future trading negotiations between the U.K. and EU, and that it will need a separate side deal over which Spain will have a veto.
That's now been confirmed, according to a draft of the conclusions being prepared for Sunday's summit. EU Commission President Jean-Claude Juncker and Council President Donald Tusk also wrote to Sanchez setting out the guarantees.
Read More: Sanchez Claims Gibraltar Win in 300-Year Old Fight
"To the Spanish people I say we have taken a decisive, determined step forward and we have absolute guarantees to resolve a conflict that has lasted more than 300 years," Sanchez told a news conference in Madrid.
Despite Sanchez's words, the fight over Gibraltar looks like it has been deferred, rather than resolved. Trade talks between the U.K. and the bloc will start after Britain has left in March, and could take years to complete.
May had already committed to treating Gibraltar separately during an earlier phase of the talks last year. On Saturday she insisted she hadn't changed policy.
"We will always negotiate on behalf of the whole U.K. family including Gibraltar," she said, arriving in Brussels for talks with Tusk on Saturday. "I'm proud that Gibraltar is British and I will always stand by Gibraltar."
She met Juncker and Tusk in Brussels, ahead of the summit that's due to start at 9.30 a.m. on Sunday.
"I will recommend that on Sunday we approve the outcome of the Brexit negotiations," Tusk said in his letter to the bloc's leaders. "We intend to work resolutely towards building the best possible relationship with the UK after Brexit, as friends and partners."