Brexit Bulletin: You Wanted to Know
(Bloomberg) -- Today in Brexit: We know Brexit is confusing. So we're answering your questions.
How many British voters realized on the day of the Brexit referendum that the future of the nation would hang, more than two years later, on the outcome of tense, detailed negotiations over customs arrangements and Northern Ireland?
Prime Minister Theresa May yesterday outlined negotiating positions — described by our reporters as "incremental, yet critical steps" — for the final stages of the talks with Brussels. Hold your nerve, she told MPs in the House of Commons, who were criticizing her approach on all sides.
Out in the real world, people have started to notice what's being discussed. More specifically, they've started Googling it. Searches for "Brexit deal" and "no deal" have hit record heights; in recent weeks there's been a sharp uptick in searches for "customs union" and "Irish border."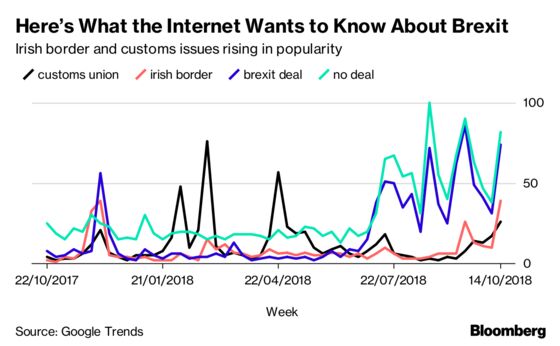 It can be confusing, even for people paying close attention.
With this in mind, we asked what puzzled you most about Brexit. Your questions were a fascinating mix. Today we present the answers, from Emma Ross-Thomas, Bloomberg Brexit editor.
Once again, Theresa May lives to fight another day. It's a familiar pattern, as Rob Hutton, Kitty Donaldson and Jess Shankleman report.
Prominent scientists are sounding the alarm, worried that a sharp Brexit could drive away experts and cripple research.
London's housing market is in bad shape, and estate agents say it's being compounded by Brexit.
Q: I've been reading about the Irish border problem practically since the referendum. I still don't clearly understand what the objectives of all the parties are, what mechanisms they favor, what the pitfalls are, and why it is so difficult to find an acceptable solution.
A: The bottom line is this: The British don't want a border imposed between Northern Ireland and mainland Britain, which would potentially undermine the United Kingdom. Both sides have committed to avoiding a border on the island of Ireland, which could undermine the Good Friday agreement that brought an end to decades of unrest. Yet the only reason there's no border now between Northern Ireland and the Republic of Ireland is because both are members of the EU single market and customs union. Now that the U.K. wants to leave the EU, some kind of border probably has to go up somewhere to protect the single market. But no Ireland-N.I. border might mean borders between Northern Ireland and mainland Britain, something the U.K. wants to avoid. Hence the deadlock.
Q: Is it at all realistic that the Irish question can be resolved? 
A: The U.K. says it wants the final trade deal with the EU to maintain such close ties to the bloc that the Irish border can remain open. The EU isn't so sure and has proposed a backstop that effectively would keep Northern Ireland in the customs union and parts of the single market. For now, Theresa May has rejected that, saying it would undermine the integrity of the U.K. Still, there is a sense that the two sides are edging closer together, with a deal between London and Brussels seen as possible. A bigger question is whether May can then win support at Westminster for that deal. One official close to the process put the chances at about 50:50.
Q: In case of a no-deal Brexit, how likely is a physical or policed border? Is either the U.K. or Ireland preparing for this? If not, does this not make the focus on an Irish border a red herring?
A: Good question. Irish Prime Minister Leo Varadkar has signaled he would not build a border. Theresa May has also hinted that it's something she would want to avoid. But the EU would need to secure the single market and officials have said, at least in private, that some kind of barrier would have to go up.
Why? Because otherwise, if the U.K. changes its rules on things like product or food safety, then the EU won't want those goods leaking into its single market via the Irish border. Once they are in Ireland, they can move seamlessly to France, for example. In the hypothetical case of a U.S. trade deal, the U.K. would start importing U.S. food that doesn't comply with EU standards. With no border, once those goods hit Northern Ireland, they will be on their way to mainland Europe. And remember that in the case of no deal, trust will be gone, and with it the likelihood of cooperation.
Q: Why can't the U.K. just state they will have no border controls between Ireland and Northern Ireland, and let the EU set up whatever they want on the Ireland side?
A: Because the U.K. has already agreed that there can be no divorce deal without an agreement on the Irish border. 
Q: How exactly will a no-deal scenario affect all of the U.K. citizens in Europe? What is the impact on work visas, residency, house ownership, divorce and health insurance? And what about EU citizens currently living in the U.K.?
A: May has said that whatever happens, EU citizens will be allowed to stay, even though theoretically a preliminary agreement that basically lets everyone stay put and maintain most of their rights will be void. At the moment it's no more than a political statement of intent. But few people expect the U.K. to start chucking out EU citizens if there's no deal. The government will have more pressing issues on its plate, and businesses would scream if they had to deal with staff shortages on top of everything else.
Q: What positions have the EU's leaders expressed about a reversal of Brexit and especially a unilateral revoking of Article 50 by the U.K.?
A: EU leaders have said they would welcome the U.K. back. Most lawyers think Article 50 can be revoked. As for getting an extension: EU officials tend to say that if the U.K. did it in order to have another referendum, they would say yes, but if it were done to secure some kind of negotiating advantage, the answer would be no.
Q: We have heard the U.K.'s proposals/solutions for Brexit. What are the proposals from the EU?
A: They can be summed up in this chart, first drawn up by the European Commission: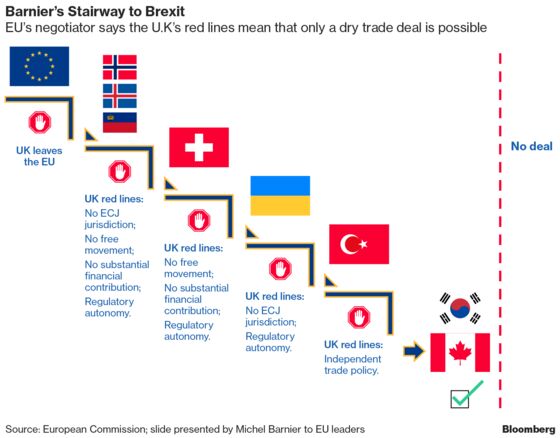 But beyond economics and trade — the most controversial bit of the divorce — the EU does want a deep security and defense partnership, and wants to remain close to its old ally.
Q: What are the British obligations to the EU if there is no deal, taking into account the signing of the withdrawal agreement in principle last December?
A: The agreement last December isn't legally binding. But the U.K. probably would be on the hook for at least some of the money it agreed to pay. That's because there are liabilities it has accrued as a member, and it signed up to a seven-year budget that doesn't end until 2020.
Q: Are there numbers for MPs supportive of a People's Vote — either because they believe in democracy or because they see it as a way off the hook of Brexit's consequences ? In other words, is a People's Vote a realistic possibility?
A: At the moment, no. There are too many obstacles. But that could change. When May brings a deal back, some lawmakers plan to amend the motion she presents to Parliament to propose a second referendum. That's likely to be chucked out. But, if May's deal is voted down, it's just about conceivable that there could be a majority for another plebiscite as an alternative to no deal. Labour is keeping the option of a second referendum on the table as a last resort, and a handful of Tories have come out in favor. 
Watch the Swing | The pound's inevitable sharp move on the final Brexit outcome will have big implications for Bank of England policy. Exchange-rate swings could push inflation up to almost 3 percent or slow it to well below the 2 percent target by early 2020, according to calculations by Bloomberg Economics. The BOE's current outlook, based on a Brexit with a smooth transition and little movement in the pound, is increasingly in doubt.
How Much? | Germany will pay 15 billion euros per year more into the EU budget because of Brexit, Bild reports, with this year's payments reaching 30 billion euros. Berlin is digging in deep to offset the disappearance of U.K. budget contributions, according to Bild.
Cloudy Times Ahead | The cloud-computing arm of Chinese retail giant Alibaba Group Holding opened its first data centers in the U.K., with two sites operational in London. Europe has become key to Alibaba Cloud's success outside China, with prospects in the U.S. made murky by President Donald Trump's agenda.
Playing It Safe | British and European markets watchdogs may wrap up a comprehensive deal that protects cross-border securities trading after Brexit. But the Germans aren't betting on it and are making plans to open direct links to the U.K.'s Financial Conduct Authority in case fellow European countries fail in their efforts to reach a joint deal. 
Want to keep up with Brexit?