Brexit Pushes Migration From EU to U.K. to Lowest Since 2012
(Bloomberg) -- Net immigration from the European Union to Britain fell to the lowest level in six years as the U.K. came closer to leaving the bloc.
An estimated 74,000 EU citizens were added to U.K.'s population in the year ended June 30, a level not seen since 2012, the Office for National Statistics said on Thursday. During the same period, the net inflow of non-EU citizens migrating to Britain was 248,000, the highest level in 14 years, the ONS said.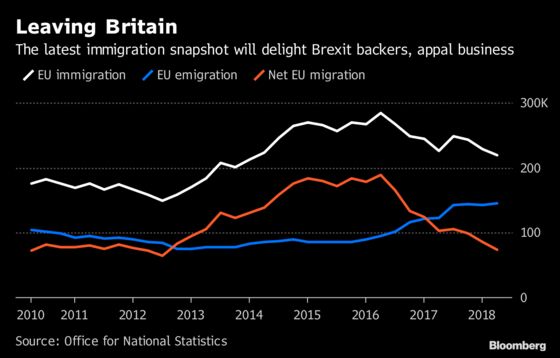 The decline in net EU migration was driven more by people leaving Britain than fewer arriving, and the overall result will be welcomed by many Brexit supporters. But sectors such as hospitality, agriculture and the National Health Service rely heavily on EU labor and are struggling to find the workers they need. Crucially, nationals of the eight eastern states that joined the EU in 2004 are now leaving on balance.
The numbers come a day after Bank of England Governor Mark Carney warned that U.K. is at risk of facing net emigration, thereby denting the supply capacity of the economy, in a worst-case scenario of a disorderly departure from the EU. Prime Minister Theresa May faces a parliament vote on Dec. 11 -- that many expect her to lose -- over a proposed agreement that'd effectively stop free movement of people from the bloc.
People's decisions to move to the U.K. are "influenced by a range of factors," Jay Lindop, a director of the Centre for International Migration at ONS, said without elaborating. Non-EU immigration was boosted by people coming for both work and study, he said.
Migration from the EU has fallen by 115,000 since the Brexit referendum in June 2016. Net inflows from western Europe, Bulgaria and Romania have halved and migration from so-called A8 countries, which include Poland and Hungary, is now emphatically negative for the first time with 14,000 more people departing the U.K. than arriving.
"We are seeing major shifts in migration long before freedom of movement ends," said Stephen Clarke, senior economic analyst at the Resolution Foundation think tank in London.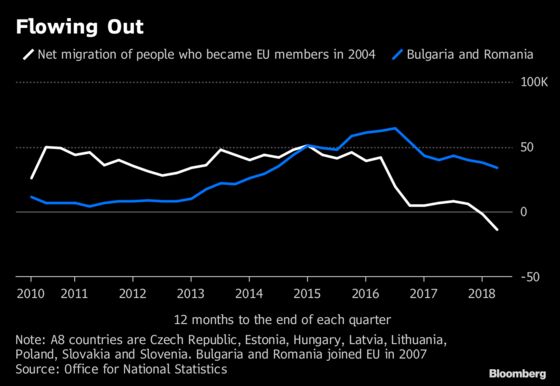 May says there will be no preference granted to EU nationals under Britain's post-Brexit immigration regime, which will be based on skills and the needs of employers.
"As we leave the EU we will put in place an immigration system which works in the best interests of the whole of the U.K. and further detail on that will be set out very soon," Immigration Minister Caroline Nokes said in statement released by the Home Office.
The jump in arrivals from outside the EU means May remains further from her pledge to bring overall net migration down to the "tens of thousands." That figure, which includes the movement of British nationals, stood at 273,000 in the year through June.