Brexit Poses Threat to London Schools Reliant on Foreign Staff
(Bloomberg) -- Add London schools to the sectors vulnerable to a Brexit migration clampdown.
Figures published Wednesday show that almost 16 percent of staff at state-funded nursery, primary and secondary schools in the British capital are nationals of other countries, nearly triple the average for England as a whole.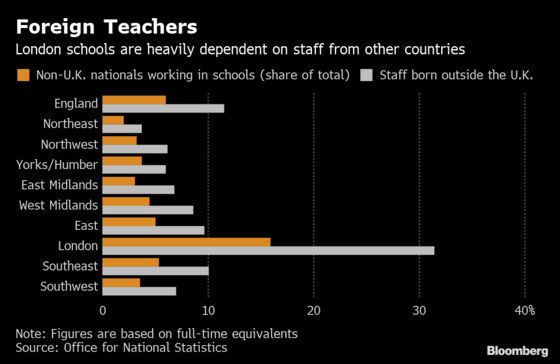 The findings are likely to fuel claims that schools face a worsening recruitment crisis. Teaching unions have long complained that budget cuts are driving people out of the profession at a time when pupil numbers are growing. Now they see evidence that Brexit is deterring teachers from other European Union countries.
More than 30 percent of London teaching staff between 2015 and 2017 were born outside the U.K., though the Office for National Statistics stressed that many of these may have lived in the U.K. for most of their lives. The England average was 12 percent, with EU countries accounting for over a third.
"International migration contributes to the workforce in schools, with migrants working in a range of teaching, managerial and support roles within the education sector," the ONS said.
Demand for school places is driven by the number of children being born, rather than children arriving in the U.K., though births to foreign-born mothers have increased over the last 20 years, the ONS said.