Brexit May Drive Irish Credit Spreads Wider, Debt Office Warns
(Bloomberg) -- Irish credit spreads could widen further as uncertainty around the U.K.'s exit around the European union lingers, the country's debt office said.
Ireland's 10-year yield spread over Germany has widened since the middle of September as political risk in Italy has partially spread into the bonds of its regional peers and uncertainty mounts around Brexit. The spread was at 64 basis points Wednesday in Dublin, more than double what it was at the start of the year.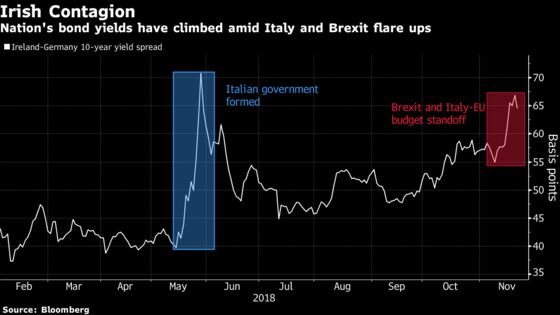 "Based on market feedback, investor concerns over Brexit-related developments are the dominant factors in the increase of the spread," said Frank O'Connor, director of funding and debt Management at the National Treasury Management Agency in Dublin. "We have completed our funding requirement for this year but Brexit-related sentiment may have more of an impact on our credit spread as we enter 2019."
The spread is now effectively at its highest level since mid-2017, a move the debt office described as "noteworthy." While Ireland is among the fastest-growing economies in Europe, it's also considered the nation most vulnerable to Brexit. About 15 percent of Irish exports go to the U.K., with Irish insulation maker Kingspan Group Plc this month noting "general sense of nervousness prevailing globally.