U.K. Could Still Lose Some Financial Activity: New London Update
Brexit and Covid-19 have upended the City of London over the past 18 months, weakening its dominance as Europe's financial center. 
One key area of tension between the U.K. and the European Union is the future of clearinghouses, and whether those based in London can continue to take business from clients inside the bloc. A temporary waiver ends in June 2022, and Bank of England Governor Andrew Bailey warned Tuesday that any upheaval on clearing posed a "real threat" to financial stability. 
NatWest Group Plc Chairman Howard Davies said there's still a risk some operations could move from London because of Brexit, while BlackRock Inc.'s Stephen Cohen said fragmentation of markets could raise costs.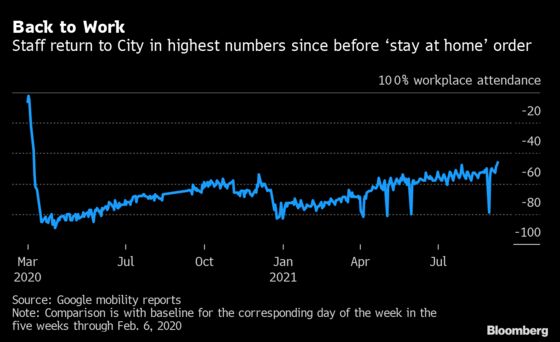 U.K. Fashion Chief Says Access to Talent is Key for Industry (4:35 p.m.)
Caroline Rush, chief executive of the British Fashion Council, said London's luxury/fashion industry "needs to make sure it has access to the right talent," post Brexit. "That's at the top of our agenda," she said.
Rush also said the U.K. needs to have an intellectual property framework that properly protects British design, and she wants to bring back tax-free shopping to encourage tourism spending.
NatWest's Davies, BlackRock's Cohen on Brexit and Finance (3:30 p.m.)
Davies said the potential loss of some financial activities is "the area where I think the government should be focusing the most, and making sure the threat doesn't materialize."
London now needs to think of itself as "being the inter-mediator for Europe versus the rest of the world," Davies said. 
The city will remain Europe's biggest offshore financial center, but might lose some domestic European business to local centers because the EU requires that certain activities are located in particular places, he added.
Stephen Cohen, BlackRock's head of Europe, Middle East and Africa, said the long-term risk of Brexit is that it becomes more expensive for investors and other end clients to do business because of market fragmentation. Still, he said he sees some opportunities, particularly related to ESG and green finance, for the U.K. and EU to coordinate
Davies Says Hybrid Work Here to Stay (2:50 p.m.)
Hybrid working is here to stay, according to NatWest Group Plc Chairman Howard Davies. The lender, which moved most of its staff to remote work during the pandemic, currently has about 15% of its staff in offices -- a level that Davies expects to jump to 50% by the end of the month.
The shift to hybrid work will vary by job, with traders spending more time in the office, for example. With fewer people on the streets overall, Davies said he has concerns for the city's sandwich bars and the Transport for London network.
Brexit and Pandemic Proving a 'Perfect Storm' for Economy (2:50 p.m.)
CBI Chief Economist Rain Newton-Smith says U.K. economy has faced a "perfect storm" thanks to the virus and the decision to leave the EU. 
The economy is grappling with a worker shortage and supply-chain disruption because the rapid rebound from the pandemic has come as companies are trying to adjust to new post-Brexit immigration rules. She also noted structural issues related to under investment.
U.K.'s Glen Plans to Simplify Inter-Company Visa Process (2:30 p.m.)
U.K. Economic Secretary John Glen said the government is looking at ways to make it easier for businesses to move internal staff to the U.K., and a plan could be ready in the next six months. 
"The issue of the access to talent is absolutely important to us," he said.
His comments come as the U.K. experiences a record number of job vacancies as fewer EU workers move to the country. Glen said he will visit the U.S. shortly to deepen bilateral relationships there.
Khan Says U.K. Must Change Immigration System (2:15 p.m.)
Mayor of London Sadiq Khan called on the government to change its immigration system amid a shortage of workers in some sectors.
Khan, a member of the opposition Labour Party, wants a Covid recovery visa, making it easier for firms to hire workers from overseas in industries such as haulage and hospitality that are struggling to find staff.
"The knock on consequences on our city" from the shortage of workers "could be profound," he said, adding that the existing process for firms to sponsor visas is both too long and too costly.
Bailey Warns EU About Risks From Its Clearing Demands (2 p.m.)
Bank of England Governor Andrew Bailey, who is speaking at the Sustainable London session later, said in an interview that the capital's dominant clearinghouses need clarity soon on whether they can keep serving clients in the European Union.
"I have to say to the EU, we make it work with the U.S., you make it work with the U.S., the same principle and practice applies," said Bailey. "I'm just not prepared and do not understand the argument that somehow the U.K.-EU relationship should be different."
Bailey also gave a skeptical take on cryptocurrencies. More of his comments can be found here.