Brexit Bulletin: Will She Risk It?
(Bloomberg) -- Today in Brexit: It's decision day for Theresa May with just 36 hours until the crucial vote.
The British prime minister must decide today whether to press ahead with a vote that could produce a defeat so definitive that it ends her own career and changes the course of Brexit. 
If she loses she could face a leadership challenge, a vote of no-confidence in her government, or even a second referendum. Perhaps her strategy is to sustain a terrible defeat and take it back to Brussels, where a leaders' summit takes place later this week, as evidence that the European Union has overplayed its hand and has to budge. That would be a risky approach: EU leaders have made clear they don't have more to offer. And she might not survive long enough to make it back to Brussels as a credible interlocutor.
There's one other option for the post-rout fallout that's gaining traction: a ​Remainer revolt from within the Cabinet and Parliament that pushes Britain toward a much softer Brexit than the one May has been pushing for two years. Tim Ross and Rob Hutton reported on Friday that some officials in the Cabinet — on both sides of the Brexit debate — reckon May could be forced to seek a Norway-style arrangement with the bloc as the only way of getting a majority in Parliament.
Brexit Secretary Stephen Barclay insisted on Sunday that the vote would go ahead. That's despite calls from ministers to call it off. According to parliamentary procedure, the latest she can pull the vote is before debate resumes on Tuesday.
May is weighing up the decision as:
She spoke to EU President Donald Tusk and Irish Prime Minister Leo Varadkar at the weekend. These two are key if she is going to try to renegotiate the deal somehow.
Home Secretary Sajid Javid is preparing to launch a leadership campaign this week if May is forced out, the Sun reports. Boris Johnson declined to rule out running against May.
Will Quince, parliamentary private secretary to Defense Secretary Gavin Williamson, quit over the deal. 
The Sunday Telegraph reported that some in May's government are planning for a new referendum.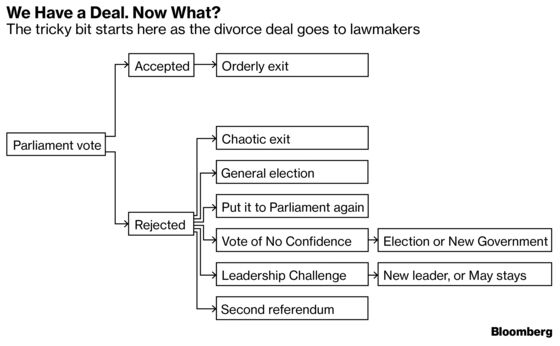 The European Court of Justice is set to announce a landmark decision on whether Britain could unilaterally revoke Article 50 — the clause that started the Brexit process. The decision is expected about 8 a.m.

What does it all mean? Rob Hutton and Kitty Donaldson decode the Westminster vote jargon for you, including ways to guess the result before it's announced. Plus, what's with the men in tights?

With Brexit just around the corner, some of those who can are leaving Britain. Dara Doyle and Irene Garcia Perez look at some of the personal stories behind the numbers.
Norway? Not So Fast | Ian Wishart reports from Brussels that a Norway-style deal might not be as straightforward as some hope. First off, the bloc wouldn't agree to it definitively until Britain leaves the EU. The EU would probably impose stricter conditions on the U.K. than it currently does on Norway, such as rules to ensure the U.K. can't undercut European businesses. It also could include giving EU countries better access to U.K. fishing waters. And crucially, the EU is likely to insist that the much-hated Irish backstop remains. Still, May could argue with more conviction that it would almost certainly not be needed.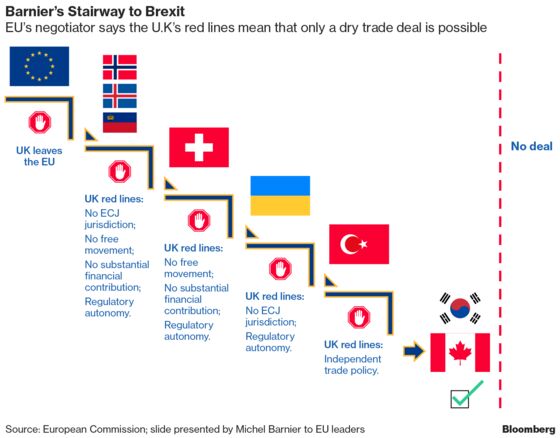 Remain Dividend? | Remain campaigners have a new argument as they prepare for the prospect of a second referendum. They say there's a "dividend" worth tens of billions of pounds if the U.K. stays in the EU and it could be spent to "heal our divided country." One of the priorities should be the NHS, according to a report by Common Ground, a group that's campaigning for another plebiscite.
Losing Momentum | The U.K. economy lost momentum in the three months through October, figures Monday are expected to show. An early summer surge proved fleeting as concerns about a no-deal Brexit mounted. Forecasters reckon there was little improvement in October itself, with GDP only being spared a third month of stagnation thanks to a modest rebound in the dominant services industry.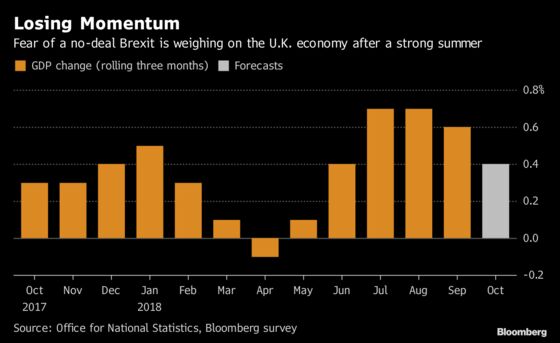 Cost to Neighbors | A no-deal Brexit would have a direct financial cost for the Netherlands of 1.6 billion euros ($1.8 billion) in 2019 and 2020, the Dutch Court of Audit estimates.
Monster of Brussels | Martin Selmayr, an EU bureaucrat as well known for his scheming as for his desire to punish Britain, wants to lead trade negotiations with Britain after Brexit, the Sun reports. Selmayr, a controversial figure even in Brussels, now works for European Commission President Jean-Claude Juncker, who will be replaced in 2019.
More Engagement Than Divorce | The Economist makes the case for a second referendum, saying Brexit is more like a "rocky engagement" than a divorce: "Voters were swept off their feet by the promises of the Leave campaign, only to discover that the future relationship was not going to be as they had imagined. Calling it off would be mortifying. Yet seeing it through could be a serious, permanent mistake."
Want to keep up with Brexit?