Brexit Bulletin: Who Else Could Do It?
(Bloomberg) -- Today in Brexit: May survives another day thanks in no small part to the lack of a viable alternative.
If not now, then when? Prime Minister Theresa May is signing the U.K. up to a customs union in all but name and the possibility of an extended limbo after Brexit day, and she still managed to emerge from a meeting of her rank-and-file lawmakers unscathed.
"The mood of the meeting was get behind her and let's support her to negotiate," George Freeman, who once headed May's policy board but has been critical of her plans since returning to the backbenches, told Bloomberg's Rob Hutton. Another lawmaker, who asked not to be named, said that unity had broken out.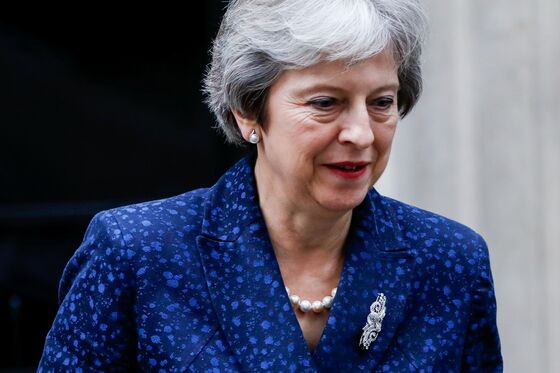 May could still be toppled. That's been true for more than a year. But she's now made, or signaled she's about to make, the kind of concessions to Brussels that Brexiteers have long said are unacceptable — and she's still there. Her fallback plan for the Irish border would bind the whole U.K. to the EU's customs regime, if not indefinitely then certainly for years, and it might end up extending membership without voting rights.
Her Cabinet is divided, and there might not be a majority in Parliament for any deal at all, but it's increasingly clear that the Brexiteers don't have the numbers to oust her and there's no consensus candidate waiting in the wings. One lawmaker was blunt about it last night: She's surviving because there's no viable alternative.
Brexiteers know that any uprising needs the backing of the center of the party, and the center of the party isn't too fussed about the finer details of the negotiations. And some Brexiteers aren't that hard to win over. One of them told Tim Ross last night that May had promised she would deliver Brexit whatever happens on March 29 and that the U.K. won't be in a customs union forever. That reassured him.
Negotiations are on hold, and the European side isn't expecting any movement until after the budget next week and the risk of rebel lawmakers upsetting the process has passed. (Remember when they were waiting for the Conservative Party conference to be over?) For them to get going again — and reach a conclusion by the end of the year — the U.K. probably needs to come up with some more concessions. May will be hoping that last night's supportive desk-banging is enough to see her through the final stretch.
The U.K.'s financial watchdog is examining whether relationships between polling companies and hedge funds, especially the sale of market-moving exit polls and voter-opinion data, could violate market-abuse prohibitions. If you haven't yet, read Bloomberg's investigation into how it worked on referendum night.
Almost one-third of the U.K. Treasury's staff are being consumed by Brexit work and bosses are seeking additional staff, according to Permanent Secretary Tom Scholar. 
Rebel Warning | Former U.K. Attorney General Dominic Grieve said the government's efforts to force the final Brexit deal through Parliament before allowing lawmakers to debate amendments increases the chances of it being voted down. Grieve wants a second referendum, and led the pro-EU Tory rebellion last year that helped secure a vote for Parliament on the deal.
No Deal, No Flights | The International Air Transport Association warned that in a worst-case no-deal scenario fewer than 5 percent of current weekly flights operating between the U.K. and Spain would be allowed.
Cutting Back | Barclays Plc has reduced exposure to leveraged loans in the U.K. by 25 percent in the last two years as it considered the potential impact of Brexit, Chief Executive Officer Jes Staley said. The British lender is avoiding lending to "some of the very troubled parts" of the U.K. corporate credit market, he said.
Labor Shortage | Brexit is showing signs it will ease the shortage of workers in eastern Europe, as fewer workers head to Britain.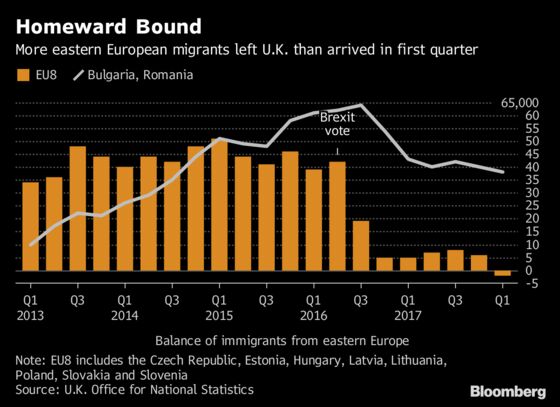 Enemy Within | In the latest episode in Brexiteers' bitter campaign to undermine civil servants, Nigel Farage called them the "enemy within." Speaking in the European Parliament, he said May's chief negotiator Olly Robbins is trying to sabotage Brexit.
Business Call | Andrew Adonis, one of the leading campaigners for a second referendum, says he's about to launch a business campaign for a vote on the final deal.
Moving to Madrid | Citigroup Inc. plans to move some roles at its southern European private-banking team to Madrid from London because of Brexit. The firm is also planning to have its new broker-dealer in Frankfurt up and running by the end of this year in case negotiations break down.
Coming Up | Brexit Secretary Dominic Raab speaks in Parliament at 9:30 a.m. Michael Gove will introduce a draft fisheries bill to "take back control" of fishing waters.
Want to keep up with Brexit?