Brexit Bulletin: Unintended Consequences
(Bloomberg) -- Today in Brexit: A delay in the U.K.'s departure from the European Union may not be entirely good news even for proponents.
Opponents of a no-deal Brexit are increasingly pinning their hopes on a postponement of the U.K.'s exit, but such a scenario could have unintended consequences on both sides of the English Channel.
On Tuesday, the opposition Labour Party signaled it was more likely to support a proposal to extend the March 29 departure deadline, a big step in Parliament's efforts to wrestle control of Brexit away from Prime Minister Theresa May. In a BBC interview, John McDonnell, Labour's chief finance spokesman, described the plan as a "sensible" way to avoid the upheaval of a disastrous no-deal outcome, which could snarl cross-border commerce and bring on shortages of food and drugs.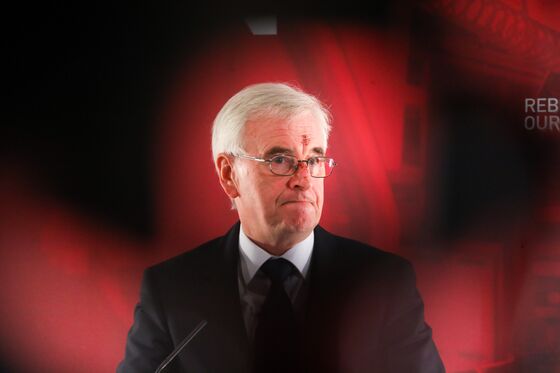 A delay would have ripple effects. As Bloomberg's Ian Wishart reports, while the U.K. wasn't expected to participate in May elections to the European Parliament, an extension of its EU membership could change that. The possibility leaves officials in Brussels worrying that disgruntled British voters would elect scores of anti-EU legislators. That may boost nationalists from Italy to Hungary, giving them more allies for a Euroskeptic front against what they call the cozy liberal elite in the tussle over Europe's future.
One of the biggest concerns for the EU about allowing the U.K. to take part in the vote is that European lawmakers hold a veto over the appointment of the next president of the European Commission. The last thing the EU needs is the likes of current MEP Nigel Farage "sitting in judgment" over the process of replacing his long-time sparring partner Jean-Claude Juncker, a senior diplomat involved in the Brexit talks said. Farage says he's already preparing for an election campaign should the U.K. request a lengthy Brexit postponement.
Investors apparently aren't paying attention. They've pushed the pound higher in recent weeks on bets the chaos in Parliament may cause Brexit to be delayed. Prime Minister May hasn't ruled out asking for the postponement, although any request would have to be approved by all 27 remaining EU governments. Some are reluctant to allow any delay beyond July, when the new EU Parliament would first meet.
A delay also is likely to extend uncertainty for businesses, potentially hampering investment and growth. And it could keep Bank of England officials in a holding pattern until they know more, delaying the interest-rate increases they say are needed to control inflation.
Too Much of Nothing | The EU is still waiting for Theresa May to come up with something new to break the deadlock, Margaritis Schinas, spokesman for the European Commission, told reporters on Tuesday. Schinas went on to channel the Spice Girls, adding "we expect the United Kingdom to tell us what they want, what they really, really want."
Middle Ground | There actually is a Brexit consensus among voters despite the confused picture of opinion polls, Matt Singh, who runs Number Cruncher Politics, writes in a Bloomberg Opinion article.
Shopping to Stockpile | An online shopping service is offering Britons the chance to stockpile goods for Brexit in just four clicks, Bloomberg's Ellen Milligan reports. Users of brexitprepping.com can select their "level of Brexit angst," from "a little concerned" to "properly panicking." The site then creates a personalized Tesco shopping order to help a household of four stockpile food and drink for one week to three months.
Davos Worries | Brexit was, unsurprisingly, a major topic among the world's financial elite on Tuesday, the first day of the World Economic Forum in Davos, Switzerland. OECD chief Angel Gurria told Bloomberg TV that the chance of a no-deal exit is growing every day, while Philipp Hildebrand, vice chairman at BlackRock, said that such a scenario is currently underappreciated by markets. Meanwhile, May got support from an unlikely source: BAE Systems Chairman Roger Carr, a high-profile anti-Brexit campaigner before 2016's referendum, said the best outcome would be for her agreement to win approval.
Osborne's View | Also at Davos was former Chancellor of the Exchequer George Osborne. In a Bloomberg TV interview, Osborne said that May is the only person who thinks her plan can be renegotiated, and the U.K.'s only options right now seem to be a no-accord outcome or delaying or stopping Brexit. A no-deal exit would the "biggest act of protectionism" in U.K. history, he said.
Command and Control | Plans are being made for "several thousand" staff to be switched into a "command and control" role in the event of a no-deal split from the EU, according to John Manzoni, chief executive of the U.K. civil service.
Shoulder to Shoulder | Belgium's top diplomat sought to underscore the unity of the 27 remaining members of the EU on Tuesday, extending reassurances to Dublin that the bloc wouldn't agree to anything that would risk a return of checkpoints on the border with Northern Ireland. "We are united of course, we are 27," Belgian Foreign Affairs Minister Didier Reynders told reporters in Brussels. "We are all Irish for the moment.''
Want to keep up with Brexit?