Brexit Bulletin: Opportunity or Fantasy
(Bloomberg) -- Today in Brexit: Theresa May gets the backing of one prominent Cabinet member, but a former trade chief warns of struggles ahead.
The prime minister will get a boost from a pro-Brexit campaigner in her Cabinet on Friday as she fights against the odds to win enough support for her Brexit deal to pass a crucial vote in Parliament.
International Trade Secretary Liam Fox will call on politicians in his own Conservative party, as well as members of the Labour opposition, to do what's right and back the contentious Brexit plan May agreed with the European Union.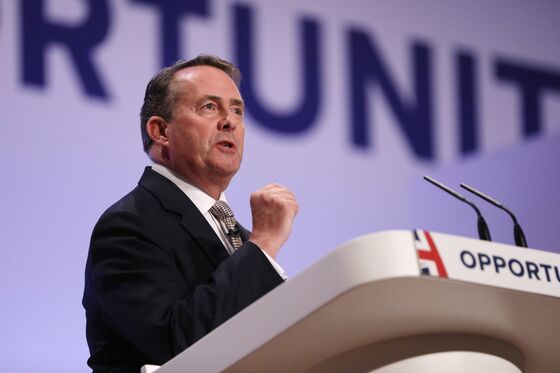 "The withdrawal agreement and the political declaration will not please everyone, and we have had some tough choices to make," Fox will say in a speech in Bristol, southwest England. "But the deal we've reached will give us a firm and stable base on which to leave the EU and build this country's global future, a future that still encompasses Europe, of course, but also the wide fast-growing markets beyond, with all the opportunity that entails."
May will welcome the endorsement from longstanding euroskeptic Fox, who had been deeply uneasy about her blueprint for maintaining close ties to the EU's trade and customs rules. After the draft accord was finalized two weeks ago, a group of ministers who disagreed profoundly with her plan resigned from her government, among them Brexit Secretary Dominic Raab.
Fox's intervention comes as May heads to the G-20 summit in Argentina, where she will announce the U.K.'s first trade envoy to Argentina and attempt to firm up a future trade pact with Chile. She may have an uphill battle ahead, with the former head of the U.K.'s trade department warning today that the country will struggle to get better trade deals after Brexit.
"It's a fantasy to imagine there are wonderful new trade deals that other people haven't got, that's not what the evidence tells us," Martin Donnelly, permanent secretary of the Department of International Trade until 2017, said in Dublin.
Forget the politics, writes Andrea Felsted for Bloomberg Opinion. The fighting in Westminster is ruining Christmas.
May's message for world leaders at the G-20 is that her Brexit deal is good for the global economy. The claim doesn't match analysis this week from her own economic advisers, who say the best option for Britain would be to stay in the European Union.
As many as 100 Tory MPs have now spoken out against May's deal, according to the Telegraph. And yet Tory Chief Whip Julian Smith and his colleagues are using softer tactics than might be expected. 
No Winners | The Brexit coordinator in the European Union's parliament called Britain's withdrawal from the bloc "a failure for everybody" and predicted that the U.K. will return to the EU "in the near future" after its exit in March. "Let us make the best of it in the knowledge that there will be in the near future a new generation in Britain — I'm pretty sure about that — who will decide to come back," Guy Verhofstadt said. Meanwhile Nigel Farage congratulated Michel Barnier on winning Brexit.
No-Food Brexit | Local U.K. councils should set up "food resilience teams" to prepare for Brexit, according to policy experts from universities including City. The good news is we won't run out of water, as Environment Secretary Michael Gove assured Parliament this week. 
Check the Small Print | The U.K.'s Brexit divorce bill could be more than expected, according to the government's National Audit Office. Uncertainties including pension liabilities and how fast the EU spends its own budget will affect the financial settlement, according to the report. 
Contingency Planning | Carmakers including BMW AG, Volkswagen AG, Ford Motor Co.and General Motors Co. are buying up bonded warehouse space at U.K. ports as they prepare for the impact of a potential no-deal Brexit. Companies that export to Britain are making the move as part of their contingency planning for no-deal.
Market Maths | Even with the parliamentary vote looming, the market consensus is still that a hard Brexit will be avoided, allowing the Bank of England to gear up rate hikes earlier than priced. For 2019, NatWest Markets strategist James McCormick recommends traders short gilts and go long sterling, while Societe Generale's head of rates strategy, Adam Kurpiel, advises using swap rates to position for a steeper spread between 2-year and 5-year contracts.
That Awkward Moment | The prime minister was left confused at a committee hearing yesterday when Conservative MP Tom Tugenhadt described the U.K.'s future relationship with the EU as "friends with benefits." Presumably the concept wasn't in fashion when May was last on the dating scene. 
Want to keep up with Brexit?