Brexit Bulletin: Let the Plotting Commence
(Bloomberg) -- Today in Brexit: May takes her plan back to the House of Commons, where the plotting to thwart Brexit is coming to the boil.
Theresa May has come up with her plan B for getting her Brexit deal through parliament — and it's not much changed from plan A. She's given up on cross-party talks to find a compromise, and will instead try to get the European Union to do something it has repeatedly ruled out — rewrite the Irish backstop.
May told her Cabinet in a conference call on Sunday that cross-party talks had failed and, in any case, it was a bad idea to rely on Labour votes to get the deal through, Robert Hutton reports. Moving closer to what Labour wants, including maintaining a customs union with the EU, would split the Tory party.
So the stalemate continues, and members of Parliament have more reasons to try to seize control of the process. They are expected to pounce this afternoon, when the prime minister makes a statement to the House of Commons and the government will publish a motion on it. Pro-EU lawmakers are expected to present amendments that aim to force a consensus approach to Brexit, and even delay exit day if that's not possible.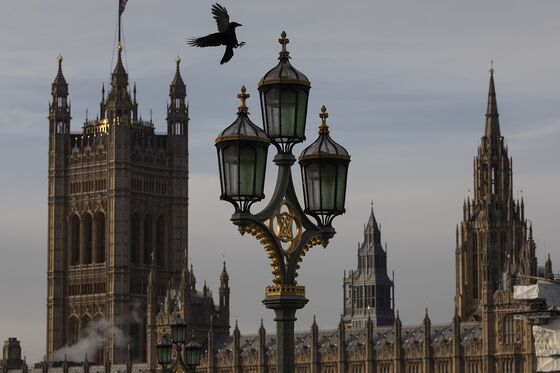 Former Attorney General Dominic Grieve is drafting a temporary amendment to the rules of the House of Commons that would give time to a backbench motion on what should happen next. His move has drawn the ire of Conservative colleagues who accuse him of subverting Brexit. Another former Tory minister, Nick Boles, is proposing that debating time for Grieve's plan should be used to pass a bill that would require the government to extend Article 50 if no deal can be reached. Boles has help from veteran Labour lawmaker Yvette Cooper.
Some kind of extension to the Brexit process looks increasingly likely, as we've reported, and EU officials are discussing — not entirely harmoniously — what that might look like.
Meanwhile, May will probably head back to Brussels to try to change the backstop, the much-loathed part of the divorce deal that was designed to prevent a hard border on the island of Ireland but risks keeping the whole U.K. locked in EU rules forever. The EU has been pretty clear that the deal can't be changed, though they are willing to redraft the political declaration about future ties.
The EU had welcomed May's bid to get a get a cross-party approach (at least in part because the bloc always liked bits of Labour's Brexit policy, such as keeping Britain in the customs union). Brussels will be disappointed it's come to nothing.
Still, there was one glimmer of hope for May this weekend. German Chancellor Angela Merkel took the long-term view and said it was the EU's responsibility to get Brexit right, opening the door, just possibly, to a bit of flexibility:
"We also have a responsibility to shape this separation process in a responsible way, so that people don't look back in 50 years, shaking their heads, and say why weren't we in a position to make a compromise?"
The Latest Fixes | Theresa May is considering tweaking the Good Friday agreement to reassure Ireland that the U.K. is committed to avoiding a hard border, the Telegraph reports. The Sunday Times says another idea was to offer Ireland a bilateral treaty. Neither seem very likely to fly with the EU.
The End of May? | May's chief of staff Gavin Barwell has told two cabinet ministers that if her plan B fails, she may have to propose stepping down in the month of May as a way of getting more support for her deal, the Sunday Times reports.
Brexit Effect | London home asking prices fell to their weakest level in 3 ½ years in January as sellers spooked by Brexit held off putting their properties up for sale.
What They're Stockpiling | Add airline meals to the list of things being stockpiled. With concerns growing that a no-deal split will snarl up traffic at U.K. ports, the world's biggest caterer to the aviation industry has begun to stockpile entrees, snacks and even plastic cutlery. For more on hoarding food, read our story on the Great British Stockpile. 
Signing Ceremony | France and Germany will sign a new treaty reaffirming their close ties. It's the culmination of 16 months of work by French President Emmanuel Macron to bring the anchors of Europe closer.
On the Markets | The pound may advance against all its Group-of-10 peers this year as the risk of a no-deal Brexit has been declining, according to Goldman Sachs Group. "We would read the developments over the last week as pointing toward a later, softer Brexit or potentially no Brexit at all," said Zach Pandl, co-head of global currency and emerging-market strategy. Sterling edged lower to $1.2870 early on Monday.
Want to keep up with Brexit?