Brexit Bulletin: Urgency at Last
(Bloomberg) -- Today in Brexit: Evidence is growing that the two sides might be inching toward some kind of agreement.
With just a month to go until Brexit day, Prime Minister Theresa May is suddenly in a rush, and a plan is emerging for how to get the deal over the line.
May met European Commission President Jean-Claude Juncker yesterday in Brussels and the two sides agreed to keep working on a solution to make the Irish backstop more acceptable to the U.K. They will review progress again in the "coming days, seized of the tight timescale and the historic significance of setting the EU and the U.K. on a path to a deep and unique future partnership."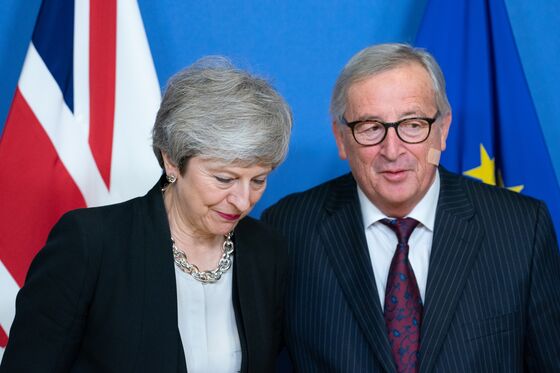 Spanish Foreign Minister Josep Borrell told Bloomberg on Wednesday that a solution is being hammered out already. Two Cabinet ministers predicted in private that an agreement could be reached in days and put to Parliament next week, and Chancellor of the Exchequer Philip Hammond said the same to the BBC this morning. May's team also hinted on Wednesday that the prime minister wants to bring something back to Parliament next week — at least evidence that she's making progress. If she can show progress, it might hold off the advance of rank-and-file lawmakers who are threatening to seize control of the process and force her to delay Brexit if she has nothing new by Feb. 27.
In another sign that Parliament might have something new to vote on sooner rather than later, the European Union side has cooked up an idea to get lawmakers to vote on the proposed changes to the backstop before the bloc goes to the trouble of gathering all its leaders together for yet another Brexit summit. The idea is that they don't want to get the leaders together and offer concessions only for them to be rejected by the U.K. Parliament. (They've been there before.)
They want to know that what they offer will get the deal over the line, Ian Wishart reports from Brussels. The EU's proposal is for Parliament to have some kind of non-binding vote on the changes, then leaders can sign off at a summit next month, and then it would go back to Parliament for final ratification. At this stage, it's just an EU idea, but it suggests a high-wire strategy of holding the final vote to just a few days before Brexit day. It would fit both sides' strategy to push it to the last minute in the hope that lawmakers will back the deal as they peer over the cliff-edge.
Crucially, the U.K. has toned down what it is demanding of the EU to fix the bit of the deal it doesn't like — the Irish border backstop. It's no longer asking the EU to reopen the divorce deal itself, which the bloc has long rejected. That makes it easier to find some kind of agreement drafted in a separate legal document.
U.K. Attorney General Geoffrey Cox travels back to Brussels today and is expected to present the EU with a proposed text. May is hoping that if Cox can get something he can live with, then he will be able to bring fellow Brexiteers along with him. The key, as Foreign Secretary Jeremy Hunt explained on Wednesday, is that Cox needs to be able to change his legal advice on the risks the backstop poses to the U.K.
But there's an element here of Cox marking his own homework — he's negotiating the changes, and then issuing the legal opinion on them. And lawmakers might just see through it.
After decades of intellectual dominance, Britain and the U.S. are losing influence. The rest of the world shouldn't celebrate just yet, argues Bloomberg's editor-in-chief, John Micklethwait.
The Brexit jobs boom has a flip side that's holding the economy back: The record-breaking job creation shown in Tuesday's data may be coming at the cost of investment, which will hurt in the longer term.
Some of Theresa May's ministers are considering voting against her Brexit strategy, daring her to fire them for it, according to people familiar with the matter.
Downgrade | The U.K. has been put on a formal downgrade warning by Fitch Ratings, which pointed to increased risks that the country could tumble out of the EU without a deal. In a surprise move that came outside of its normal ratings calendar, Fitch placed the AA grade on watch for a cut, and said that a no-deal outcome, or a new relationship with the EU that "undermines" the economy, may result in a downgrade.
Keeping the Lights on | What does a no-deal Brexit mean for energy in the U.K.? Bloomberg breaks it down: There won't be shortages but prices might go up.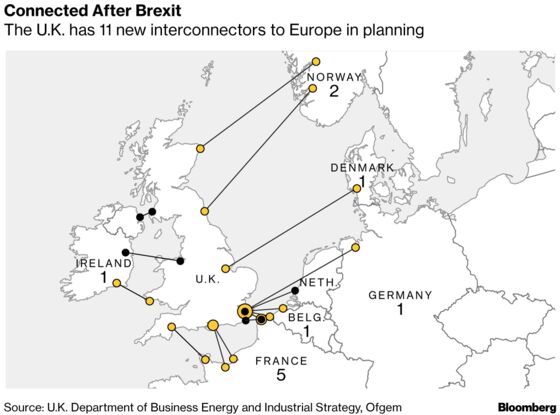 Small Countries Stick Together | Small EU countries don't want to see Ireland steamrollered by Brexit. That was on display again on Wednesday as Slovenian President Borut Pahor underlined his country's solidarity with Ireland. "If a compromise solution would be possible, the best one would be one acceptable to Dublin," Pahor told reporters in Brussels. "Something that is not acceptable to Dublin cannot be acceptable to Slovenia either."
Nukes and Weapons | U.K. makers of nuclear material, weapons and sensitive technologies are being urged by the government to get new export licenses to prepare for a no-deal exit. BAE Systems Plc and Urenco Ltd. are among U.K. companies that would be most directly impacted by a no-deal Brexit. Thousands of items ranging from computer software and digital converters to fuel cells and robotic arms face trade restrictions without new paperwork.
Want to keep up with Brexit?