Brexit Bulletin: Last Battles
(Bloomberg) -- Today in Brexit: May approaches the endgame, and another battle emerges.
The prime minister's Cabinet has been invited into a reading room to study what's been agreed so far. The crucial bit is still missing — how to avoid a hard Irish border without binding the U.K. into European Union customs rules forever. That's still being negotiated in Brussels, where EU officials are sounding a bit less optimistic than their U.K. counterparts.
Officials on both sides are figuring out what the choreography might look like. Success would probably see Brexit Secretary Dominic Raab — or May herself — visit Brussels to seal the agreement with a handshake. Then a summit of EU leaders would be called. Ian Wishart reports from Brussels that the EU is anxious not to allow too much time to elapse before this meeting. There's no date yet, but Nov. 18, long penciled into EU diaries, looks like it's still in play. EU ambassadors are meeting on Friday, a gathering they postponed from yesterday in the hope of having more to talk about.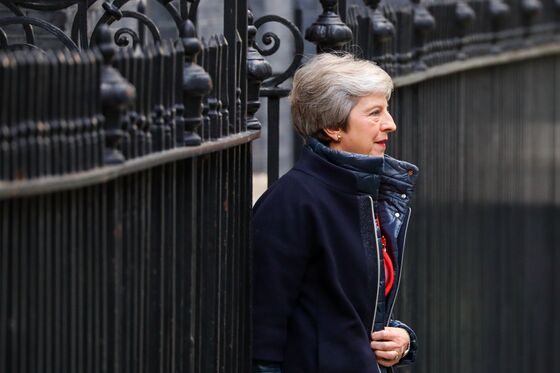 While the Cabinet is expecting to be recalled within days, two people familiar with the U.K. side told Bloomberg's Tim Ross that she would not need to wait for ministers' approval before signing up in principle to the terms negotiated in Brussels.
May goes to Brussels tonight for a NATO dinner. Then on Friday she attends World War One commemorations in Belgium and France, and will have a one-on-one with French President Emmanuel Macron — a key player in the Brexit process.
But the fight on the U.K. side isn't over. May's proposed solution for the Irish border problem risks trapping the U.K. inside the EU's customs union forever. Many businesses would be quite happy with this, but pro-Brexit politicians see it as a betrayal of the referendum result.
Pro-Brexit ministers led by Environment Secretary Michael Gove are demanding to see the full legal advice on which May's plans are based, and there's now a fight over whether that advice should also be presented to Parliament. The Labour Party — which has a track record of forcing the government to publish papers it wanted to keep private — has joined the debate. 
And Parliament remains the main hurdle, whatever May finally brings back from Brussels. Arch Brexiteer Jacob Rees-Mogg vowed last night to vote down the deal if it includes an extension to the customs union, as is looking likely (though he gave himself some wiggle room.) 
As the prime minister closes in on a deal, a new chapter of the saga comes into view. With a deal to vote on, Parliament will take center stage, and new endings come into view. So we made a flow chart to help us all think about the next few weeks.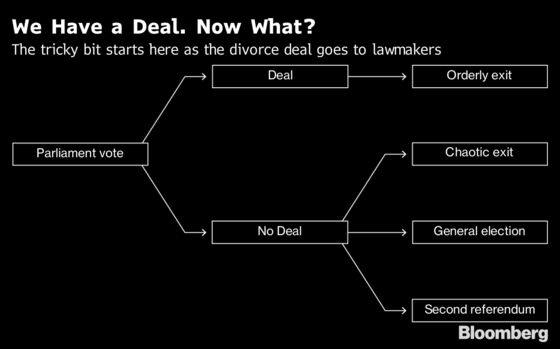 Building Fridges | U.K. Health Secretary Matt Hancock tried to convince patients not to stock up on medicines, reassuring them that the National Health Service will be able to supply "unhindered flows" of drugs whatever the Brexit outcome. "We are building more refrigerated capacity right now," he told ITV's Peston show late Wednesday.
Blair's Warning | Former U.K. Prime Minister Tony Blair has a warning for Labour lawmakers considering voting for May's deal: "Constituents who are passionate about Leave won't regard her deal as proper Brexit, and the constituents that voted to stay will regard voting with the government as a betrayal of their interests."
Wages Up | Britain's labor shortage intensified at the start of the fourth quarter, with the waning supply of workers from the EU forcing firms to pay more. Some companies say they are seeing "the worst period of staff availability for 20 years," according to KPMG Vice Chair James Stewart. Companies don't like it, but rising wages is arguably one of the few ways in which the Brexit referendum is delivering what people voted for. 
House Prices Down | Another piece of Brexit-related data that's good or bad depending on your point of view: a key gauge of the U.K. housing market fell to the weakest since just after the financial crisis. The Royal Institution of Chartered Surveyors said its index showed a decline in prices amid uncertainty over Brexit.
Not Good Enough | The Brexit deal May is trying to negotiate with the bloc won't be enough for the London firm that sits at the center of the world's biggest derivatives market. LCH Ltd., the clearinghouse majority owned by London Stock Exchange Group Plc, says a deal based on so-called equivalence has "vulnerabilities."
Winners and Losers | Germany and Ireland are emerging as the big winners from Brexit, at least as far as attracting banking business is concerned. As many as 50 lenders are applying for licenses that will allow them to continue doing business in the bloc, according to German banking watchdog BaFin. Meanwhile JPMorgan CEO Jamie Dimon tells Les Echos that Paris will be a big beneficiary. "The French government has done all it can to make the country attractive for the next 10 years."
On the Markets | Aberdeen Standard Investments is betting that sterling could climb to $1.50—a level not seen since the 2016 vote—within three months of a divorce agreement, John Ainger reports. That would mark a gain of 15 percent from the currency's current level of about $1.31, a feat only seen twice in the past 50 years. The pound traded at $1.3133 early on Thursday.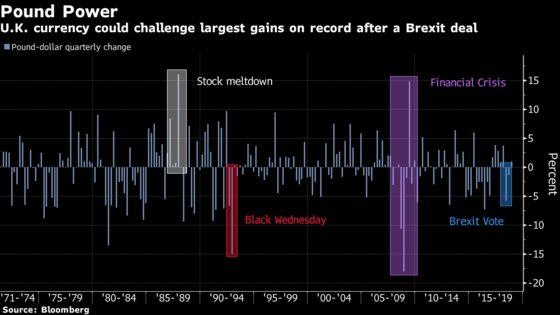 Want to keep up with Brexit?